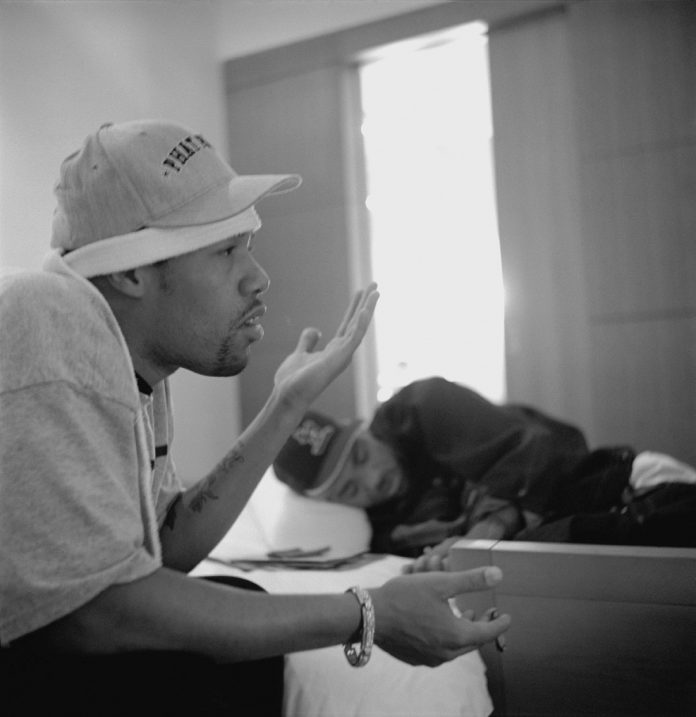 The rapper, an outspoken cannabis consumer, believes that cannabis should be legal everywhere, and is calling for further studies on the medical potential of the plant.
Redman, an American rapper made famous by the Def Jam label in the early 90s, and known around the world for his collaborations with Method Man, 2Pac, and Eminem, among others, has been a long time advocate of marijuana. He first made the cover of iconic cannabis magazine High Times in 1993, and has since collaborated with them in numerous occasions.
An outspoken cannabis consumer, Redman has made a lifestyle out of weed. Over the years, he's released numerous songs about the herb, worked on pot-themed movie scores – including "How High", launched a 420-themed clothing line, and even invested in a cannabis-related app.
As part of his activism for the cannabis community, Redman recently participated in Cannaramic, an online summit that features more than 20 cannabis experts including Dr. Raphael Mechoulam, NORML's David C. Holland, former NHL players Ryan VandenBussche and Riley Cote, U.S. Army veteran José Belén, UFC champion Frank "The Legend" Shamrock, investor Jeff Siegel, and chef Dee Russell.
Redman's class, which coincidentally aired right after mine on May 22, was titled "The Fight For Cannabis Legalization ⁠— Coast to Coast." Here are some highlights from a very interesting conversation the rapper had with Cyrus Langhorne of Cannaramic.
In an ideal world, cannabis would be legal everywhere, Redman said, calling for further studies on the medical potential of the plant. "If I could snap my fingers [and suddenly live in an ideal world], that part of the government [controlling dangerous and over-the-counter drugs] would be losing money and the real people that had something to do with cannabis, that believe in it, and have the same dream as me ⁠— about just helping people. If I could just snap my fingers, then we would be running the government on the medical side."
Cannabis In The East Coast
Redman first got into cannabis legalization in the U.S. and the hurdles it faces in the East Coast. "It's like the beginning on the East Coast for cannabis," he said, noting many states are still skeptical or straight out "ignoring that it [cannabis] will help not just the economy but the people as well."
But the rapper understands the process to legalize cannabis is complex. States like New York or New Jersey are "just trying to figure out the right way to monitor this plant. Like I said, I think we're in the beginning stages of it. Hopefully it'll get more lenient."
RELATED: Twista, Berner, And Chris Webby Discuss Racial Bias In Cannabis Arrests
In his opinion, people are still focusing on the cons of legalization too heavily. "If they put the pros onto the table, they would get a better understanding on how it would help the community; how it could help schooling; and how it could help getting computers for schools that don't have computers; and helping homeless people…"
But, for that to happen, people need to take a step back and look at the economy as a whole, and understand that the pros of cannabis legalization outweigh the cons heftily, he said, bringing up the example of the West Coast, where people seem to support marijuana, and understand the plant and different strains, a lot more than they do in the East Coast.
"We need to have a better understanding on how this plant can help your economy, your state, your people… But, unfortunately, that means there will be money lost on another field [like pharma], and you know how that goes. Choices need to be made."
The Gateway Myth
Moving on, Langhorne brought up fears around cannabis being a gateway drug, meaning its use often leads to "harder" drugs like cocaine, LSD, heroin, etc. Recent studies and statistics have shown this is not the case, though.
"I never got that… For a person who starts off with weed and ends up on heroin… he/she was bound to end up on heroin. Bottom line. That's just the way it is," Redman answered. For him, it's all about quality: if you get good enough cannabis, weed that gets you high enough, "there's no reason to go no higher than that.
RELATED: Redman and Method Man's THC-Infused Fudge Revisited
"That's just my opinion. I figure if you were bound to end up on coke or crack, or anything else, you were destined to be there. Weed ain't have nothing else to do with it. At all."
Parenting And Pot
As the conversation progressed, Langhorne got into parenting, cannabis and concerns related to youths getting easier access to marijuana as it gets legalized.
"Well, the youth can access a gun right now; the youth can access liquor; the youth can go access a bat and hurt someone. We all have these choices, but like I always say: it always starts from the home, and how you raise your kids, and how you tell them they should be, and how to live their lives."
Redman says he does not hide his cannabis consumption from his kids, but rather educates them about it. This does not mean he smokes around them: second-hand smoke is still not good for children, he argues.
RELATED: 13 Rappers Who Are Dominating The Cannabis Industry
Now, if he had to chose between his kids buying liquor behind his back and his kids buying cannabis behind his back, he would rather have his kids "go buy an eighth than go buy some liquor… Marijuana doesn't really bring a kind of… attitude where you want to hurt someone. I've never known weed to do that. Liquor? Yes. But it's easy to buy.
"What can we do? As parents, all we can do is start from the home and teach our kids what this [cannabis] is… If you're going to be a smoker like me, you definitely have to have your priorities straight and know where you're going in life, because you can get burnt out smoking everyday with no plan. That can happen. You can get lazy. But then again, if you're smoking sativas, you can get energetic. You can get creative. You can teach your kids from the door about this plant at the end of the day. You just have to bring awareness to it."