I'm staring at this vanilla milkshake considering two essential thoughts: a) how do I drink this and b) is this real? Obviously it's real in the physical sense—I see it, therefore it exists. If I describe this vanilla milkshake, though, you won't believe me. You shouldn't anyways. As it were, the milkshake itself looks rather basic: an icy white slushie like every vanilla milkshake you've ever had. It appears delicious but you can't sip the vanilla milkshake because a whip cream coating—with sprinkles!—covers the rim. And you can't lick the whip cream coating and drink the vanilla milkshake because a plump donut with icing—and sprinkles!—rests atop the rim. And you can't bite into the plump donut and lick the whip cream coating and drink the vanilla milkshake because a kebab of three glazed donut holes pops through the empty center of that plump donut, a situation so loaded with sexual innuendo inserting a straw to sip that vanilla milkshake feels like a foodie's sick idea of a ménage a trois. And if you have any doubt this isn't a foodie's sick idea of a ménage a trois, accommodating this monstrosity, attempting to contain it, is a mason jar.

Food porn isn't just a hashtag is what I'm saying. All around lie these slutty milkshakes posing for a photo shoot. The host of this unofficial South by Southwest party assisted the foodie pornographers by building mini staging sets to produce the perfect shot for Instagram or Snapchat, unobscured by messy tablecloths and roaming partygoers potentially ruining the photograph. In the background instead will be a variation of cool-colored scenery and trippy design. Your posts can appear so special.
Your options aren't only limited to this donut milkshake threesome either. Another flavor choice for the milkshake is also available, one I'm calling the Cotton Candy Clusterfuck (your imagination will suit any description I could provide, I promise). If milkshakes aren't your jam, other choices to star in your foodie porno also include candy sushi, with a filling of bite-size candies like Nerds and M&M's wrapped in Rice Krispies treats (biting into it almost chips a tooth); a dark chocolate-covered, chocolate chip cookie shot glass filled with a shot of milk (an ineffectual mechanism as liquid consistently leaks through the mold); and a mimosa with a mimosa popsicle poking out of the glass (full disclosure: it tastes bomb; it's the only star here with a potential career).
Food may be for human consumption, but it turns out consumption doesn't just include eating. Barely-touched milkshakes of the donut threesome and cotton candy clusterfuck variety litter the tables of this party. I accept these milkshakes aren't meant to be eaten, though they can if you really want, I guess. I snap some pictures, post them on social media, and down some donut while I chat with friends. Soon we leave. This is SXSW. There are more parties and events to attend.
***
On the first day of South by Southwest I'm followed leaving the Convention Center. The third day I eat at a restaurant owned by a drug-slinging mass murderer. Later I shake his hand.
My pursuers that first day come in a pair of cloaked figures. Their uniform is a blood red gown with a white satchel bag over the shoulder. Atop their head rests a floppy white hat, shrouding their faces, creating an ominous presence. When they reach close to me they whisper, "Help," then disappear. To the faithful photographer accompanying me, who is a woman, they whisper something I'm not supposed to know.
This is a publicity stunt for Hulu's Margaret Atwood adaptation The Handmaid's Tale. Their efforts are resoundingly successful—posts flood social media (myself included), and blogs pick up the story as viral news. It is yet another moment manifested to be shared as much as it is to be seen at SXSW. Though I know these handmaids are a physical simulation of something from a fictional narrative, deployed by a media company as a marketing tool, I remain creeped out. Sometimes actors playing creeping, mute-ish girls just seem like creeping, mute-ish girls.
In its grandest abilities, fiction can infiltrate the present and possibly shape our future realities. I don't know how to connect the previous sentence to this next statement of information without it seeming like I'm making some cutting remark, but here it goes anyways: AMC opened a Los Pollos Hermanos pop-up shop during SXSW. Fiction can also build temporary fast food chicken restaurants I suppose.

Inside the iconic Los Pollos Hermanos logos and branding seen in Breaking Bad adorn the walls. A chicken mascot waves at customers in the shop. Employees ask if you need anything and clear emptied food baskets from the tables. You literally feel like you're living inside the world of a TV show. It's like if the Westworld architects were super into Breaking Bad, instead of like cowboys and sex robots. (I truthfully only watched the Westworld pilot and nothing else of the series, but remain intractable about this paper-thin assertion.) Los Pollos Hermanos maintains the working logistics of other fast food restaurants you've visited and receives bonus points for being cleaner. Almost clinically so.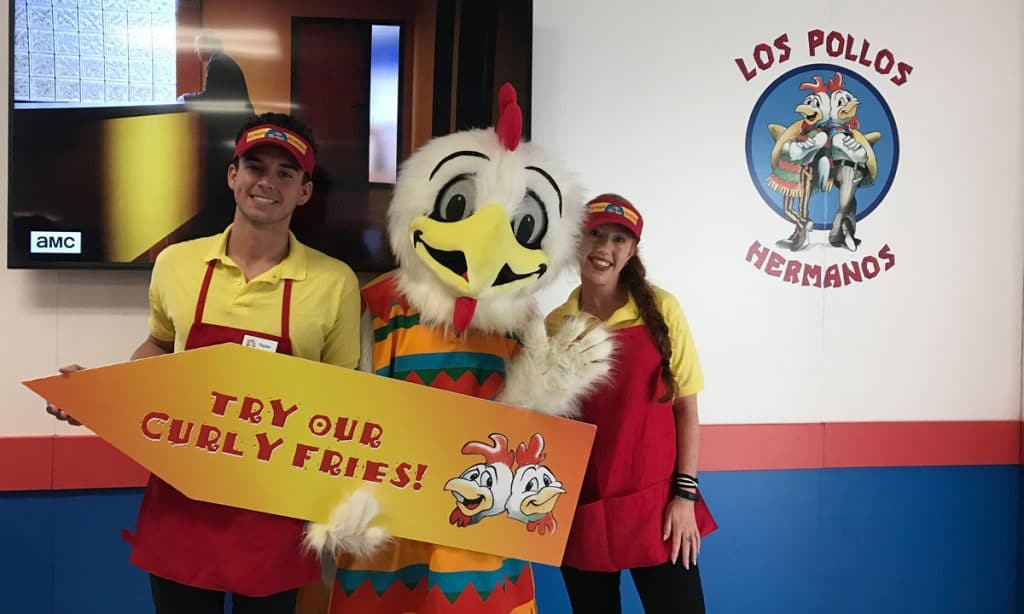 That might be because the (fake) owner of this (fake) company stands 10 feet away talking to inquiring (I think, real) reporters. In my mind, I'm not sure whether to call him Gus Fring or Giancarlo Esposito considering the surreal context of this situation. A better label would perhaps be faux-real, but I'm trying not to come across as pretentious for real, so surreal it is. One newspaperman asks Gus Fring/Giancarlo Esposito to pose for a photo—newspapermen need pictures to run with their stories—only this newspaperman includes himself in the picture and asks Fring/Esposito to pose back to back like the Lethal Weapon movie poster. This actually happens with no questions asked.
I begin taking pictures of everything inside for an article I'm hoping will go viral to appease my editor (it doesn't go viral and I later feel embarrassed for nakedly chasing clicks). When I spot one man holding a basket of Los Pollos fries, I ask if he'd mind me photographing his food. He doesn't mind when I inform him it's for a story. The polite gentleman he is, he asks about our website and I blab about our brand and hand him my card. Then he reveals he's an AMC executive and that I should meet Giancarlo Esposito and soon enough he introduces us. I shake the Chicken Man's hand. I ask him questions about his second directorial feature This Is Your Death that premiered at SXSW and promise to try and see it. Afterwards, I text and tell everyone I met Gus Fring. It seemed easier that way.
***
I really, really want everyone to know that I ain't shit. I am not special for distinguishing that a not-insignificant portion of SXSW, and therefore large-scale entertainment in 2017 revolves around brands crafting shareable moments for fans. Everyone on social media has an audience and audiences need performances and these shareable moments, with celebrities or brands everyone loves, are surefire hits. The idea that various people experience their reality through a screen isn't that novel either. Nor is the concept that someone might engage in an activity for the sole purpose of later posting about it on social media. Doing it "for the Gram" is real. I know because I'm part of the problem.
We walk into Mashable House to acquire some free drinks and notice this and a few other shareable moments "superfans" (Mashable House's theme) can create. When I see that colorful setup from Beyoncé's pregnancy photoshoot, including props we could wear, I practically beg my faithful photographer to pose with me. She obliges. I don't know what's worse: a) my inherent hypocrisy or b) my secret belief I'm somehow better for cropping out Mashable's logo from my post or c) my small ego boost when Mashable's photographer says our pose is of the best that day.
By the time we enter the Pet Rescue Lounge three nights later, any ounce of earnest self-evaluation evaporates. So does it seem for everyone else at this party. This is not a party constructed for humans; it's for the dogs. There were ball pits (for doggies), wine bowls (for doggies), portrait opportunities (for doggies), and meet-and-greets (for doggies). No one complains the party is for the doggies. It almost seems like they prefer it.
"The goal tonight is for the party to get weirder and weirder as the night goes on," a public relations woman tells me as she lets us into the event. "Keep Austin weird, ya know?"
This feels like déjà vu because it is. "Keep Austin Weird" is a local saying, one the serves as mission statement and shield to local citizens. That fiercely independent ethos is my favorite quality of this town and factors significantly in my choosing to live here. But anything cool or hip can always be commodified. SeeSo TV passes out "Keep Comedy Weird" buttons during SXSW comedy shows earlier that same day. A few days previous Bookpeople, a local independent bookstore, feuded with the largest bookseller in the world because it posted signs stating, "Keep Amazon Weird." Variations of these "Keep [your brand here] Weird" moments continue to manifest throughout SXSW. All of it makes me feel weird, and not in the way I prefer.
What happens when booksellers see signs for #sxsw that use Keep Austin Weird to say something totally different. #shoplocal pic.twitter.com/TmgAJ5S8SW

— BookPeople (@BookPeople) March 11, 2017
I don't think it's fair is all. These brands are pretending to be weird for a quick engagement dollar disguised in hip vernacular. After the festival, they can return to their white-collar, money-milling selves. That is not a choice for me; I am just weird all the time. Everyone who lives in Austin is. It's why we live here.
***
A few weeks before SXSW a friend messages me an RSVP event link. This happens frequently during the planning process to my eventual nine-day excursion, but this one isn't like the rest. It requires a password for one and that password is "whiteferrari." The show is a secret Frank Ocean concert at a mysterious place called "the warehouse." When rumors spread that it may be instead a short film for Frank's new track "Chanel," anticipation does not waver. Comments like, "That'd be such a Frank move," and "He'll be there, but like in the shadows," are made. Within my friend circles, not getting into this event isn't an option; it is our No. 1 priority.
The day of the show information is scarce. Where is this "warehouse" exactly? Internet sleuths pinpoint a location in Brooklyn and Austin's east side of town. The Austin location is far removed from SXSW's main action downtown and while sketchy, people consider this another "Frank move." Everyone forgets the Brooklyn location because everyone desperately needs this Frank event to be real. Following some serious social media deep-diving and messaging contacts, we choose against risking our night over a fake news Frank Ocean show. Hundreds of Frank fans disagree with our decision.
Reporting live from the line for the (almost definitely fake) Frank Ocean show at SXSW #FrankOceanSXSW pic.twitter.com/ek5n7Aicnk

— Ken (@kenlamarhill) March 18, 2017
That night we're denied entry to two concerts—an intimate Gary Clark Jr. performance and a Migos turn-up—because of lines too long. I hate lines. Standing in lines exposes the pettiest version of myself. I assume everyone in front of me is lame, somehow lesser for wasting half their day to secure a spot close to the stage, and everyone behind me is a loser because, well, they're behind me and won't get in when I do. I suspect this is how everyone feels about lines, but it's not something I like about myself.
My faithful photographer and I end up at Universal House, just to be somewhere. Dreezy, Denzel Curry, Lil Yachty, and Metro Boomin is the lineup. They should be good enough. Except I check Twitter frequently, scouring pages for other shows, reading about how great those Gary Clark Jr. and Migos shows are, digging for more info on that possibly-still-happening Frank Ocean event. I actively root against the Frank thing being real, hoping for hundreds of people's disappointment, people whom I've never met, so I won't be disappointed myself.
"Am I fucking up right now?" I ask my faithful photographer. "I really don't want to be fucking up right now."
It's not the first time FOMO (Fear of Missing Out) enters my brain during SXSW, but this night it consumes my thought process. I can't control it. A feeling that we shouldn't be here permeates and I say we should leave. There are other shows out there. When we try and leave, the doorman stops us and warns the venue's at capacity. If we exit, we won't get back in. Suddenly I fear missing out on this show I just tried to leave. So we stay. I drink while my faithful photographer, who I suspect is exhausted of my bullshit (and for good reason), gets into position to shoot the concert. I try my best to enjoy the moment I find myself in.
***
I worry this sounds like SXSW isn't any fun. That would be misleading. Here are some very fun SXSW things I did: Attend an Alien anniversary screening, laugh uncontrollably as Jason Mantzoukas makes fun of an inslopsicated Dan Harmon on stage, see the elusive, esoteric Jay Electronica in concert, view Noël Wells excellent directorial debut Mr. Roosevelt, watch Francis and the Lights perform in the backyard of someone's house, witness Denzel Curry go "Super Saiyan II," stumble into the moody, nihilistic thriller Small Crimes with Nikolaj Coster-Waldau, Dave, and James Franco in attendance, and eat and drink and eat and drink in copious free amounts.
This is all a very enjoyable and worthwhile way to spend one's time. You want everyone in your life to know the good time you're having. Like this man standing beside me at YouTube House, who records (via Facebook Live) Rag'n'Bone Man's performance. He holds his phone in an optimal position for those watching the stream. This optimal position, however, is not so optimal for me watching this artist, and I catch myself watching the concert through his phone instead of my own eyes.
Defying stereotypes, this man is not a millennial. His beard is a salt-and-pepper color, aging wrinkles sprinkle his face, flicks of gray in his mane. His outfit is simple, and not intending to say anything about him: plain red T-shirt, faded jeans, and boots. I won't say he's old because that's rude, but think like a seven year-aged scotch: toasty, wizened. In the top left corner of his phone, the stream flickers between 3-5 viewers at a time. This amount of viewers is apparently satisfactory as he films the majority of the show.
By the final worthwhile SXSW night, these sights are commonplace. Naturally I'm a private person and only share specific moments of my life on social media. I try really hard to resist posting immediate reactions to events or sharing "Look at this fun thing I'm at!" Snapchats. I don't understand the impulse when I'm at a concert or show to post about it; I do know that SXSW unearths and implores me to give in to that urge. Nearly every event has a photobooth, or pretty shareable food/drinks, or a stage where you pose with your friends. Some technology will allow you to become a GIF and immediately share it to your social accounts, if you want. You can literally meme yourself, if you so choose.

That final night of SXSW I attend the Roots & Friends showcase. A short list of artists the Roots crew assembles to perform with them: Rae Sremmurd, De La Soul, Jidenna, Shakey Graves, T.I., Brandy, Redman and Method Man, and more. While in the crowd I recognize this as one of three best concerts I've ever experienced. When the showcase's host asks us to post using a specific hashtag and says, "Remember to make your friends jealous," I barely blink. I'm too high from the show to think twice about it. Sometime later, I open my phone, and record, opting out of using the hashtag so people won't think I'm a corporate shill. I upload the video and show the whole world how much fun I'm having at this very moment.
---
[gravityform id="13″ title="false" description="true"]