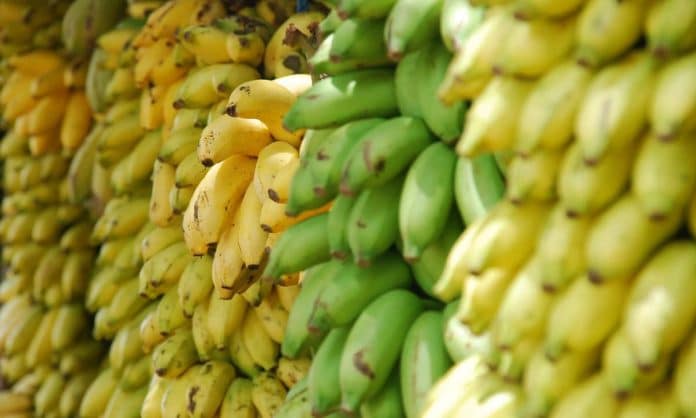 Regardless of season, there always seems to be an abundance of bananas. And often times, those same bananas end up turning an off-putting shade of brown in our kitchens, while we sit there and try to figure out how we keep getting ourselves in this position. We buy bananas to be healthy, yet, once they turn, we use them to make a fatty banana bread we can subsequently slather with butter. Where did our lives take a hard left? Here are 7 healthier options that require little more than mixing old bananas with fresh ingredients.
1. Make Banana "Nice cream"
Did you know you can make soft-serve vegan ice cream just by blending frozen bananas? The key is using spotty bananas, the ones usually designated for a banana bread grave. The spottier the banana, the sweeter it is, making it ideal for this anytime dessert. You can even throw in some peanut butter and/or cocoa powder, fresh fruit, dried fruit, nuts…just about anything…and top with whipped coconut cream for the healthiest sundae in all the land.
2. Put Them On The Griddle
They'll cook right into the pancake. Or just stir them into the batter.
3. Make A "Smoothie" Bowl
Take some frozen bananas, add some fresh/frozen fruit, and nut/soy milk . Pour into a bowl and top with fresh fruit, chia seeds, coconut flakes…whatever you'd like! Nobody notices brown, mushy bananas when they're combined with vibrant colored fruit, like acai, blueberries or raspberries. Even spinach.
4. Use Them Instead Of Eggs When Baking
Make your baked goods healthier by replacing eggs with ripe bananas. To replace whole eggs in baked goods like cakes, muffins and brownies, use one ripe mashed banana for every egg the recipe calls for.
5. Make A Banana And Honey Sandwich
Nothing goes together like banana and peanut butter, which also happens to hide the color of an overripe piece of fruit. Spread some mushy bananas onto some good, crusty bread and top with peanut butter and honey. For some extra crunch, grill the sandwich in a skillet or toast the bread before assembling the sammy.
6. Make Banana Chips
All you need is an oven (and some bananas, of course). Your oatmeal (and smoothie bowls!) will thank you.
7. Make Banana S'mores
Spread your already gooey banana on a graham cracker and top with chocolate and melted marshmallow. Better than you imagined.
---
[gravityform id="13″ title="false" description="true"]
---