No, but really — how does a person have have better sex or a better relationship? The Fresh Toast has enlisted Rachel Krantz, a sex writer and proud canna-enthusiast, to help readers out with some answers as its sex columnist. No question is off limits, and all questions will remain anonymous. Please send your sex and relationship inquiries to freshlove@thefreshtoast.com. Now, onto this week's topic: romantic and easy stoned dated ideas.
Q: Hi! My boyfriend and I love to get high sometimes — we live in California, so it's even legal now! — but we also don't want to just watch TV every time we get high together. Do you have any ideas for romantic stoned dates  we can go on?
Oh, do I ever. Below are some suggestions for both stay-at-home dates and safe going out high date ideas. A word of caution: if you do go out, please don't drive. I know it might not be as dangerous as driving drunk, but if you ask me, it's still dangerous. Plan to walk, take a Lyft, or otherwise have your buzz wear off before you're getting behind the wheel. OK, now that my disclaimer is out of the way, here are my ideas!
Channel Your Inner Traveler
Take your vape and take a long, exploratory walk. Don't have a destination in mind — just walk, taking in your surroundings, talking about whatever crosses your mind, taking photos, and generally allowing yourself to channel your inner traveller, taking in your hometown with a sense of adventure and spontaneity. Don't plan where to stop to eat or what to do — let your feet carry you, and have a sense of fate about your evening, trusting that everything will unfold exactly as it should, the way you often do when you travel.
Get Tons Of Endorphins Flowing
If you tend to be a self-conscious dancer, being a little buzzed may actually help you break out of that. Especially if you're both feeling extra-happy, going out dancing is a great way to not take yourselves too seriously and feel some sexy bodily contact. If dancing stoned sounds like your worst nightmare, you might want to try seeing some comedy — all that laughing (especially if it's live) will get your endorphins flowing like woah.
Experiment With Giving Each Other Space 
I did this the other night and it was so fun! My partner and I split a 10 mg HippoTreat and headed to a concert. It was standing-room only, and since I'm a shorty, I couldn't see much. As the music started and my buzz lightly hit, I suggested I go find a spot closer to the front, since someone tall wouldn't mind me blocking them if I was alone. It felt weird to part at first, but as the concert went on, it was fun to feel myself tethered to him even though we weren't physically near each other. About halfway through the concert, after a particularly touching love song, I went back to him. I missed him for that hour — and he had missed me too. It was a nice feeling, accentuated by the music and the HippoTreat, but mostly by the allowance for space we'd given each other while out. Try it sometime and see if a little going-out distance doesn't make you feel closer.
Go To A Quiet Restaurant That Won't Rush You
Have you ever gone out on a nice dinner a little stoned? If not, I highly recommend it. Not only will the food taste even better, but you might find your conversation gets a lot more interesting. People tend to make conversation when they go out to eat anyway, but I find that sometimes when I have a stoned dinner date, the conversation gets even more honest and expansive. If you have something you've been putting off talking about, this might be the perfect time to do it. You'll be in a nice environment, feeling open and more generous — and the fact that you're stoned will be your little secret.
Try To Cook Dinner Together In Silence
Cooking dinner together is always romantic, but you could up your date night game by attempting to cook in stoned silence. Put some music on if you'd like, but challenge each other to coordinate your cuisine non-verbally. You're sure to make some mistakes, but you'll feel even more accomplished when you're finished, and refreshed by what's basically a cooking meditation.
Trade Off Questions
Ask them something you've always wanted to know about them but still don't, practice listening actively and without judgement, and when they're done, have them ask you a question. No need to turn each question into a major convo or even respond— think of it as an interview or a game, an opportunity to return to the spirit of your first date, reminding each other that you never know everything about the other person.
If you're not sure what to ask, I suggest getting  The School Of Life's "100 Questions" and adding it to your bookshelf. Someone gave this box of questions to my partner as a present, and it's fantastic! The questions are basically like a fun therapy session — the prompts range from your views on monogamy to the ways in which your childhood affected the way you approach sex. 
Have A "Memory Lane Night"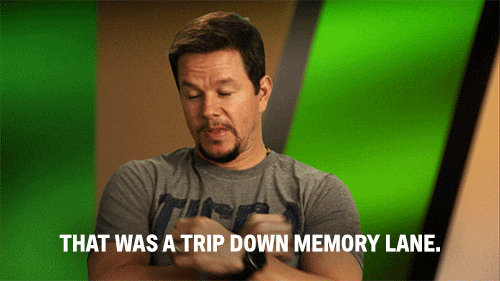 It's proven that looking through old photos boosts your mood, so why not have a Memory Lane Night, where you take turns going through old photos, videos, and other nostalgic things you want to share with your partner? As with all these ideas, this could be done stone-cold sober as well — but that high school prom picture is sure to be even funnier with a little Mary Jane in the mix.
Have fun!