Wearing a tiara has to be right up there on the list of perks of being a Royal. But those expensive pieces of headgear every little girl dreams of wearing someday actually comes with a set of rules.
The Queen's jewel-studded tiaras are only on loan to married women, according to acting Royal Correspondent Tracy Schaverien, who tells Hello! Magazine:
 Back in the day, a tiara was a status symbol for aristocratic ladies and a sign that they were married and unavailable to suitors. The first time Kate was seen in a tiara was at her wedding in 2011 – although she has worn several since – and it will be the same for Meghan. There are various possibilities about which one she might wear and I wouldn't be surprised if there is a connection to Princess Diana.
She says, "Once she's married and officially a member of the royal family we're likely to see Meghan wearing tiaras at events such as state banquets, as the other royal ladies do."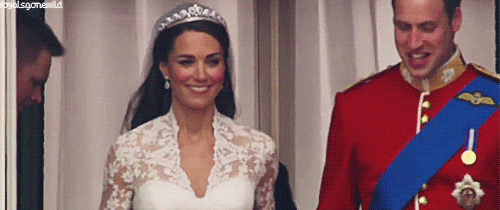 That's correct. All of those fantastic bejeweled tiaras are on loan from the Queen's private collection.
The tiara Kate Middleton wore for her wedding to Prince William was, according to Schaverien, a loner from the Cartier 'Halo' Tiara that originally belonged to the Queen Mother.  It has also donned the crowns of Princess Margaret and Princess Anne.
And if you're thinking it's now Meghan Markle's turn to don the tiara, that's a long-shot, according Ella Kay, editor of The Court Jeweller. She tells Hello!: "I have a feeling that if she wears a tiara, it may be a new piece created for her rather than a royal loan. That would follow the examples set by other brides of younger royal sons, such as Sophie Rhys-Jones and Sarah Ferguson."
Kay says she imagines Meghan "borrowing numerous pieces from the royal vault during her marriage," and thinks she'll prefer to wear something custom tiara.
If we do see Meghan wear an existing royal tiara for her wedding, I'd like to see her pull something unusual out of the vaults, like the Queen Mother's Art Deco Bandeau from Cartier, which consists of a trio of gem-set bracelets on a frame. That piece would fit nicely with her modern, unfussy style.
Markle will marry Prince Harry May 19.