While this week has felt like one long Hot Mess, it's important to remember that actual Hot Messes were happening around the country and the world. So let's take a break from politics read about deers smashing through glass windows, aggressive turkeys with good names, dumb-ass burglars, and more.
Let's start with Downtown Tom, the aggressive turkey of Davis, California. Downtown Tom has reportedly been chasing and lunging at people trying to visit or walk past the Wells Fargo branch that he believes is turkey territory. "This is almost embarrassing," one person told an emergency dispatcher. "I am trying to get into my office on G Street in Davis and I have this huge turkey surrounding my car, circling me and I don't know what to do. I don't want to run it over but I can't stay in my car all morning, is there any advice you can give me?"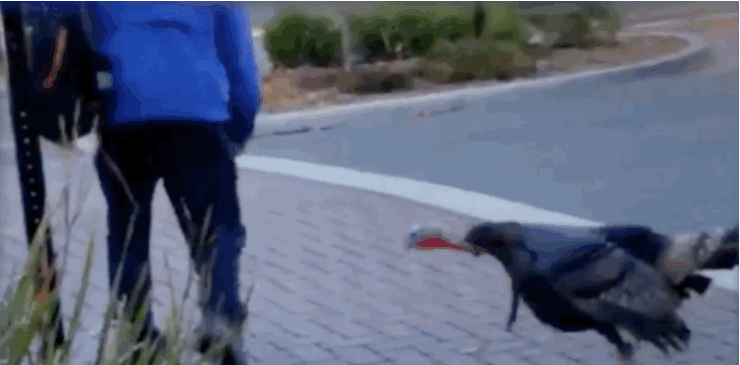 Experts advise that town residents try not to let Downtown Tom intimidate them, which is easier said than done.
In other animal news: On Thursday, a deer somehow became trapped in an American Eagle store in Oklahoma. This deer clearly didn't want to do any shopping, and had lost his patience for finding the front door. So he did want any reasonable animal/person would do: he ran and jumped through one of the store's glass windows, smashing it to bits.
And in Oregon, a man accused of stealing an SUV and starting a police chase was found hiding in a badger hole, where the man had become stuck. If not for his dog, the alleged thief might have remained in the badger hole for who knows how long.
Speaking of dumb thieves, two men in New Jersey were arrested for allegedly robbing a home after their taxi driver, who drove them to and from the crime scene, called police. Why would the driver snitch? Maybe because the two men reportedly stiffed him.
In India, lucky New Dehli residents loaded up on free booze after a truck filled with liquor overturned, leaving bottles and crates of whiskey all over the ground. It probably helped that the driver "mysteriously disappeared."
There was also the young boy who, as a reporter was in the middle of a live broadcast, crashed his bike and face-planted during the shoot.
For those asking-The boy on the bike who went down face-first in our live-shot? He's just fine (& now famous with his friends)@WPLGLocal10 pic.twitter.com/rsvTVBqpEX

— Glenna Milberg (@GlennaWPLG) November 3, 2016
And finally, there was the man who was rendered practically speechless after a since-discontinued drone fell from the sky and landed right at his feet.