For those new to the biggest cannabis holiday of the year, there's never been a better time to get started on your journey.
Are you looking for a special way to celebrate 420 this year or just a fun gift for the cannabis enthusiasts in your life? Illinois' growing selection of products can be overwhelming for new and returning consumers alike, which is why we've curated a list of our favorite brands that will make this year's 420 the best one yet.   
For those new to the biggest cannabis holiday of the year, there's never been a better time to get started on your journey! From elegant mini pre-rolls to discreet edibles, there are options for consumers looking for a more low-key experience.
No matter where you are on your cannabis journey, these standout products will resonate with every kind of consumer.   
If You Want a Good Time While Supporting a Good Cause: 
Good Green 10.5g Popcorn Flower  
This 420, take some time to support the Good Green mission to partner with change-making organizations to create real, sustained progress against the War on Drugs in Black and Brown communities. Proceeds from Good Green sales support local nonprofits selected through the grant application process so now you can enjoy a quality smoke while supporting a good cause. Good Green offers popcorn buds at a great value with a unique three-eighths (10.5g) in a variety of Sativa, Hybrid, and Indica strains. The extra eighth makes this a smart idea for big gatherings.  
If you plan to spend 420 outdoors, Dogwalkers Mini Dog pre-rolls are designed to complement a leisurely stroll around the neighborhood with your four-legged companion. Not only are the pre-rolls hand-packed with premium flower and packaged in a sleek tin, but a portion of all sales go to deserving animal shelters across the country.  
For the Connoisseur in Your Life
For true cannabis connoisseurs, RYTHM Hybrid Premium flower eighths offer a variety of expertly cultivated and meticulously cured strains with optimal potencies, lush aromas, and rich flavors. Our favorite strain of the moment is White Durban, a sativa-dominant offering that offers a euphoric and stimulating high. This strain is known for its notes of sweet earth and fuel, and its buds which are coated in a dense layer of glimmering trichomes.    
For the Self-Care Enthusiast
A great gift for a friend or loved one who is trying to reach new health and wellness goals, the +PlusCBD Reserve Collection was specially curated to celebrate the brand's very first batch of +PlusCBD oil and gummies. Gummies and oils from the collection can offer physical and mental relief when intense support is needed. These products contain a healthy dose of a full spectrum hemp extract and less than 0.3% THC by weight.  
Quim's Intimate Serums + Everyday Oils  
View this post on Instagram

Quim's collection of high-quality, plant-based lubricants meets all your intimate needs, fostering proactive self-care rituals that support vaginal health and enhanced pleasure and relaxation.   
For a Cute Smoking Experience
View this post on Instagram

Miss Grass' hemp is available in boxes of five .4g mini pre-rolls and formulated with adaptogenic herbs that create heightened effects without using THC. Available in Balance, Pleasure and Sleep offerings, these pre-rolls are perfect for those seeking out a blissful body high.   
Flower by Edie Parker Fruit Pipes  
Edie Parker's fashionable fruit pipes are the perfect gift for sophisticated canna-lovers. Made of borosilicate glass, add the orange, cherry and grape pipes to your collection and show them off at your 420 get-togethers.   
Looking to impress at this year's 420 party? Sparkly yet functional, the light and bright Inspired Vape Pen is intended for afternoon enjoyment and social gatherings. Beboe products deliver sophisticated, sleek, 100% natural cannabis experiences so that you can enjoy your day without losing your cool.  
If You're in the Mood for a More Discreet Experience
WYLD Sparkling Water Variety Pack  
Wyld's Sparkling Water Variety pack uses carefully honed recipes to create an enhanced concoction with real fruit flavors and THC-free hemp. This real-fruit and CBD-infused sparkling water come in 4 flavors: Raspberry, Lemon, Blackberry and Blood Orange.  
incredibles Snoozzzeberry gummies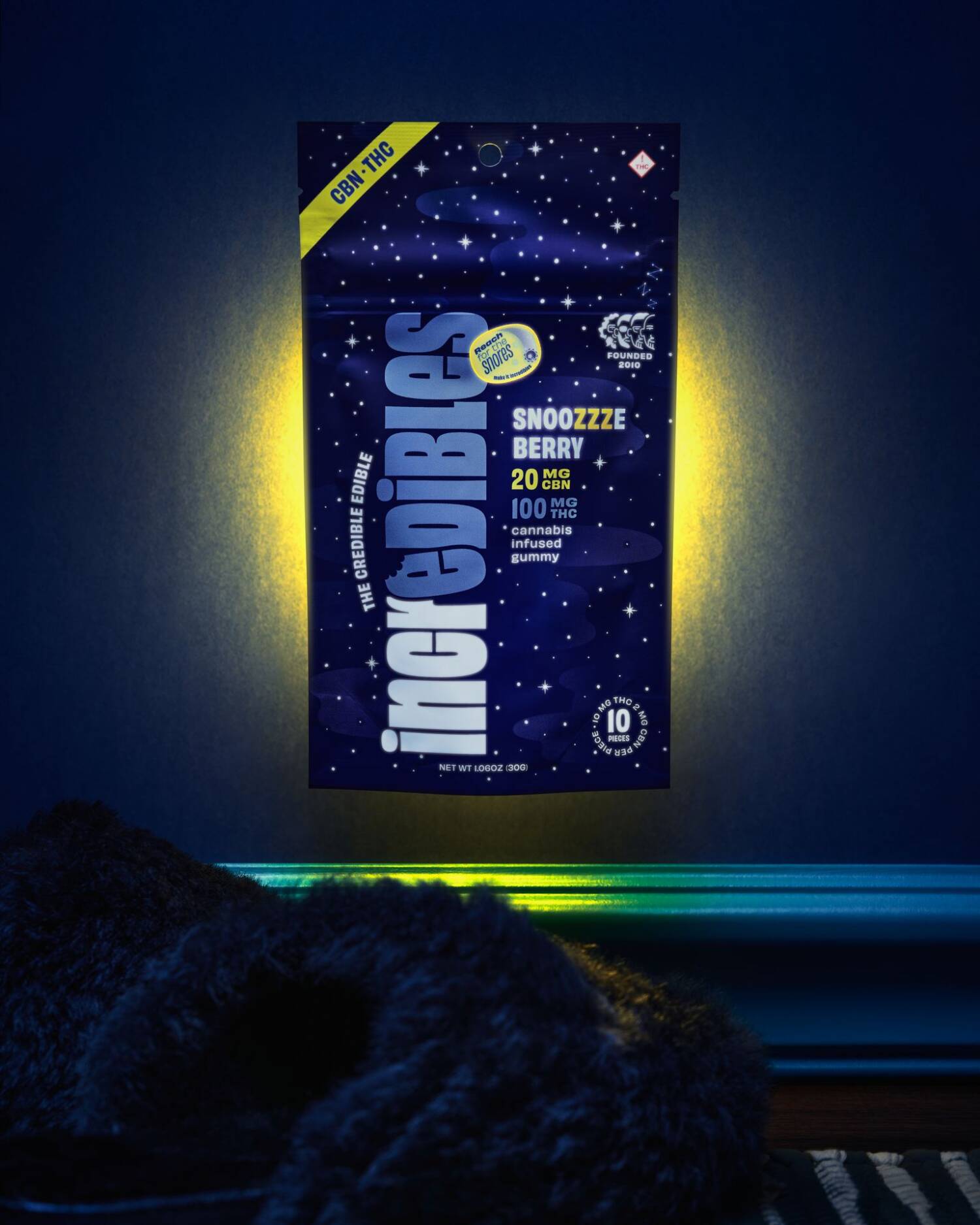 If you've blocked out the day to spend 420 in bed, incredibles' Snoozzzeberry gummies with CBN and THC might be the right choice for you. Made with pure distillate in a homogeneous mixture to help deliver a consistent high, these gummies are specifically designed to help you get the quality sleep you've been missing.