It's a brand new year and marijuana's future continues to look rosy despite the deeds of Jeff Sessions. Cannabis is newly legal in California, a state that is now the biggest cannabis marketplace in the world. To celebrate we thought we would introduce you to some products that we love and that will make 2018 much sweeter in Cali and beyond.
A Special Gift For Someone You REALLY Like: CANNDESCENT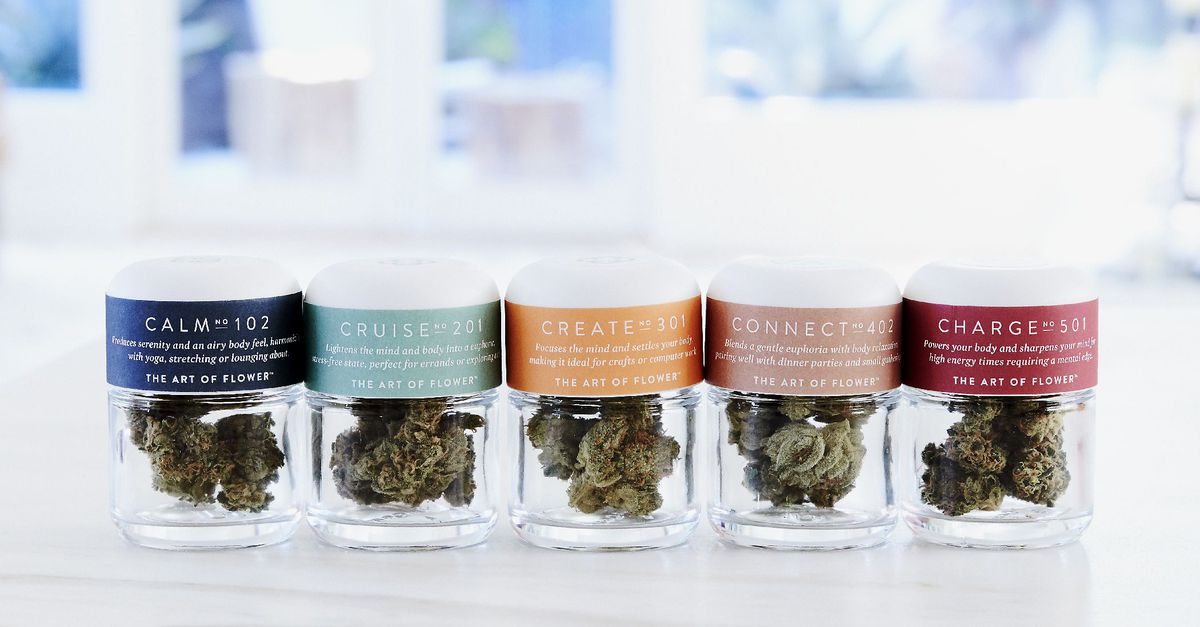 Canndescent is the perfect gift for the cannabis newbie. The first-ever, limited-edition gift sets come two ways: the small box holds two and types of marijuana; the large box holds five. Instead of naming the strains, they instead label the flower by effect it will have on your mood: Calm, Cruise, Create, Connect and Charge.
Each box is individually numbered and pretty enough to display. The boxes include everything you need for a luxe smoke sesh: virgin cannabis flower, organic hempwick, rolling papers, crutches and matches. Two-pack box: $120; Five-pack box: $299
Every Day Use For Aches, Pains And More: Mary Jane's Medicinals
As friend of mine with bone-on-bone arthritis says, "This stuff works." Mary Jane's Medicinals produces some of the best-quality cannabis-infused topical products on the market and will help solve pain issues big and small. You can choose from a lip balm, massage oil, lotion, bath soak or salve. All have a natural scent that contains traces of cannabis aroma, but nothing stinky.
The topical application feels wonderful, and works well on pain while and improving skin health and appearance. The products are great to use before bed, but has no psychoactive effect so can be used during the daytime just as easily. $8-$45
Love This Gadget: AuxTools 
It's going to be a lot easier to roll that perfect joint if you use this cool piece of tech right here first. The AuxTools E-shredder is super-cool looking, and is also small and discreet. The little gadget looks a little like a fidget spinner when going full tilt and takes only three seconds to shred the stickiest of bud so that it's paper ready. Shred your herb for 10 or more seconds and you're left with a fine powdery kief. $199
Jane West has designed a collection of one-hitters that are sleek, cool, discrete and gorgeous. Each piece incorporates the Collection's signature "soft square" silhouette, a striking, practical accent one won't find in any other flower accessories.
All the pieces are beautiful, and you can choose the right one for you:
The Solo breathes new life into the discrete taster pipe with its kitchen-grade enamel coating to protect from wear and tear. The Solo combines a built-in custom cleaning rod and signature "soft square" taster created to provide a perfect-sized solo session puff. $18
The Wand combines flower storage, a signature "soft square" Solo and a self-cleaning cap to allow users to load up and puff in one effortless motion, in a sleek jet case that mimics a glossy black tube of mascara. $38
The Compact holds a signature "soft square" Solo, a custom cleaning rod, dual removable flower compartments and any sized lighter in a glossy, streamlined jet case that boasts a mirror in the lid for post-puff touch-ups. $48
The Classic offers a polished take on the ubiquitous dugout, with its brushed stainless steel case swiveling open to reveal a signature "soft square" Solo in a spring-loaded chamber, dual dugout flower chambers and a custom cleaning rod. $58