Cannabis tea is a popular way to consume, and can treat asthma, chronic pain, nausea, anxiety and other ailments in a safe way. Consuming cannabis in the form of tea affects you faster than when you consume a fat-based edible, which is why this method is so popular among medical marijuana patients.
Tea is also a great option for those who want to avoid smoking and who want to have a better control when it comes to managing their cannabis intake and its effect. Of course, if you want to enjoy some light cannabis tea, you have to prepare it in that way. It is possible to get very high if you brew a super strong cannabis infused tea. It's all up to you. 
Check out this amazingly customizable cannabis tea recipe below: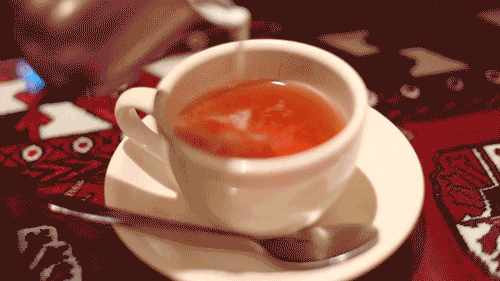 Ingredients:
⅓ or ¼ of marijuana stems.

3 cups of water.

Regular tea, to add some flavor

Coffee filter, for easy brewing
You can also add marijuana to your preference, to increase the potency of the tea.
Binding Agent:
Two or three tablespoons of the alcohol of your choice or ½ cup of milk and dairy substitute that suits you. You can also use ½ tablespoon of butter or coconut oil. 
Preparation:
You can grind the stems, break them up with your hands or simply leave them as such. There's no real difference in the effect they produce on the tea. Grinding the stems makes the process a little messier, so if you want to simplify your brewing process you should just break the stems up into manageable pieces.
Fill up your teapot with the three cups of water, then you can add the binding agent of your choice. To increase the potency of the weed tea, alcohol works really well, but you should add it after the boiling process is over so that it doesn't evaporate.
Once your concoction has reached a boiling point, add the stems and let them boil and simmer for 10 minutes. You can put the stems inside a large teabag, to facilitate the straining process. If you want to add a kick of strength to your tea, add some extra marijuana trims.
After these 10 minutes have passed, remove your tea from the heat. If alcohol is your binding agent, then pour those tablespoons in. 
Now just remove the stems and your tea is ready to drink! If you didn't use a teabag, you must strain the tea with the help of the coffee filter, so that you don't find any twigs in your cup. After your tea is poured and ready to drink, you can add some honey or raw sugar to improve the taste, or maybe a bag of your favorite tea. This drink is very customizable, so be creative and enjoy!