If you are often troubled with the stress of work, or anxiety to meet deadlines, you should give Indica cannabis a shot. Sativa strains, on the other hand, are energizing.
This article originally appeared on AskGrowers and has been reposted with permission.
Ever since edibles infused with cannabis have entered the markets, individuals are eager to learn about them and try them first hand. If you are involved in the endeavor too, you should have come across edibles that are specially comprised of Sativa strains and others from Indica strains.
For those who are left in awe with the demarcation in the two varieties, the Sativa strains are popular for the stress-relieving effect they have on an individual's mind, whereas  Indicas are famous for sedating one's mind into feeling relaxed.
Nowadays, this differentiation between the two has become an important matter more than ever because cannabis is legalized in over 30 states in the U.S. and Canada. Here, we have compiled some more information for your convenience.
Sativa Strains And How They Have A Relaxing Effect On Users
For individuals including the ones looking for recreational effects, medical advantages, and the cultivators, Sativa strains are nothing but profitable. Here is how and why they benefit each group.

• Sativa for recreational purpose
The individuals who have tried Sativa strains even once in their lifetime will only describe the experience as satisfying. Well, that is not all to this recreational drug as the concentrates blend in with the edibles flawlessly, too. Not to forget the exceptional high they give to the users.
A psychoactive high directly translates to a stimulating, exhilarating experience that will enhance your physical capabilities. So, if you have begun your search for some substance that can make your party hipper and trending, Sativa is for you. Sativa is the stuff—this waves-off all the mental fatigue. Hence, the individuals who are otherwise short of confidence at gatherings will join the party mood.
RELATED: Why You Need To Be Careful Using Edibles The First Time
THC is one of the cannabis compounds that allow a better psychoactive effect and Sativa strains have them in great abundance. Therefore, if you ask for a recommendation for recreational cannabis, the first advice of seasoned users will be Sativa strains.
• Is Sativa useful for medical purposes also?
Yes. Even though this variant of cannabis is popular for recreational gains, it doesn't come across as disappointment for people with medical requirements as well.
Effective pain relief
The ones who are looking for relief from the intense pain from chemotherapy, or just cannot get rid of some chronic pain can consume them for instant relief.
Pain relief provided by Sativa is not limited to patients with chronic pain but can also help the ones suffering from acute strain in muscles, severe headaches, and more so that the patients can live a life that is free of pain.
Manage side effects of chemotherapy
Other than that, issues like nausea, vomiting, and lost appetite are some issues in cancer patients that can be taken care of with the help of Sativa strains. The ones who tend to skip the scheduled chemo sessions due to the fear of pain can also rely upon the Sativa strains to help them feel less pain and manage side effects. In this way, they can complete their treatment and get healthy soon.
Popular Sativa Strains :
Indica Strains and How They Can Please the Body and Soul
If you are a consumer who is looking for a variety to unwind and relax, then you should definitely look for Indica strains. They have a sedating effect on mind and body, can be grown privately in small quantities as well, and allow you to create new cannabis strains too.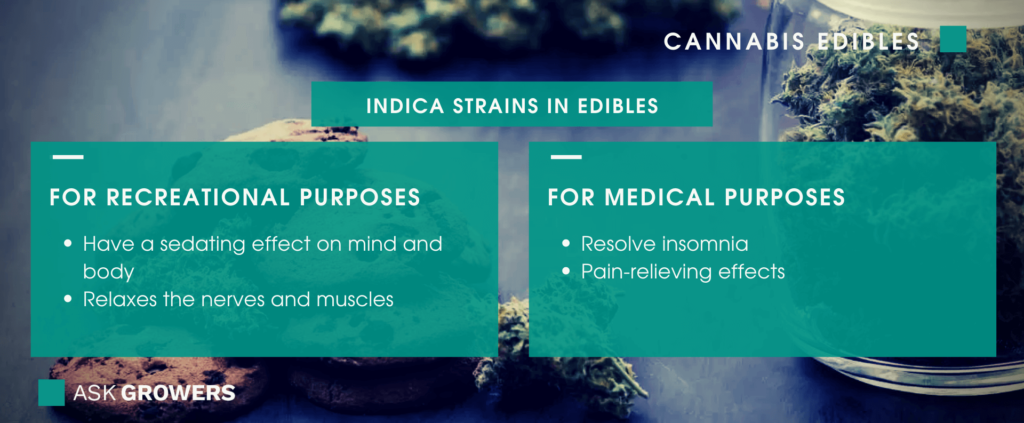 • Indicas for recreational users
Indica is the go-to variety of cannabis for enthusiasts who are looking for a recreational high, whether they are planning to spend their evening alone or have company over. Such sedation is the result of the effects of CBD, and it is present in abundance in Indica strains. It relaxes the nerves and muscles of the users and lets them unwind after days of hard work.
If you are often troubled with the stress of work, anxiety to meet deadlines, or facing a future project, then you should give Indica cannabis a shot. They will help your mind give up on other stressing thoughts so that you can direct your energy towards your goals. This is possible because the sedating effect puts the brain at rest, giving it time to rejuvenate.
With Indica, you can bid adieu to anti-anxiety drugs which do nothing more than give you side-effects. Smoke some vapors of Indica and let yourself experience the mind relaxation offered.
Indica strains are perfect for helping you get rid of any kind of block that you are experiencing in your creative field. Now, since Indica has got your creative juices flowing, all your hard work will earn success for you in all endeavors without any delay.
• Indica Strains And Their Medicinal Benefits
We would not be wrong if we tell you that Indica strains are incredibly effective in most medical conditions. Yes, patients who are looking for a way to get rid of disease-related stress and anxiety can always resort to the calming effect they impart. Also, you do not have to consume lab-obtained, harmful drugs anymore.
Resolve insomnia
Insomnia is another condition that is common amongst individuals who are seriously ill or the ones who are way too fatigued to fall asleep. So, Indica strains can be consumed by them to relax their brains and get a good night's sleep. The hospitals, before cannabis was legalized, used tranquilizers, pills, and other aids to make patients fall asleep, which came with a variety of negative effects. Now, they can take the strains when they wish to relax and fall asleep, which also put their sleeping patterns in place.
Pain-relieving effects
Like THC, CBD is effective in dealing with pain. Therefore you can consume Indica strains as a natural pain-relief solution. Then again, no matter whether you are experiencing chronic ache, inflammation, or strain in the muscles, or severe headaches, you resort to the apt dosage. Excessive consumption can be harmful too.
Now you can live a pain-free life without having to resort to pain-killers which come with several potential side-effects.
Popular Indica Strains :
Hybrid Strains And How They've Revolutionized The Cannabis Industry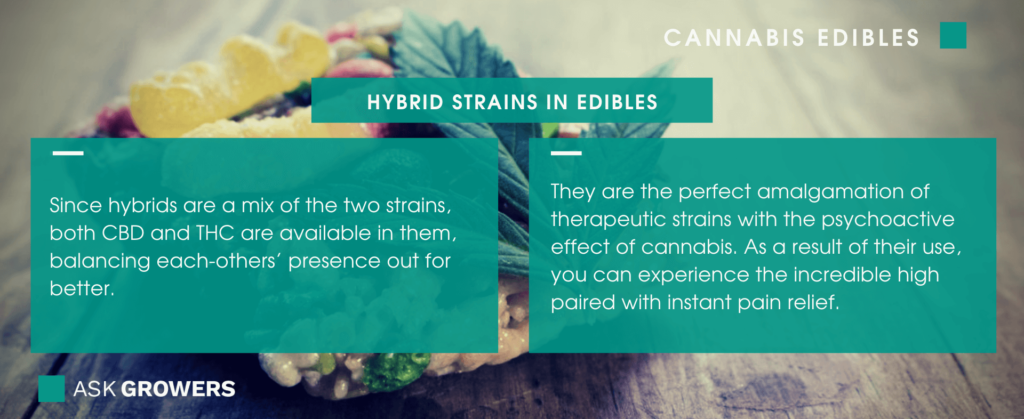 With the increased reach of Sativa and Indica strains, people have started taking them more seriously as recreational and medicinal herbs. Therefore, debates and discussions that revolve around their effects have also increased. Even today, scientists are contesting to find out whether the classification of the two variants according to their effects is justified.
Some scientists argue that the effect strains have on them depends upon how people react to these substances rather than their specific properties.
Then again, the experts, as well as growers, have devised a solution to counter it all – hybrid cannabis strains. Essentially, they are a combination of Sativa and Indica strains. They can have one of the varieties as dominant and the other one as a mild infusion.
They are the perfect amalgamation of therapeutic strains with the psychoactive effect of cannabis. As a result of their use, you can experience the incredible high paired with instant pain relief.
Also, since hybrids are a mix of the two strains, both CBD and THC are available in them, balancing each-others' presence out for better.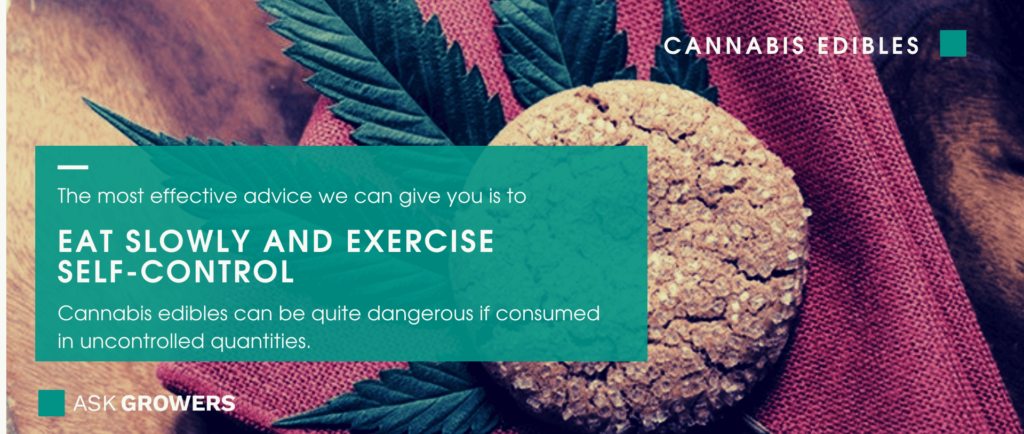 Popular Hybrid Strains :
Consuming The Sativa And Indica Edibles
Ingesting infused edibles is one of the most popular ways of consuming Sativa and Indica. These yummy, delicious treats are not mere tinctures or oils to be qualified as oral cannabis; they can be devoured as food and their high can be experienced later.
However, one has to exercise extra care when consuming Sativa or Indica edibles because they look and taste like regular foods. So, make sure that you exercise enough caution if you have minors around. Even if you are an adult and cannot resist the temptation, you should stick to limited quantities because an excess of cannabis can be harmful to your health.
RELATED: How Sativa Became The Energy Queen Of Cannabis
The appealing aroma, taste, and appearance of these treats might push you to fill up on them, but you will have to exercise self-control. Ensure that you buy accurately dosed products and when preparing them yourself, use a moderate amount of weed. For instance, when you are buying or preparing a marijuana chocolate bar, ensure that a piece of it doesn't contain more than 10 mg of THC.
Another advantage of having cannabis in oral form, especially edibles, is that the individuals who are not a fan of smoke and have trouble ingesting it can take these too.
Precautions to Take When Consuming Cannabis Edibles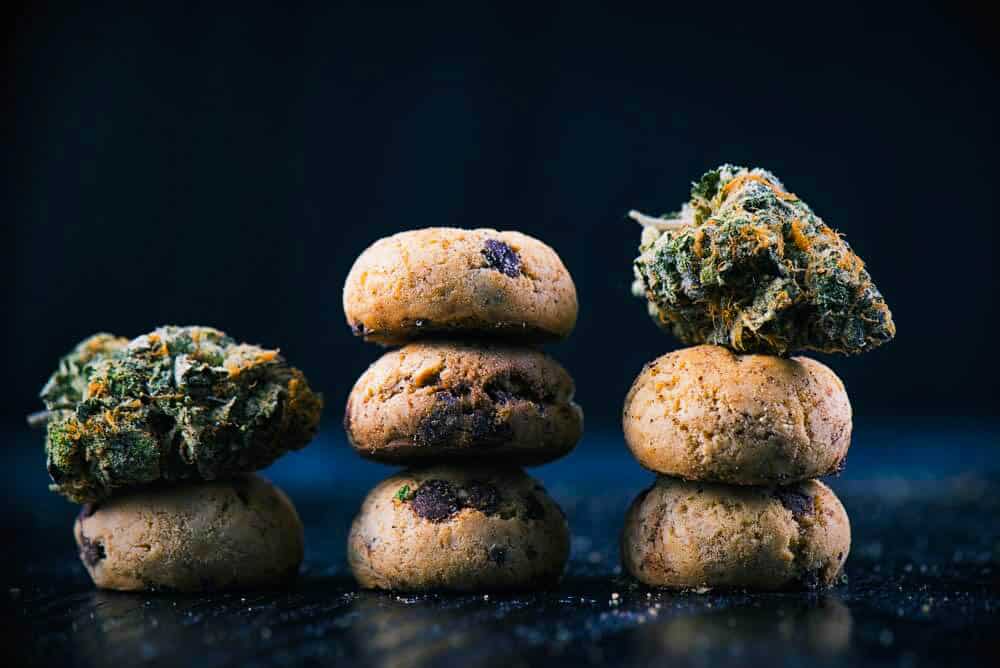 Cannabis edibles do paint a harmless picture, but they can be quite dangerous if consumed in uncontrolled quantities. Also, what you do not know is that these edibles can be quite addictive. So, you can end up eating enormous quantities of edibles at one go and suffer the side-effects of overdose.

Practice moderation
The most effective advice we can give you here is to eat slowly and exercise self-control. Apart from self-control, you should also focus on the dosage of the edibles you are eating. Remember to check it according to each serving. Often, this dosage is 10 mg of THC per serving. If you are new to the substance, you should refrain from anything more than this.
The sweet-toothed individuals should simply place one bite of the chocolate below their tongue and let it dissolve. Otherwise, they might end up eating the entire pack waiting for the high to reach their bloodstream and then the brain.
Time the effect
Apart from sublingual edibles, you can also try timing the effects. For this, simply consume half of the serving of chocolate or candy and let it enter your system. Turn on the clock and check the amount of time it takes to show its effects. In this way, you will know how to regulate consumption. Normally, it will take 30-35 minutes before the effects of cannabis will hit you.
Opt for commercial brands
Also, prefer the commercial brands rather than homemade ones in the beginning because they will provide you with a regulated dosage. For those who want to up the usage, commercial packaging has labels that will advise you what needs to be done.
Snack before you consume edibles
Another good advice will be to snack lightly before having the cannabis candies as once you are full, you will abstain from loading up on edibles. However, remember that since you are already full, then you will experience the high much later. So, do not eat more just in anticipation. Or not… Then again, if you want to experience the best high possible from a light dose, take it with an empty stomach. This will allow the edible to reach your bloodstream faster.
Keep the stack hidden and away from the reach of children and pets
Another important caution you should take is to keep the stack of these candies and chocolates away from kids and pets because they can be tempted easily. You do not want your children and pets to mistake the weed edibles for candies and eat them. Even if your child or pet consumes the edibles accidentally, you should rush them to the emergency room immediately. In case of pets, you should urgently see a vet.
RELATED: Trick Or Treat: Tips For Keeping Candy Edibles Away From Children
The major issue most of you will face here is that the chocolates and candies are supposed to be stored in a refrigerator. And your children have access to it. So, do not let your children see where you are storing them in the first place and store them in disguise. Ideally, cover them in the wrapper of something your kids and pets detest. Try covering them with broccoli and capsicum perhaps?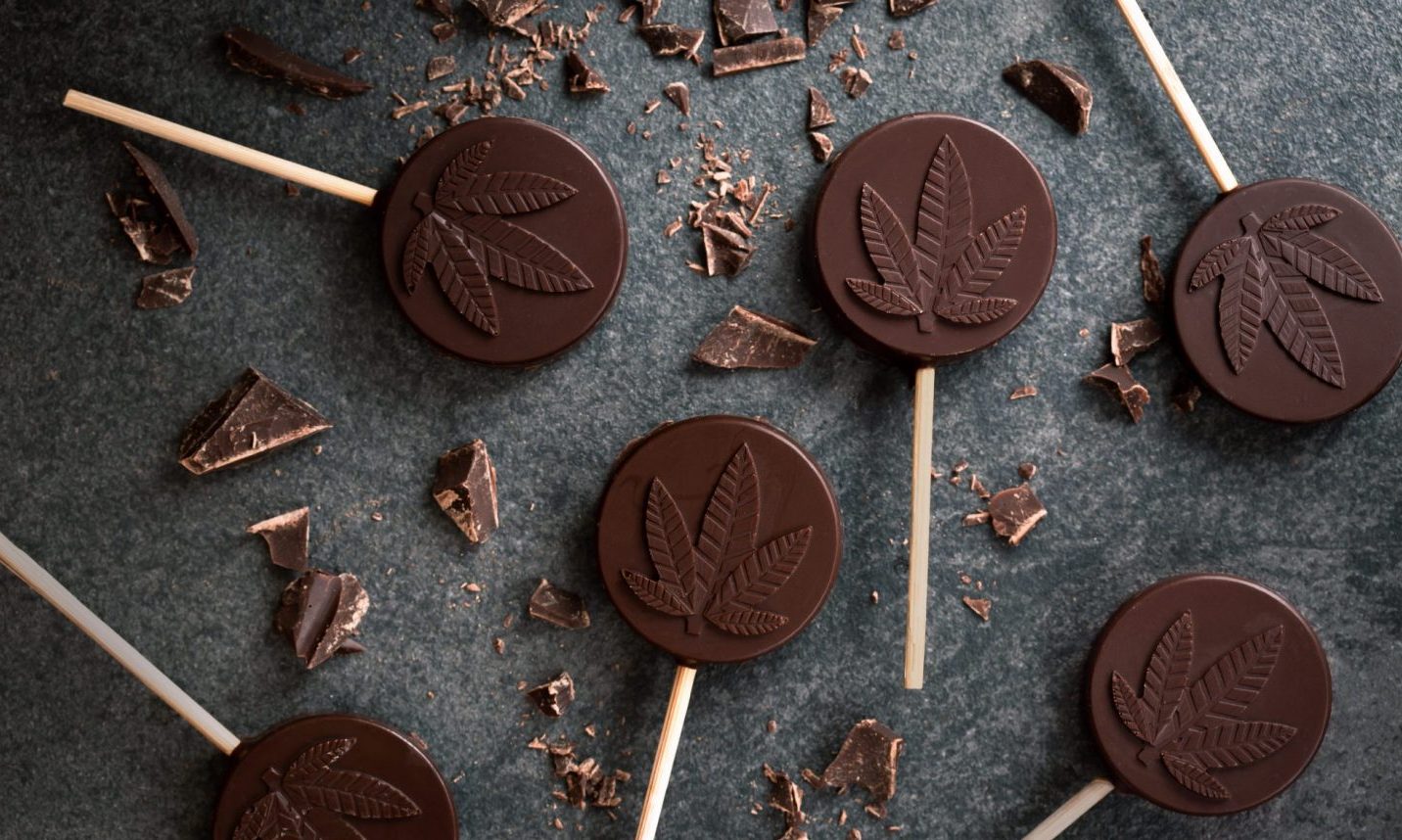 Lose the packaging if you have to, not the information
If you are forced to remove the packaging from the edible, make sure you take down the important information like date of expiry, contents, and composition on a plastic wrap.
Do not ignore legality of the substance
Another aspect you cannot ignore is the legality of the substance in the region you reside in. Yes, check whether the state in which you are buying the product has legalized marijuana for recreational purposes or not. Also, make sure that you are the right age before buying and consuming it. Currently, it is 21 in the USA and 19 in Canada.
Not just the permissions in your state, if you are living in a society or apartment, you should confirm that there are no restrictions imposed regarding smoking or bringing weed in the premises. If yes, then you should not bring them home.
RELATED: Why Do Some People Not Get High From Eating Edibles?
The amount of cannabis each individual can buy is also subject to legal issues since they can call for legal action against you if ignored.
Apart from that, some individuals also plan to grow cannabis instead of buying them. If you are planning to do it in the open, whether for private or commercial purposes, you should obtain permission if required.
Final Thoughts
As for the demarcation between Sativa and Indica strains according to the effect they have on the human body, they are discussed above. Now, the decision about the one you would like to buy and consume is up to you. If both of them have impressed you, you can also try out their hybrid version.
Cannabis edibles are in trend nowadays and are a delicious medium to consume cannabis for those who are not a fan of smoking it. And why shouldn't they because you can buy these delectable candies and chocolates in a wide variety of flavors. Moreover, they are available in gluten-free, sugar-free variants, with only organic ingredients going in them.