Infused cannabis beverage makers are still addressing and experimenting with taste and dosing issues, and progress has been steady. But there is still a sense that all is not ready to go… just yet.
Non-alcoholic beer infused with CBD or THC sounds like a good plan. A natural fit. A new sort of buzz that doesn't put you under the table, drooling as you slip into a moment of blanking out. It's a more user friendlier intoxicant.
But there are a number of obstacles to overcome with cannabis-infused beverages, including taste, how much and what kind of CBD or THC to infuse, and consumer education about drinking these new cannabis products amid a mind-numbing onslaught of more and more cannabis products that clutter the shelves of most dispensaries.
Consumers know infused beverages as a sort of beer replacement product that does what beer does, only different.
Hey, why not an infused beer? Both hops and cannabis are closely related agriculture products. Both have terpenes and terpenoids (THC is a terpenoid). But hops lack an enzyme that could convert one of its chemicals to THC or CBD.
The non-alcohol brewed beer infusion product represents a newly developing forum that has had a few rushes to market, some fits and resets. But overall it still looks viable. It still seems bankable.
Investors, big beverage companies, and startups instantly saw the opportunity for a new product that just may appeal to a consumer tired of just getting drunk, and dealing with the hangover, but still liked the buzz.
They have gone to work. But the last couple of years have not been kind to some, and have harpooned their ambitious cannabis infused product plans.
RELATED: Cannabis Beverage Market To Hit $1.82B By Year's End
One of the world's biggest beer breweries, Belgium-based Anheuser -Busch InBev, with over 630 brands globally, jumped at a chance to get into the cannabis business through a $100 million joint venture with major cannabis producer, Tilray, in December, 2018.
Then Tilray hit the skids, and is still struggling to survive, reporting a $81.7 million loss in the second quarter of 2020, essentially putting a kink in the InBev plan.
Times are hard for InBev as well today. The company has reportedly lost 40 percent of its stock value since October, 2019.
The other big non-alcohol cannabis infused beer player is Constellation Brands, makers of Corona and Modelo beer brands, investing $4 billion and taking 56 percent ownership in a deal with the other major cannabis producer Canopy Growth in 2017—and, in the process, becoming one of the first alcohol companies to partner with a cannabis company.
Then Canopy Growth stumbled as well over the last two years, losing its CEO Bruce Linton last July after it revealed a $300 million fourth quarter loss.
RELATED: 54% Of CBD Beverages Contain Less CBD Than Advertised
Like Tilray, Canopy Growth appears to be recovering slightly today.
And rumors about Constellation getting out of their deal with Canopy swirled around the cannabis community late last year. But that noise has since abated and Constellation moved on—months after Linton's departure, and with a new CEO, Canopy got their license in November, 2019, to begin production of their cannabis beverages.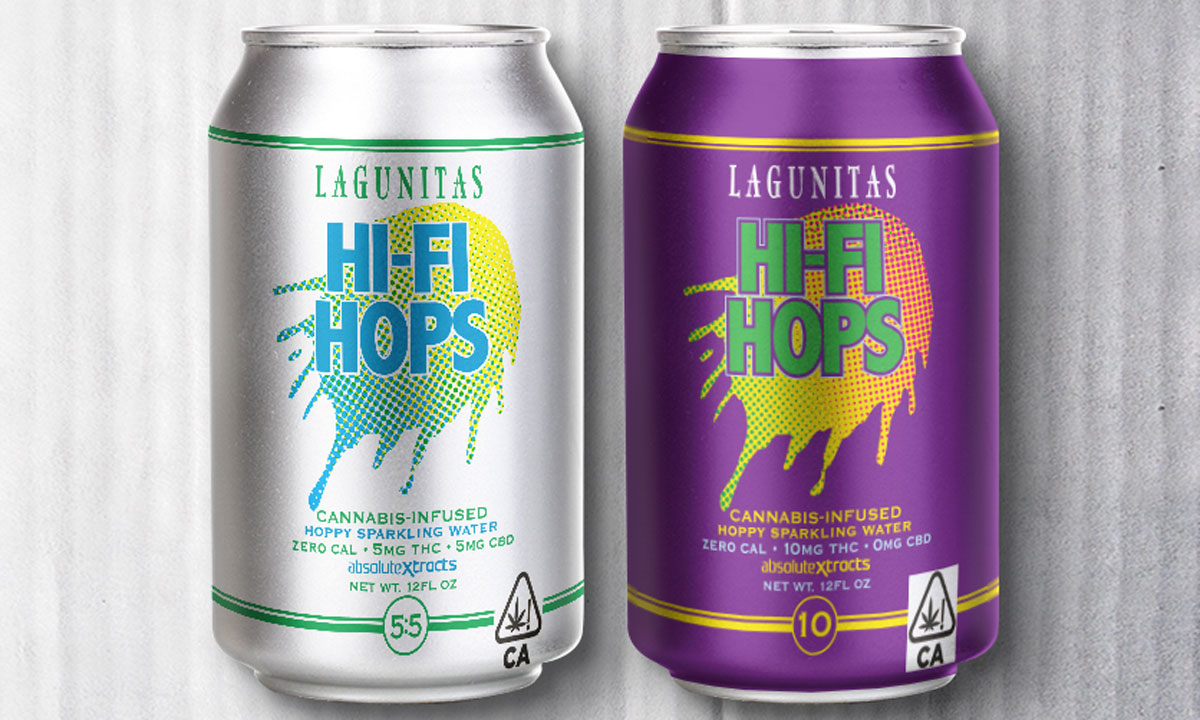 They began rolling out CBD-infused beverages in March, 2020. In an August 2020 earnings call, Canopy Growth's new CEO David Klein said that its product line of cannabis beverages has accounted for 74 percent of all ready-to-drink cannabis beverages sold in Canada. "We're on track to expand our market leadership in beverages," Klein said.
Constellation just doubled down on its investment in Canopy. "While global legalization of cannabis is still in its infancy, we continue to believe the long-term opportunity in this evolving market is substantial," Constellation Chief Executive Officer Bill Newlands said in a press release.
The latest news about progress in cannabis infused beer comes from hemp and cannabis infusion technology company Vertosa, teaming up with Pabst Labs, which is a newly formed licensed cannabis company making Pabst Blue Ribbon Cannabis Infused Seltzer. That cannabis infused beer beverage is now available in a select group of California dispensaries.
Vertosa has been the cannabis and hemp infusion partner for other infused brands, including VitaCoco, Calexo, Lagunitas Hi-Fi Hops, Viv & Oak wine, and Soul Grind cold brew by Caliva.
The infusion technology has been difficult to perfect, but is getting better.
RELATED: Beer Distributor Adds Hemp Beverage To Lineup
One of the companies that does the delicate job of extracting and replacing alcohol with cannabis for both beer and wine is BevZero, working with its sister company, Conetech.
Conetech has designed a specially developed low temperature vacuum technology that enables the creation of lower alcohol or totally non-alcoholic versions of most craft beers without affecting the taste of the original brew.
So what does all this mean to the cannabis consumer?
After early amateur tinkering with the cannabis drink infusion concept, there was a "back to the drawing board" pause in the action until about 2017. Infused cannabis beverage makers are still addressing and experimenting with taste and dosing issues, and progress has been steady. But there is a sense that all is not ready to go just yet.
Enjoying these infused drinks in an acceptable social setting is another issue. Can they be sold like any other beer at, say, your neighborhood bar? Seems logical, but not likely.
Many state laws have regulations about this possibility, such as California's Medicinal and Adult-Use Cannabis Regulation and Safety Act (MAUCRSA), which says that it is OK for someone to own a license for cultivation and selling cannabis, and a license to sell liquor. But liquor and cannabis in any form can't be sold at the same location.
Meanwhile, combination cannabis and alcohol bar concepts have been drawn up in anticipation of a hoped-for change to come, designed with doors between the alcohol-only bar and the cannabis infused beverage bar as a way to create an enforceable space separation.
But these plans are basically on hold until regulators, industry advocates and business owners figure out what to do next.
Still, there are tempting developments that may chip away at any obstacles. The first official cannabis consumption restaurant, Lowell Cafe, opened in West Hollywood last October to record business, further confounding what can and can't be sold in a cannabis-themed restaurant.
RELATED: Solving For CBD's Funky Taste Before Beverages Can Go Mainstream
And the smaller breweries are taking a stab at the cannabis infused non-alcoholic beer market on their own, including Ceria Brewing in Arvada, Colorado and brewmaster Keith Villa, the only man with a doctorate in brewing from Belgium.
Villa created the popular and fast-selling Blue Moon.
Ceria launched their first product, Grainwave, in December, 2018, which is a Belgian-style white ale like Blue Moon, carefully replacing the alcohol with 5 mg of THC. They launched their second product, Indiewave IPA, later, again removing the alcohol, this time replacing it with 10 mg of THC plus 10 mg of CBD.
The company has looked into infusion of higher levels of THC, but 10 mg is the maximum amount allowed by the state for any consumable cannabis product.
Ceria worked on the premise that the effects of the 5 mg of THC infused in the beer comes on in 10 to 20 minutes—meaning just about the time you are finishing one beer, and drinking a second, you begin to feel the effects of the first.
Bottom line is that it's a challenging business proposition as both craft brewers and Big Alcohol are finding out. And there is no real proof of a developed market yet, no real promising figures of pent-up demand for these infused drinks.
Yes, CBD infused beverages are on the rise in Europe, according to one study, which are mostly carbonated drinks and teas, fruit juices and sparkling waters—not something that you would associate with a bar. But since these products are intoxicants, they may help to sort of lay the groundwork for more beer-based infusions to come.
And there appears to be some momentum behind infused beverages of late. For example, as of September 2017, there were 107 cannabis beverage brands available at dispensaries in Colorado, Arizona, California and Oregon, according to BDS Analytics, a cannabis industry analytics and business intelligence company. BDS also predicted this would be a $1 billion market by 2022.
In any event, economic conditions now are not great for rolling out a product such as a non-alcohol, new-buzz, infused cannabis drink that may either catch fire or fail because there are so many unknowns, and so many consumer preferences to track and measure.
But putting a good buzz on that doesn't get you so drunk you can't talk may be just the ticket to a different level of conscious fun at the bar. And that's something we can all celebrate.