theJasmineBRAND exclusively reports, Migos is denying that ripped off their hit single 'Walk It Talk It'. Founded in Lawrenceville, Georgia, in 2008, the group is composed of three rappers known by their stage names Quavo, Offset and Takeoff.
"Walk It Talk It" is featured on the trio's third studio album, Culture II (2018). After the album's release, it debuted at number 18 and later peaked at number 10 on the Billboard Hot 100 after its release as the third single.
The group recently responded to the case filed by a musician named Leander C. Pickett who goes by the rap name M.O.S.. He claims that he released a song by the same name as the Migos hit back in 2007, way before the band did in 2018.
RELATED: Police Find Exactly 420 Grams Of Marijuana On Migos Tour Bus
Take a listen to M.O.S.'s track below.
Take a listen to Migos' track below.
The group's legal team states that the musician has not shown one "substantial" similarity in songs and can't prove any of the band members came into contact with his work at any point.
Migos lawyer points to the musician suing filed to copyright months after his client released their song. They will request the lawsuit be dismissed.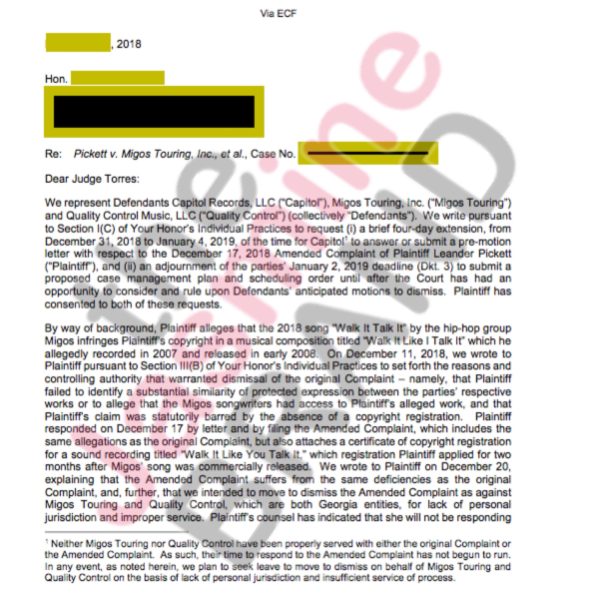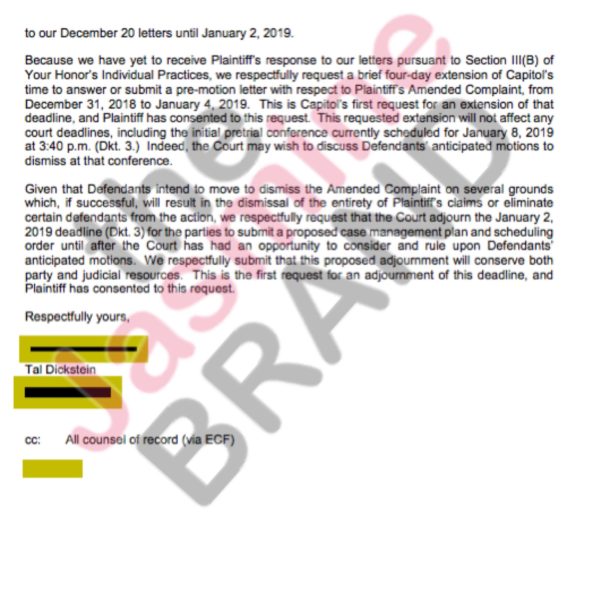 Singer R. Kelly has managed to come and go as he pleases as a free man for many decades amid accusations of child molestation, sexual assault, and holding women against their will in a sex cult. He, apparently, isn't hiding from the public to this day. Lifetime's "Surviving R. Kelly" documentary aired many instances of his predatory behavior, sparking masses of people – even celebrities – to #MuteRKelly. But, the singer had a clear message for those naysayers at Club V75 in Chicago last night (1/09/2019).
After singing the a capella opening to his 90's hit, "Bump and Grind," R. Kelly shouted this to the clubgoers:
https://www.instagram.com/p/BsdSI2Vlu-8/
Both he and the party people of Chicago seemed to be obliviously enjoying themselves.
https://twitter.com/CMartinezTB/status/1083278266646102017
Meanwhile, Chicago's CBS affiliate recently reported that the local police department performed a "business check" at his studio where captives are allegedly being held, after they received reports that a party was held there for his 50th birthday.
Frank Ocean hasn't released music since 2016, but he has found a way to remain a private, but visible entity within entertainment. One way, was during the midterm elections. Ocean offered free merchandise to fans in swing states who could prove they voted.
As fans still await new music from the artist, he has given an interview (to GQ) as a brief update to what's been going on in his life. He shares how uses social media as an advantage, his skin care routine, why he decided to make his Instagram public, and why he moved to New York. Check out a few excerpts below.
https://www.instagram.com/p/BsdBaBtFgb5/
Why he decided to put his Instagram on public:
 I feel like there was dissonance between how I was seen by the audience and where I was actually, so that contributed to the decision to make my Instagram public, for sure. But there's also the idea of dialogue and discourse and conversation—like theater where the audience can interrupt you versus the television.
How he uses social media to his advantage:
How he feels about living in New York:
In New York, it's the first time in a minute that I've had my own space that's not a hotel and not some rented home, where everything around me is mine, and that's been really cozy and comfortable this past year.
His skin care routine:
Man, listen…some days, like today, I feel very beautiful. But some days, like in the winter, when I wear a lot of knit hats, my skin doesn't like that. My mom told me years ago that you gotta get somebody to stitch the silk inside the lining of the cap so it doesn't irritate your skin, 'cause your skin is sensitive. I didn't listen to my mom, but I really do believe in a night cream. I feel like men just go to sleep. They may wash their face or they don't even bother—they go to sleep with the day face on. You really need to do a gentle wash and put a night moisturizer on. You can't have the retinol in your creams in the day because it makes you more sun-sensitive, so you wanna throw that on at night. I need the night cream because when I wake up I feel very beautiful, moisturized and ready to have people making eye contact with me, ready to look above my eyebrow, below the eyebrow. [laughs] That's the life hack right there. It's been all these years, and Pharrell still hasn't given us the keys yet. He just says "exfoliate," but it's not just "exfoliate": We need more keys.
His favorite vices: