There is no denying Whistler. British Columbia is a premier winter destination with world class slopes (did you know every Blackcomb run was designed on a computer so there would be less flat spots for snowboarders?), extensive cross country ski trails, and now even an ice rink.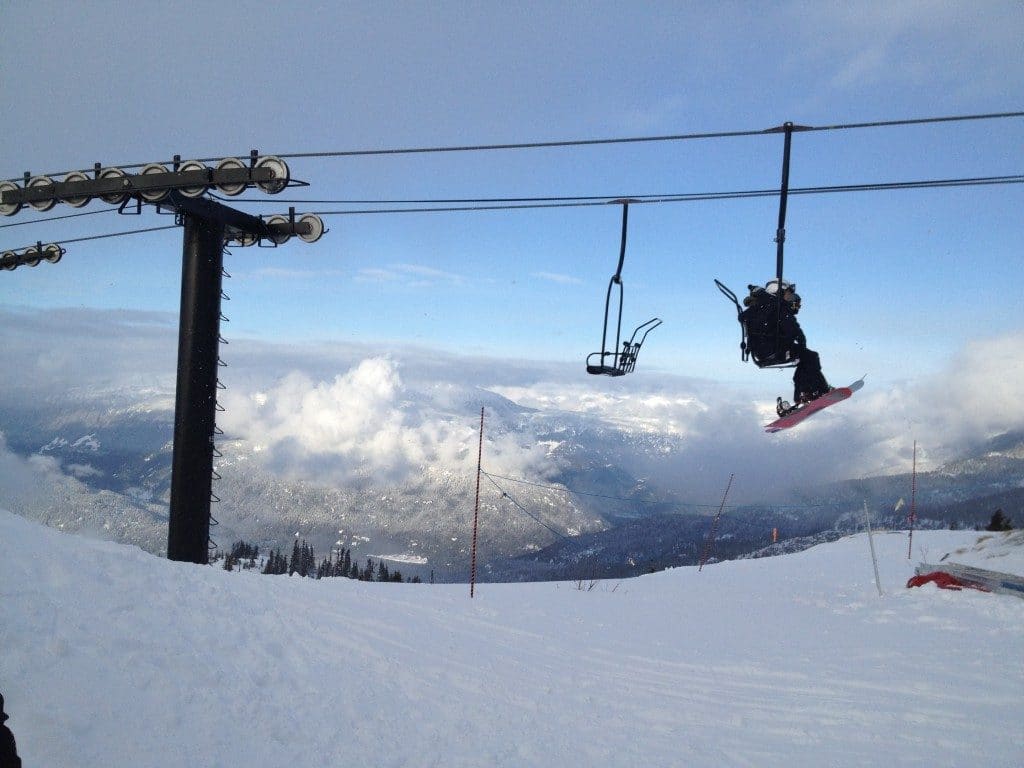 Unfortunately, Whistler gets a bad rap from hardcore food enthusiasts, but there are gems out there if you look beyond the KFC and the Savage Beagle.
This is the second of a three-part series on Whistler eats: On a tight budget, get 'er done in 25 loonies or less, and I don't mind throwing down some bones.
On A Tight Budget
Just because you don't drive up to Whistler in a Mercedes Gelandewagen and you would rather put your moolah towards lift tickets and gear, doesn't mean you have to live off a loaf of discounted white bread and a six-pack of Natty Light.  Here are some tasty options.
Horstman Hut
Located at the top of the 7th Heaven lift on Blackcomb mountain, this European-themed hut is the most charming mid-mountain option.  Forget that generic chili in a breadbowl when you can choose from a selection of cured meats and cheeses, meat pies, warm danishes and crostatas, all washed down with some LowenbrauGerman beer.
Horstman is a cute refueling station and has one of the most stunning vistas of the Coast Mountain range.  Everyone crowds indoors to get some relief from the cold, but I always take my lunch out to one of the tables outside so I can soak in the beauty.  One small downside – The Hut is "rustic," meaning:  If composting toilets aren't for you, then you will need to make another pit stop.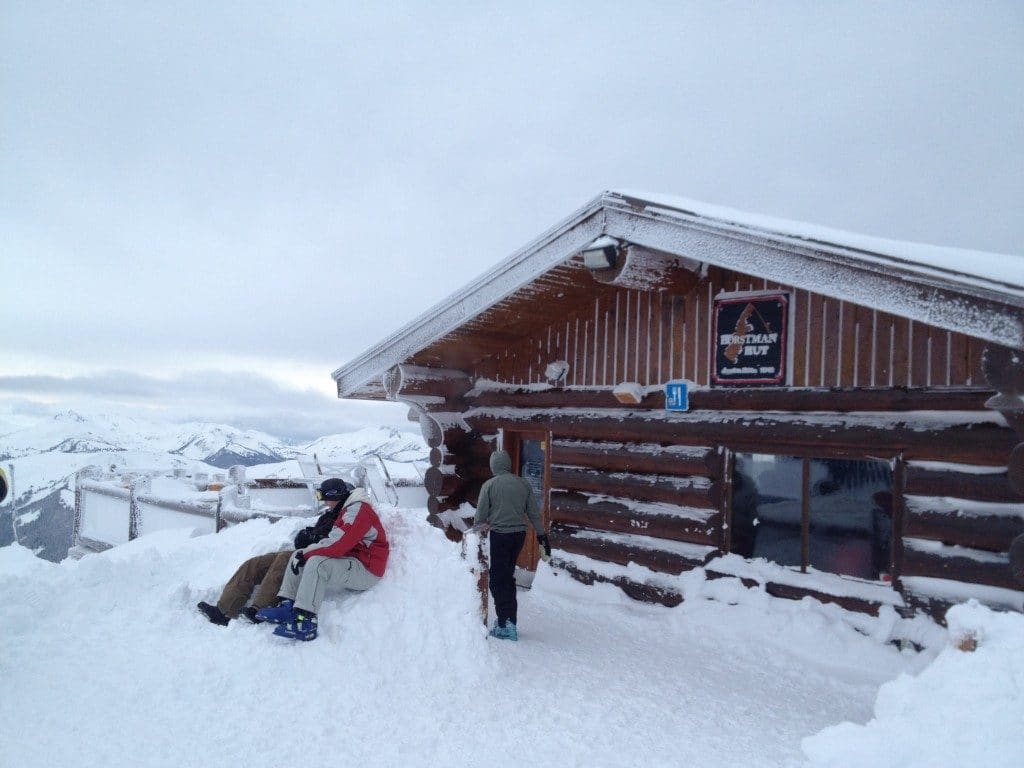 When you see a constant flow of hungry college-aged lads huddled around this cozy down home cooking joint, you know that probably means large heaps of food served quickly as to not deter from valuable time on the mountain and at a reasonable price.   In close quarters, the staff at Ingrid's promptly cranks out North American-styled bagel sandwiches, wraps, meatloaf, and turkey burgers.  But where I think it gets interesting is when they go global with their scrumptious  falafel sandwiches, chicken schnitzel and curry wraps.  Prices are generally in the $6-$8 range.  There are a few outdoor and indoor tables and it is carryout friendly.
Samurai is no Iron Chef and is probably the antithesis from the luxuries at Vancouver's legendary sushi master's Tojo restaurant, but this is the place to go when you are looking for a quick healthy pick-me-up that will satiate your voracious appetite after hitting it hard on the mountain;  all the while not messing with your small collection of loonies.  Situated at both ends of Whistler with outposts at Creekside  and Nesters (which is located just outside the main village), the menu options are vast.
The way it works:  Place your order at the counter, pay and then wait for the sushi elves in the back to churn out your sushi.  The nice staff will bring you out your order when it is done.  The low wait times considering the mad rush of people are impressive.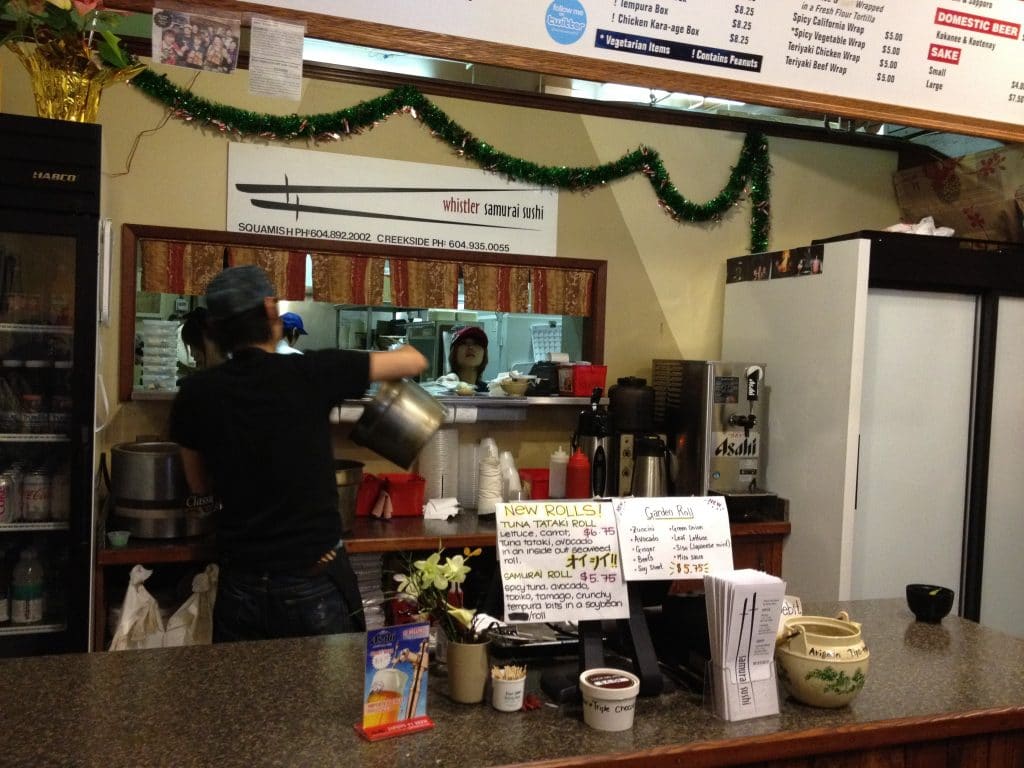 Samurai does a fair share of carryout orders, but they have a few booths and seats if you want to chow down on the spot.  I recently ordered four rolls and a miso soup for $20 (including tax and tip).  Oh, and I can never seem to find the bathroom at the Nester location so if you figure it out, let me know. I would greatly appreciate it.
Pizza, something I still generally associate with fraternity guys, late night eating and Pizza Hut (shame on me), I know deserves more respect.  Creekbread's fresh flatbread artisan pizza made on wood-fired clay oven is the perfect reminder of that.  Clientele ranging from hip young families to silver foxes dart to this joint around 7pm as they know they are in for a treat.  I could go on and on about the coolness of Creekbread, but here are a few snippets:  Creekbread only uses fire to cook, they ground up tomatoes and herbs to make their sauce (no canned tomatoes at this dojo), and they source from local suppliers up in Pemberton who share their commitment to sustainable agriculture and farm practices as much as possible.  Their crust is made from 100% organic Candadian wheat, milled into white flour with the wheat germ restored.
My routine generally involves starting with the No Boundaries salad which comes with a piling heap of romaine and at least eight other fun ingredients such as sulfate-free organic sundried tomatoes, BC grown mushrooms, Evergreen Farm rosemary, Maui grown pineapple, arame seaweed, and Pemberton roasted potatoes to name a few. Then, I move onto the 12 inch homemade sausage pizza with housemade nitrate-free maple-fennel sausage, caramelized organic onions and BC grown mushrooms baked on organic bread dough with housemade garlic oil.  The aforementioned items can generously feed two healthy appetites, but I am a glutton.
With mega high ceilings and  wooden frame, I feel like I am eating in a mountain lodge.  Oh, and the owners are representin' the good ol' US of A as as they are from the East Coast.  These people could give Seattle's local favorite pizza joint Delancey a run for their money.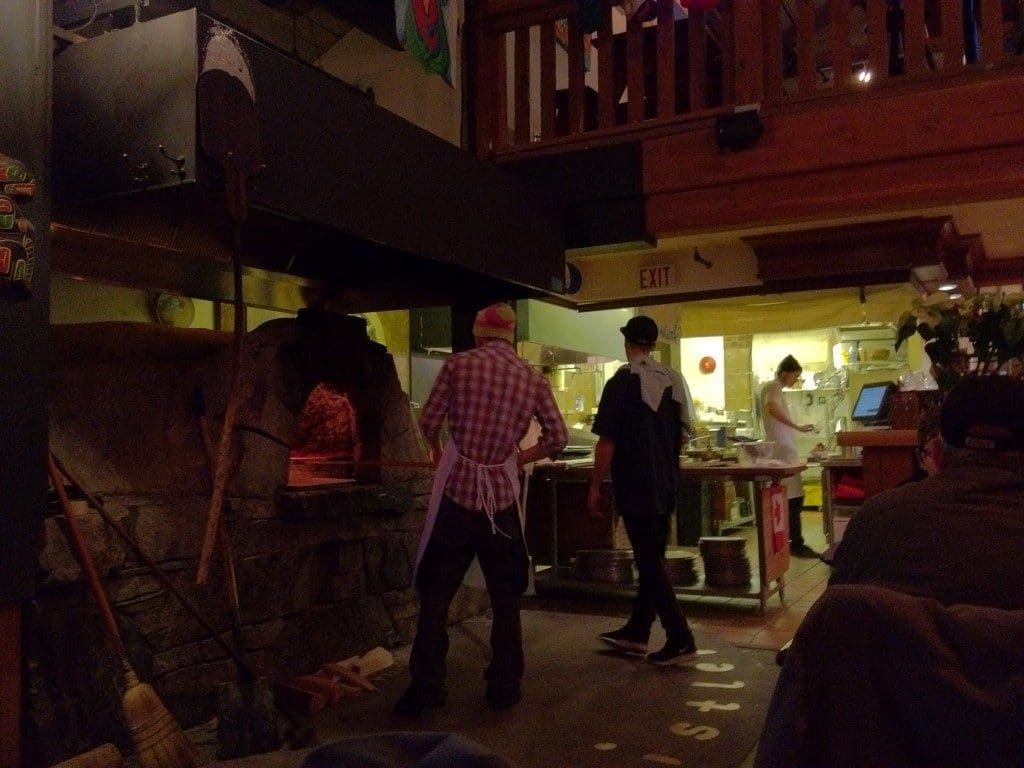 This 2010 structure constructed for the 2010 Olympics always seems to bail me out when I am in dire need of a smoothie or a warm cookie after cross country skiing or mountain biking in the Lost Lake trail system.  Check out bike races from this spot in the summer or catch a rest from cross country skiing while drinking some hot cocoa.  While you are there, take a gander at the interior's unique architecture.
Crystal Hut
Waffles on the mountain?  Hells ya.  This rustic hut also serves your typical fare of soups and sandwiches, but in looking around the cabin, it is clear everyone is here for the fluffy fully loaded waffles topped with strawberries, raspberries, mini chocolate chips, maple syrup, and whipped cream.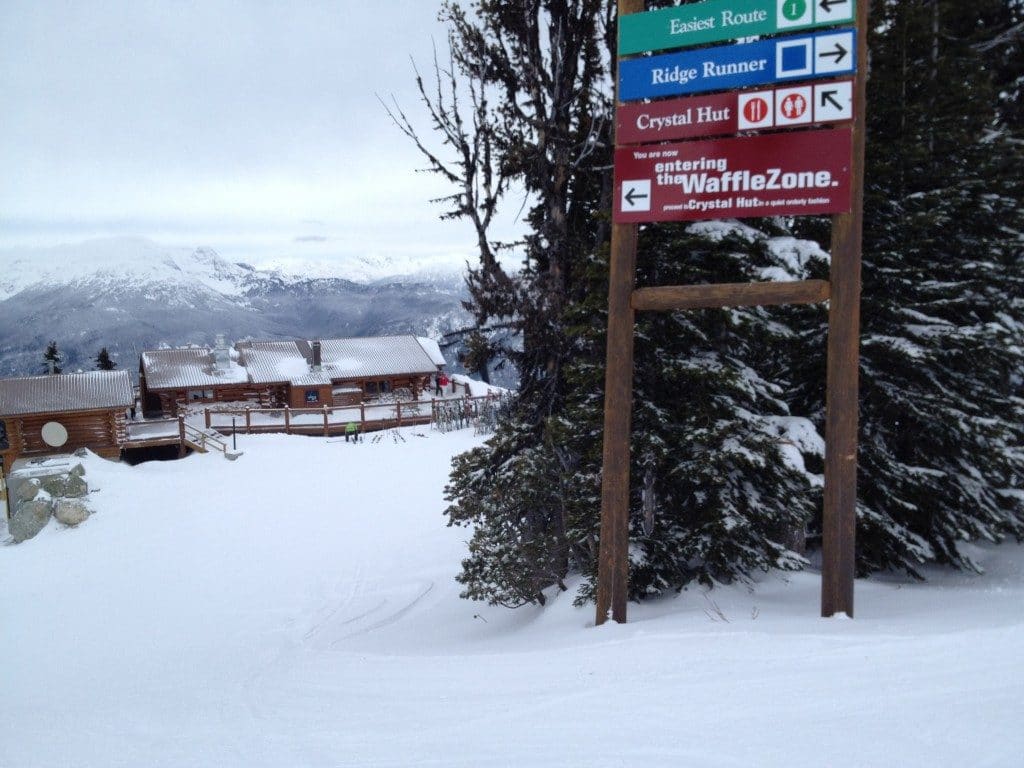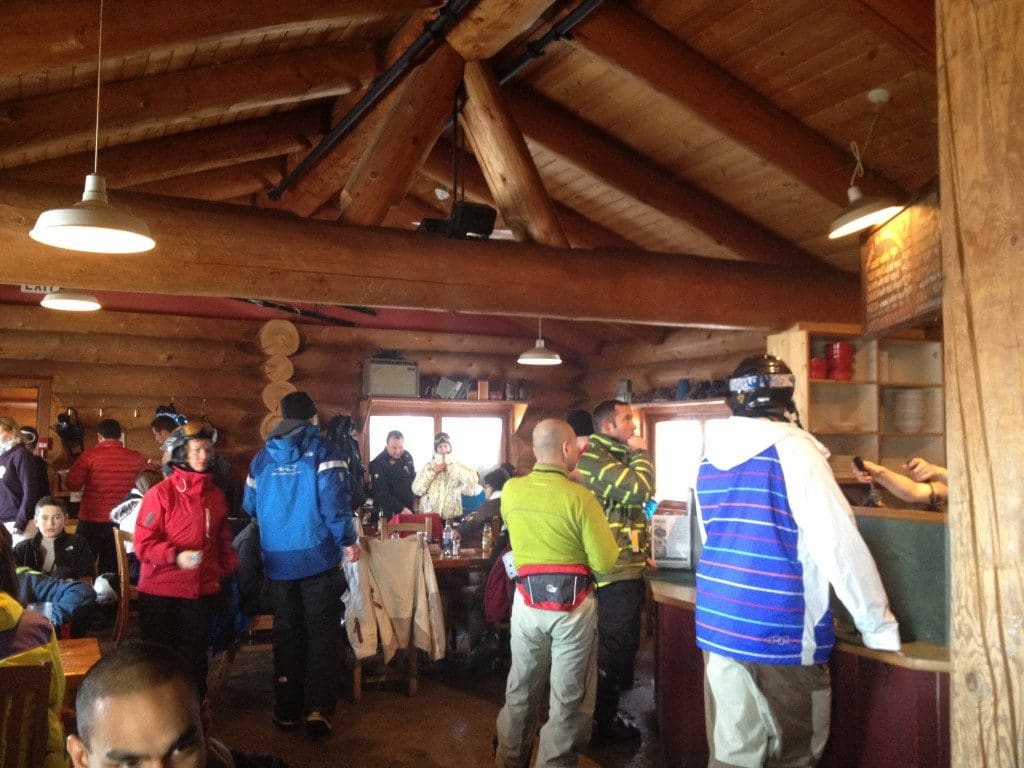 Like your typical hole-in-the-wall burrito joint, Dups looks like it has been around for a million years but also like a lot of hole in the walls, the food is satisfying and cheap.  The food is all-around decent, but Dups' differentiator and the reason they made my list is because of their chicken burrito and the friendly service.  Equipped with a chicken rotisserie, the chicken always tastes like it just came out of my mom's oven.   $9.50 gets you a healthy serving of the chicken goodness, along with beans, lettuce, rice, cheese and salsa.  They get bonus points because they have a KEXP sticker prominently displayed behind the counter.
If you are feeling mega hungry, you can try your hand at a Phatty which is a burrito four times the size of a normal already plump burrito.  If you successfully eat the Phatty, you get your picture on the Wall of Fame, which lines the back wall of Dups.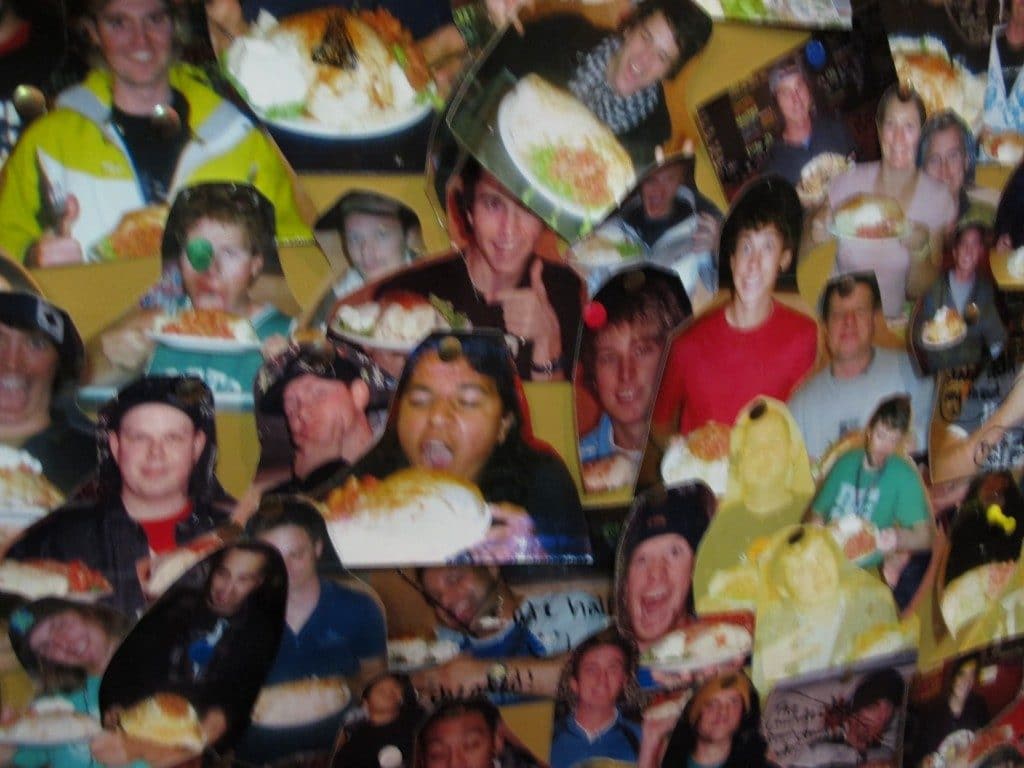 Tip:  Go for lunch when the rotisserie is up and running. Otherwise, you get the leftovers at night. Still decent, but not quite as good.
This is a repost from Jen Chiu's blog, Roll With Jen.