If you asked a Millennial if they'd rather give up their pets or their phone for a week, what do you think they'd say? The app-based phone service Visible recently conducted a survey of more than 1,000 phone users aged 18-34 to find out just how addicted they are to their mobile devices.
"In a game of 'would you rather,' the today's consumers would give up plenty to feed their cell phone addiction, but pets and personal hygiene are where they draw the line," says the survey.
The majority of respondents have a soft spot for their furry friends, with 72 percent saying they'd rather give up their cell phone for a week than put their pets aside for the same amount of time. Of those who would actually send their pets packing, men (34 percent) were more likely to do so than women (24 percent). Surprised?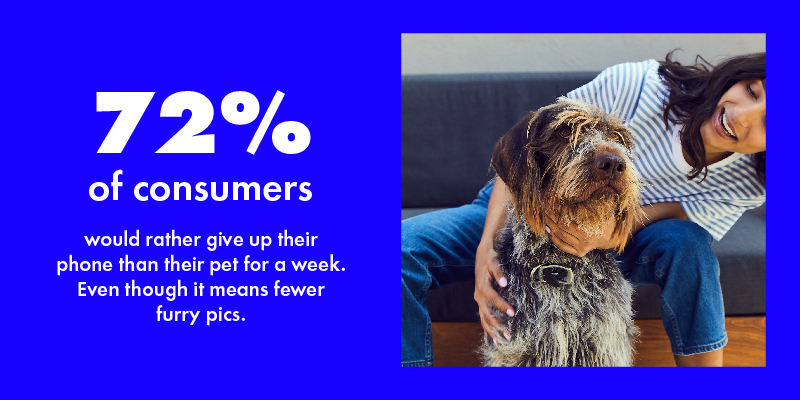 Nearly all of those surveyed (83 percent) would not agree to stop brushing their teeth just to have their cell phones by their side. After all, what's the point of waiting for Bae to Snapchat if they've already left you for someone with clean teeth and fresh breath?
More surprisingly, 77 percent of respondents would easily give up caffeine for a week if it meant having their phones around for a more tech-driven pick-me-up. Nothing jolts you awake like the sound of an incoming text.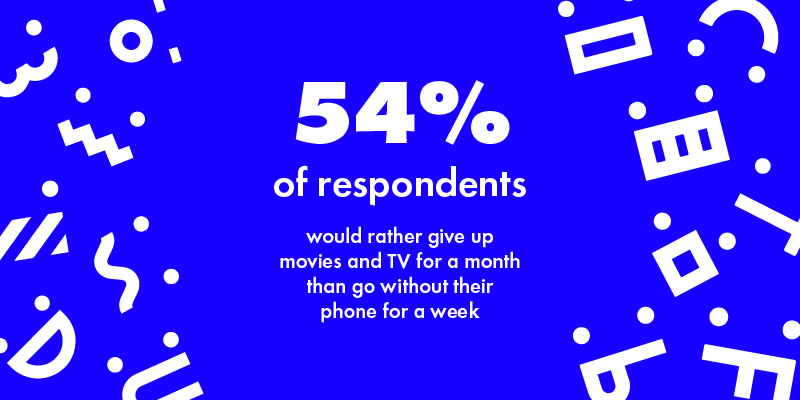 Now, here's the kicker. Streaming devices seem to have nearly equal power over the Netflix generation as smart phones. A little more than half (54 percent) of respondents would rather give up movies and TV for one month than go without a phone for one week.
So, what are these people willing to use their battery power on? 77 percent would prefer to use it to talk with a loved one instead of rideshare services (35 percent), Spotify streaming (21 percent), and social sharing (11 percent) combined. Next in line for that battery power is a mix of traffic apps, like Waze or Google Maps (44 percent).