Is it just us or do we get way more work done when we are in a coffee shop? What is it about a third space that makes us more productive?
Initially, we thought it was because we could literally roll out of bed, throw on a hat and some jeans and head off to work. Unlike coworkers, nobody at a coffee shop really notices what you look like.
https://giphy.com/gifs/r6BphGFbRkkWk
We also assumed there was a little bit of "showmanship" involved — not in a "let me entertain you" kind of way, but in a "people are watching me I better look serious" type of thing, where you're more likely to get down to business if you think people are judging you. (Yes, we are aware of the irony in presuming people care what websites you surf but not what color Snuggie you're wearing.)
All of these theories sound legit, but according to a study, none of it supports why we are able to be more productive. Turns out, it's all about concentration.
In an office environment, there is usually more noise…specifically noise made by co-workers, which can be annoying.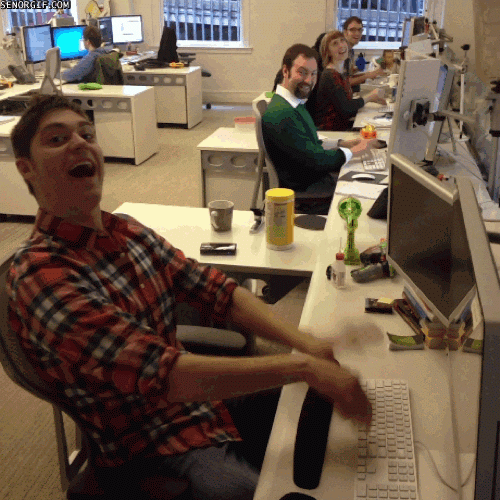 The noise coming from a coffee shop? While it's still noise, it's background noise, which makes it conducive for our concentration. No noise at all is actually worse than irritating officemate conversation that can derail your productivity.
All of this is basically the Three Little Pigs in noise form: not too loud, not too silent…just the right amount of noise is preferable when it comes to working on creative tasks. A certain level of white noise proved the ideal soundtrack for creative tasks, which coffee shops provide in the form of audible chatter, music, the grinding of coffee, and the clanking of glassware, just to name a few sound effects.
There's also just a general feeling of relaxation when you arrive to a coffee shop first thing in the morning instead of your office.
This new research, by way of Harvard Business Review, found that "face-to-face interactions, conversations, and other disruptions negatively affect the creative process," which is the downfall of an office setting. By contrast, a coffee shop provides "a certain level of ambient noise while also providing freedom from interruptions." So unless you get cranky when you're coffee order is announced or the person next to you slurps their drink, you might want to think about working from your local coffee shop more often. Bring ear buds just in case.