Robert Kelly, a political science professor at Pusan National University, was in the middle of a very serious interview on the BBC about the on-going political turmoil in South Korea when some unexpected visitors wandered into the live shot from his office.
First, a young girl, maybe three years old, opens his office door and confidently struts into view in a bright yellow shirt, her arms swaying back and forth. She walks right next to her dad.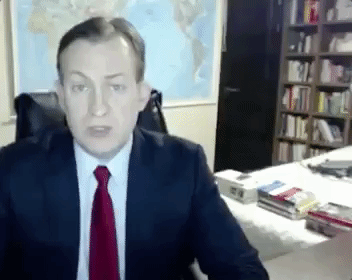 "I think one of your children has just walked in," the BBC anchor chimes in. Kelly tries to push his daughter back, only for another of his children—a baby in a little walker thing—bounces into the room to be with his big sister.
Kelly does his best to stay focused with the commotion, but unfortunately for him things only get worse. Next, someone who appears to be the child's mother comes flying—sliding, really—into the room in a clear panic. She grabs the kids and tries to leave, but the door has shut behind her, so she has to reopen it as she literally drags her children out. Then the baby's walker gets stuck, forcing her to turn him around.
Finally, she's out of the room with the kids, with the door shut. But then from the hallway, BBC viewers can hear the children crying and screaming.
Watch the best TV moment of the year below.
https://twitter.com/JOE_co_uk/status/840165524038377472?ref_src=twsrc%5Etfw
---
[gravityform id="13″ title="false" description="true"]