For the man who made the phrase "millions of peaches" internationally known, he certainly came around to the idea of eating homegrown and healthy later in life.
Chris Ballew, the singer/songwriter for the band The Presidents of the United States of America, who also fronts his Seattle-based kids rock band, Caspar Babypants, says when he thinks of how he used to eat before gigs on tour in the 90's, he cringes.
"I ate terribly," he sighs. "I drank beer a lot, ate white starchy foods – tons of pizza."
As a result of the unbalanced diet, Ballew says he had physical breakdowns and terrible eczema and that he slept poorly and got sick regularly. "I didn't put two and two together," he says, "and no Western doctor did for me either."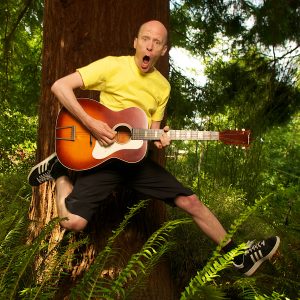 Ballew, who frequents an Emerald City naturopath, has mostly cut out wheat, dairy, eggs and sugar.
"But I still rock a CHEESEBURGER every once in a while! Or a sweaty 7-11 microwave burrito late at night," he admits when asked about his preferred vice.
The Presidents don't tour nearly as much as they used to – though they're known to headline the occasional arena – so Ballew spends much of his time writing, recording and performing his Caspar Babypants songs. And because his audience is filled with families and children, he often plays gigs early in the day. But what does he eat before them?
"My breakfasts are a big deal," he says. "I love a bowl of cereal with fruit – it's a good fiber hit, a good energy hit. I'm not too big into the eggy, cheesy complicated breakfasts."
And it's clear Ballew has done his research as to why.
"The delivery system for vaccines," he explains, "includes egg whites. So almost everybody who's received vaccines is in some degree intolerant to eggs."
And after the gig?
"I love a ginormous lunch," he says. "Sometimes I go to the local PCC Co-cop and get an entire chicken and just dive in. I'm all about meat and vegetables and quinoa."
It doesn't take Ballew long (or much arm twisting) to admit that if he were to pick one food item that people would change in their diets, it would be America's over dependence on sugar.
"I think sugar should be criminalized," he says. "And taxed heavily. Just like tobacco. I think the sugar issue is just about to break like tobacco did in the 70's – sugar is just killing us, it's killing us. If I were a more radical person I would firebomb cupcake places."
Save