Although the process may take some time, the relief that comes from cannabis therapy can lead to a greatly improved quality of life.
According to the Global RA Network, more than 350 million people around the world are impacted by arthritis. This makes arthritis one of the most common conditions on the planet. The U.S. Centers for Disease Control and Prevention (CDC) reports that arthritis is the number one cause of disability in the country, affecting about 1 in every four Americans. 
As common as arthritis may be, there is still no quick fix to the pain that accompanies it. Those who struggle with arthritic pain seem to be in a constant search for relief. Fortunately, proper treatment can help manage symptoms and prevent the disease's progression. But finding what helps can be a challenge.
Doctors recommend a variety of different treatment options, from nonsteroidal anti-inflammatory drugs (NSAIDS), to steroids, and other options that help with pain. However, cannabis has also shown to bring help for many though patients often have difficulty finding information on how it can help.  
RELATED: Cannabis And Rheumatoid Arthritis: What Are The Best Options?
Arthritis is a general term that describes inflammation in the joints. The condition impacts joints connecting two bones such as fingers, wrists, hips, back and knee joints. Redness, minor swelling and sensation of heat are commonly associated with arthritis, leading to chronic pain, stiffness and limited range of motion. This inflammation occurs when substances from white blood cells are released into the blood or affected tissues to protect the body from what is considered foreign invaders. This release restricts the blood flow to the affected area and may result in redness and warmth. This protective process often stimulates surrounding nerves and causes pain. 
How Cannabis Can Help
Cannabis is a known and recognized anti-inflammatory. Studies have shown that cannabis can have a positive effect in taming inflammation, as well as a myriad of ailments associated with inflammation — including arthritis. The entourage effect associated with the plant's combination of terpenes and cannabinoids, including THC, is also thought to help improve results.
The endocannabinoid system (ECS) of the human body is modulated by diet, sleep, exercise, stress, and many other factors, including exposure to cannabinoids like CBD and THC. Modulation of the ECS is crucial to maintaining homeostasis related to inflammation and analgesia. The good news is that studies have shown clear evidence regarding the efficacy of cannabis in treating this inflammation. 
Preclinical and clinical studies using cannabis-based therapy have shown to provide both analgesic and anti-inflammatory effects, with an overall alleviation of clinical symptoms in animal models of arthritis, highlighting its promising therapeutic application for humans. For example:
Multiple animal studies have demonstrated that non-impairing

cannabinoids like CBG, CBD, and THCv

can reduce inflammation and improve pain.

Other

animal studies

suggest that certain terpenes like linalool, BCP, eucalyptol, and limonene reduce inflammation, adding to the strength of the entourage effect.
As a result of these studies, it is believed that cannabinoid receptors and other receptors are thought to play a role in managing arthritic symptoms, as well as modifying inflammation. Despite these findings, the development of cannabis-based therapeutics remains in its infancy, with further investigation into its efficacy and safety profile in patients still required.
So what is the best approach to incorporating cannabis into an arthritis treatment program? First off, consider beginning with one dominant cannabinoid at a time and one product at a time (for example, a full spectrum CBD product). Incorporate other cannabinoids as needed and tolerated–and introduce them slowly over time. Begin with a very low 0.5-3mg dose of THC, and then increase slowly by 1-2 mg every other day as needed. Consider utilizing different daytime and nighttime regimens to reduce the risk of potential side effects. Also consider incorporating an acidic cannabinoid like CBDa, which has been shown to be effective at reducing inflammatory pain. 
Be sure to keep a daily journal to track progress, as well as to document which treatment is working. Utilize a simple pain scale of 0-10, with 10 indicating the worst pain and track daily how both the pain and range of motion are progressing. By keeping an accurate record of what is being consumed, patients can find the precise combination of dosage and product that works for them. It may take some time to identify the exact cannabis treatment that provides relief, and there may end up being multiple different solutions for varying levels of pain.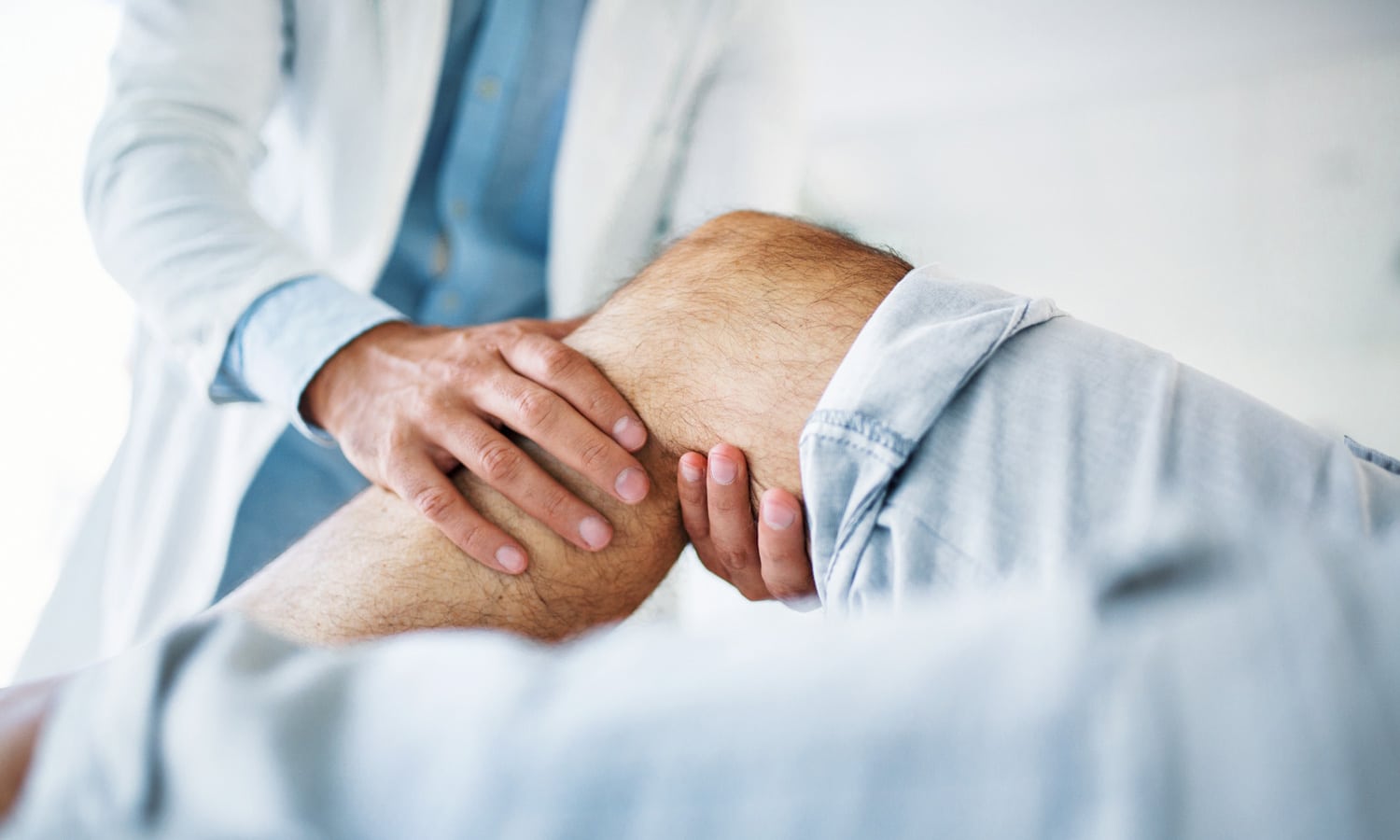 RELATED: Study: Medical Cannabis Use Reduces Opioid Prescriptions In Patients With Osteoarthritis
Although the process may take some time, the relief that comes from cannabis therapy can lead to a greatly improved quality of life. The health benefits of managing arthritis effectively can lead to increased physical activity, and better enjoyment of everyday activities. In addition, many patients are able to reduce or eliminate other medications with the use of cannabinoids leading to an even more improved quality of life.  
Katherine Golden, RN, is CEO, executive director and founder of Leaf411, a 501(c)(3) nonprofit organization founded in 2019 with a mission to provide education and directional support to the general public about the safe and effective use of legal cannabis (marijuana and hemp). A registered nurse for more than 27 years, Katherine received her Associates of Science degree in nursing from El Camino College School of Nursing in Torrance, California and has obtained multiple cannabis-nursing certificates through The Medical Cannabis Institute Global, Radicle Health Cannabis Therapeutics for Medical Professionals and Healer. For more information or to schedule a consultation with a Leaf411 nurse, call 844-LEAF411 (844-532-3411) or visit leaf411.org.