Valentine's Day is almost here, and whether or not you believe in celebrating this not-really-a-holiday-at-all event, everyone — even the skeptics — appreciates getting a little treat on February 14. Here are six gifts both the cannabis enthusiast and cann-curious in your life will enjoy.
This is a line of lovely infused bath bombs, bath salts and lotions. The products absorb quickly leaving the skin feeling luxuriously soft,  relaxed, and pain-free without any greasy residue.
https://www.instagram.com/p/Be3kphaDaVV
Rich, blended oils create this therapeutic massage oil that is 100 percent free of harmful ingredients making it safe, effective and perfect for even the most sensitive skin. Ingredients include Omega 3, 6, and 9 fatty acids found in hemp seed oil that act as anti-inflammatory agents, soothing irritated and sensitive skin.
https://www.instagram.com/p/BRT3gUOjWee
This beautiful aluminum metal grinder from the "MasterGrind Shield Series" can be used for weed, herbs and spices. The razor sharp "Lion's Tooth" curved diamond teeth deliver the perfect grind every time. They come in an array of designs and colors. Available on Etsy for $40.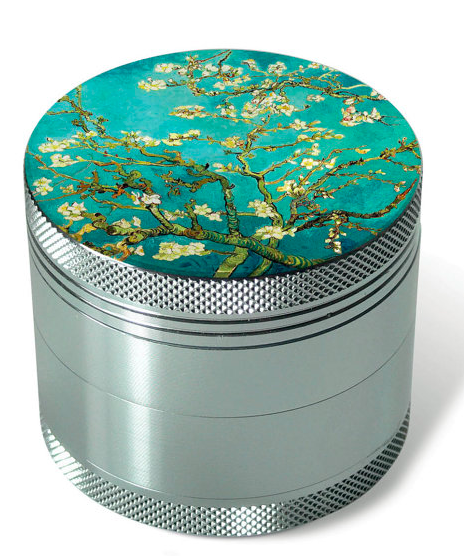 This limited edition chocolate sampler box from Kiva Confections contains four different flavors and, for $40, a total of 720mg of THC.
If your Valentine is more into cookies than chocolate, you can surprise them with this Big Pete's Treats cannabis cookie sampler. This heart-shaped sampler includes six individually-wrapped cookies in three popular flavors: Chocolate Chip, Cinnamon Sugar and Peanut Butter. Each cookie contains 10 milligrams of THC.
To personalize your Valentine's Day gift this year, you can choose from 12 different gemstones to include in this THC molecular necklace. At the end of each gemstone are either sterling silver filled or 18k gold filled beads. The jeweler who makes these necklaces hand selects semi-precious stones from a trusted vendor, saying, "I only choose stones that I feel are beautiful and reflect the gemstone's natural beauty. Since not one stone is the same, every necklace is a unique, one-of-a-kind creation." 
Available on Etsy for $29
.