The demand for topical cannabis products has risen in the U.S., especially products that contain only cannabidiol (CBD). But what, exactly, does it do for skincare?
Topical cannabis products are ideal for localized relief, and in recent years, sales of these products have significantly grown. Specifically, topical cannabis product sales in Colorado, Oregon, and Washington increased from $14.2 million in 2015 to $26.39 million the next year. Since then, the demand for topical cannabis products has risen in the U.S., especially products that contain only cannabidiol (CBD). What's the purpose and functionality of CBD's presence in skincare products though?
Reasons For CBD's Presence In Topical Cannabis Products
Due to CBD's plethora of medicinal properties, more people are interested in trying forms of it, especially topical products like lotions, creams, oils, salves, and balms. To achieve localized relief, it's common for cannabis users to administer topical CBD products to the areas of their body that need the most help. Fortunately, since CBD is non-psychoactive, it can be consumed or applied at anytime during the day or evening without worrying about feeling cerebrally high after usage.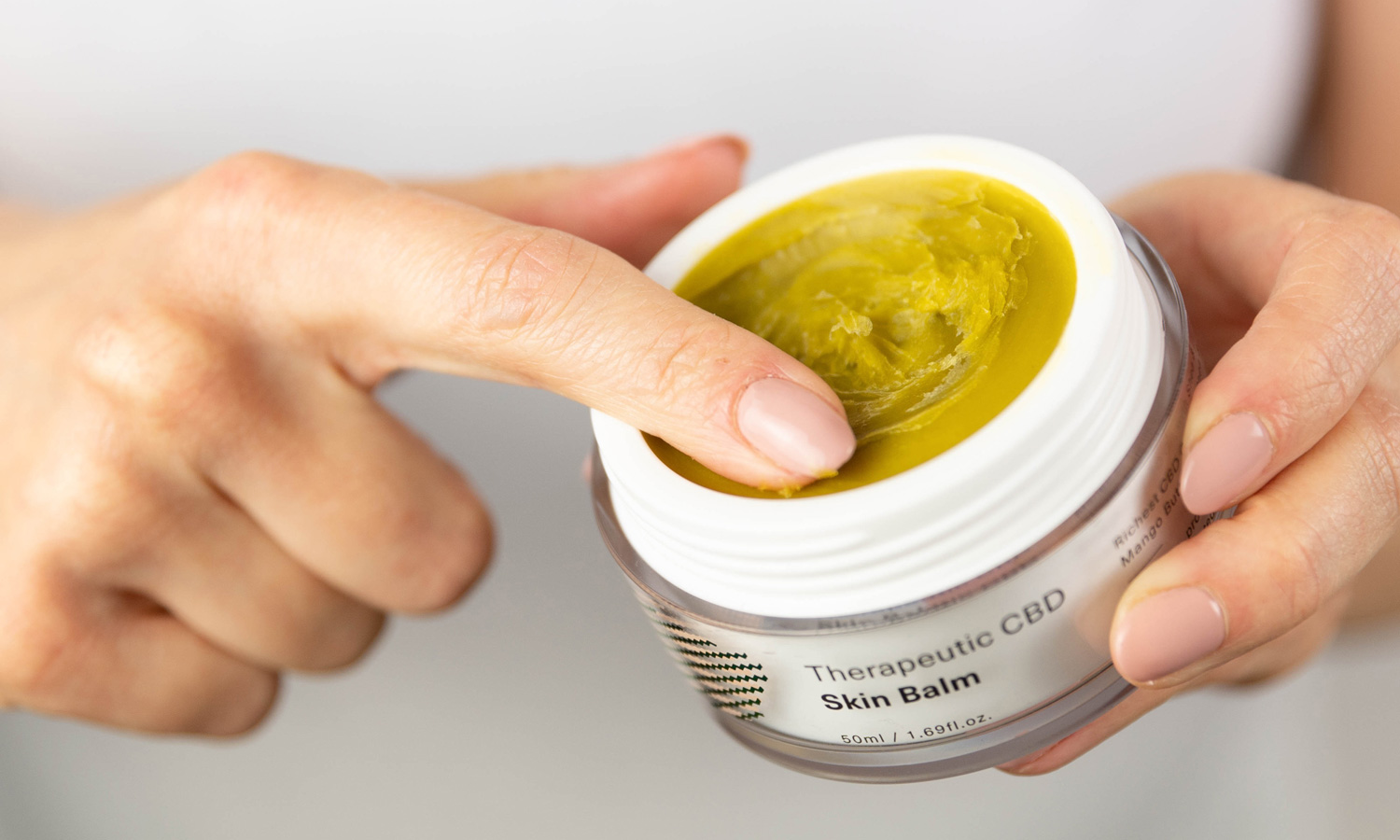 Thus far, it has been found that CBD works to effectively relieve pain, muscle spasms, anxiety, inflammation, epilepsy, skin disorders, different neurological diseases, etc. Due to this cannabinoid's known medicinal value, last month a CBD-based drug was approved by the U.S. FDA. The drug is called Epidiolex, and its purpose is to help treat epilepsy and seizure disorders. Since the U.S. FDA publicly acknowledged CBD's medically beneficial profile via the approval of Epidiolex, the usage of CBD is becoming more accepted. This is one reason why CBD is used in different skincare and beauty products to this day.
Functionality Of CBD In Topical Products
So far, CBD is present in countless skincare creams, serums, oils, and gels with the intention of moisturizing the body's skin, relieving pain caused by different skin disorders, smoothing out wrinkles, and preventing breakouts and acne. How does this cannabinoid really work in skincare products though, and is it truly effective? One board-certified dermatologist, Jeanette Jacknin who specializes in topical cannabinoids used in different skincare products expressed that several studies have discovered CBD's impact on the body's endocannabinoid system, which results in the skin often looking rejuvenated and youthful. The study that Jacknin referred to was one that focused on visible signs of aging in mice in which it was found that CBD could effectively slow down the aging process.
RELATED: These Are The 4 Biggest Problems With CBD Products
Furthermore, Tamás Bíró—professor, department chair of Immunology at the University of Debrecen in Hungary, and director of applied research at Phytecs shared his knowledge on CBD's value, especially regarding the treatment of skin issues. Bíró mentioned that CBD possesses anti-inflammatory properties, which can be useful in treating conditions like psoriasis, eczema, and acne. Bíró then conducted cell model research in which it was found that CBD inhibited sebum production while also normalizing overactive sebaceous gland cells, which is known as one major cause of acne. Thus, there's a significant potential in CBD not only treating various skin disorders but also relieving inflamed and dry skin and preventing acne.
The Growth Of Mislabeled Online CBD Products
Now, let's touch on the growing issue of mislabeled online CBD products. According to a Journal of the American Medical Association study, it was discovered that there's an extensive amount of mislabeled online CBD products. Bíró expressed the following about this matter, "…at this moment, CBD and marijuana products are totally unregulated and the ingredients in the jar don't have to be the same as on the packaging because no one is checking."
Generally, the most effective ways to find the best Cannabidiol companies on the market is to contact the company and inquire about the steps they take to ensure that their products are consistent and accurate to what's displayed on their label. These companies should willingly release their up-to-date product's test results. To avoid the time-consuming process of finding credible CBD products, several CBD-based skincare products are listed below thanks to recommendations from different experts within this cannabis sector.
Effective & Credible CBD Skincare Products
Charlotte's Web Hemp Infused Cream: Natural Partners is one company that upon request is willing to provide an analysis certificate of any product that's sold. Natural Partners sell CBD products including Charlotte's Web body cream that includes Vitamin B, Aloe Vera, and shea butter to help soothe, relieve, and heal inflamed skin. Also, the production of Charlotte's Web products follows the FDA's good manufacturing practice guidelines to ensure that they produce safe yet high-quality products.
Myaderm CBD Blemish Control: Myaderm's products aren't only formulated by pharmacists, but Myaderm also undergo tests and attains results from Botanacor labs to ensure that each batch of CBD products are pure.
Cannuka CBD Calming Eye Balm: Cannuka uses a mixture of hemp-derived CBD isolate, manuka honey, and Vitamin E to deliver moisture and brightness to the skin near the eyes. The CBD isolate that's used is tested by Botanacor, and in previous tests, it was found that the products are 99.7 percent pure, and they contain zero impurities.
https://www.instagram.com/p/B2_gEfrDtc7/
Vertly CBD Infused Lip Balm: Vertly's lip balm not only relives dry and chapped lips, but it moisturizes them and delivers anti-inflammatory properties. Vertly's CBD is also extensively tested throughout the production stage by starting at the hemp farm and then when CBD is added into the product. Additionally, Vertly is partnered with Credo, a natural beauty store/spa that follows strict standards for the products they stock. Thus, Vertly's products are held to the same standards.
RELATED: How To Choose Cannabis Topicals That Will Actually Work
CBD Skincare Co.Body Bar: These CBD body bars soothe dry and itchy skin while softening it after usage. According to Scott Rushton, a founding partner of The CBD Skincare Co., the following was stated about product testing: "We have a certificate of analysis that each soap actually contains what we say is in it." The company even adheres to third-party SC Labs testing to confirm the CBD oil's purity.
https://www.instagram.com/p/BxgFI9pgNpq/
Overall, although there are numerous online CBD skincare products available, it's crucial to find ones that undergo testing to ensure that they're safe, pure, and high-quality. Next time you have a breakout, experience dry skin, or a skin issue of yours flares up, don't worry because CBD can help in more ways than you could imagine.