Ever since the CBD and cannabis industries have skyrocketed in attention, popularity, and revenue, large beverage companies are enticed to get involved. 
Not only is the cannabidiol (CBD) industry projected to reach at least $22 billion by 2022, at least according to some analysts, but the CBD market is also one of the fastest growing market segments within the cannabis industry as a whole.
Recently, many consumers' health concerns and/or worries have unfortunately increased, especially regarding their mental health amid an unpredictable pandemic. However, this has fueled the demand for CBD and/or cannabis-infused products even further, which includes versatile beverages. Keep reading to learn more about the cannabis and CBD-infused beverage market, which beverage industry leaders are joining the cannabis and CBD movement, and what to expect for the future!
The Growth of the U.S. Beverage Industry
Currently, the top product types within the U.S. beverage industry include a plethora of coffees, dairy and non-dairy beverages, carbonated beverages, energy and sports drinks, juice, tea, wine, liquor, and water (both bottled and enhanced/fortified). What may come as a surprise is that by 2024, major product beverage categories have been projected to surpass $170 billion in sales! Not only does this industry bring in significant annual revenue, it's also responsible for providing roughly 250,000 jobs resulting in a direct economic impact.
Over the years, the same product types listed above have spread into the CBD and cannabis-infused beverage market, and ever since the CBD and cannabis industries have skyrocketed in attention, popularity, and revenue, large beverage companies are enticed to get involved. 
Beverage Industry Leaders Dabbling In the Cannabis and/or CBD-infused Beverage Market
Recently, hemp-derived cannabidiol (CBD) has become more well-known and sought after, especially after the U.S. Farm Bill was passed. From here, interest in CBD and cannabis-infused drinks and other products soared by consumers and companies alike. Interestingly, many CBD producers such as Charlotte's Web Holdings Inc. have been recruiting and contacting experienced beverage industry executives to help launch their new CBD and/or cannabis-infused creations.
RELATED: Cannabis Beverage Market To Hit $1.82B By Year's End
Furthermore, one recent deal worth noting is regarding Constellation Brands Inc. (the company behind Corona Beer and Svedka Vodka). They invested $4 billion into Canopy Growth Corp for the purpose of accumulating research about cannabis-infused drinks while also gaining one third of the company as a part of the deal. Earlier this year, Molson Coors Brewing Company reported that they formed a joint venture with HEXO Corp to discover possibilities and opportunities surrounding non-alcoholic, hemp-derived CBD beverages in Colorado.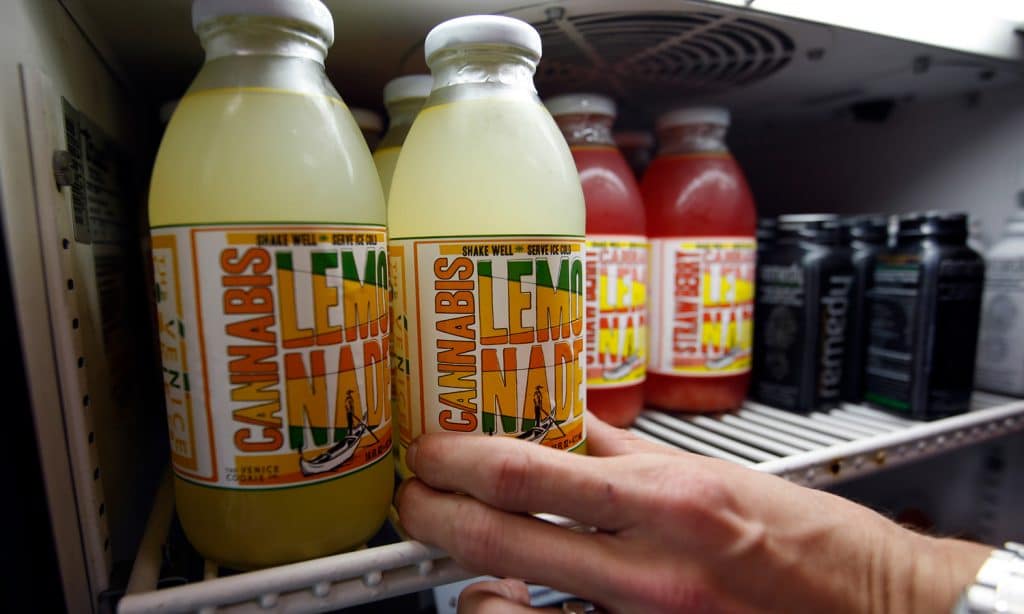 PepsiCola's Agreement With Hillview to Launch CBD-Infused Seltzers
Next comes PepsiCola and their goal of making a name for themselves in a lucrative industry. By 2024, the niche cannabis-infused beverage market will reach a whopping $1.4 billion. This obviously caught the attention of multiple corporations, especially PepsiCola. To stay relevant, this multi-billion dollar corporation recently got involved in the CBD industry. Specifically, PepsiCola Bottling Co of New York signed an agreement with New Jersey-based company, Hillview, which produces CBD-infused seltzer drinks. 
RELATED: 54% Of CBD Beverages Contain Less CBD Than Advertised
This agreement was put into place to introduce the CBD seltzer drink "Kaló" in New York City convenience stores, major grocery stores, and bodegas. This specific agreement applies to all five New York boroughs, Long Island, and Westchester. What we know about the Kaló CBD drink is that it comes in four flavors, it's derived from locally-grown hemp, and it's rich in naturally occurring cannabinoids, vitamins, and nutrients. 
Where to Purchase CBD and/or Cannabis-infused Beverages:
Nowadays, consumers can purchase CBD and/or cannabis-infused beverages at different dispensaries in numerous states, but particularly Colorado, California, Oregon, Nevada, and Washington state, online stores, and even different grocery retailers. CBD-infused drinks are also available at numerous convenience stores throughout the country in addition to certain bars, pubs, cafes, eateries, and restaurants trying to stay relevant as the cannabis and CBD industries continue to grow. 
If you've never tried a CBD or cannabis-infused beverage before, are you willing to try? Depending on where you live, you may be able to sample an infused drink while out and about or purchase one at a local dispensary. There will likely be more crossovers between beverage industry leaders and cannabis and CBD companies in the future, so stick around to stay in the loop!