It seems some people forget that the Royal Palace is not the zoo. Queen Elizabeth has been the recipient of many animals, and we're not talking cute little lap dogs and snuggly kittens. We're talking the kind of animals you see on a wildlife safari.
Sloths, kangaroos, hippos and elephants all make the list of exotic animals the Queen has received over the years. Her Majesty, who will be celebrating her 92nd birthday April 21, has ruled over England since 1952. And while she hasn't exactly been gifted an animal for every year she's reigned, it's pretty darn close. Don't worry. The Queen didn't toss these lovely creatures aside and make her servants care for them. Most all of the animals found permanent shelter at the Zoological Society of London's (ZSL) London Zoo.
Here are 5 of the more unusual critters that should have come with a gift receipt.
A Crocodile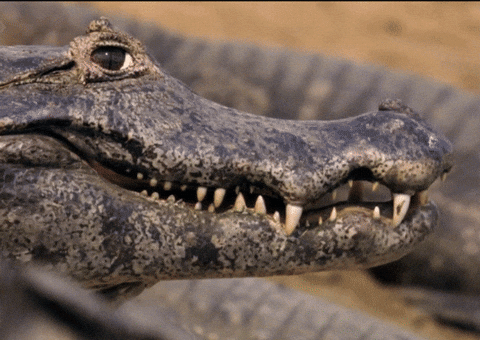 In 1961, according to the Royal Collection Trust, the Queen was given a young Nile crocodile named Mansa from the People of Berending on the Zambia River.
Pygmy Hippos
That same year, 1961, the Queen received two pygmy hippopotami from President Tubman of Liberia. Pygmy hippos, while smaller than normal versions of hippopotami, grow to be nearly six feet.
Black Jaguars
That's right. Jaguars, plural. And not the cool car kind. The Queen received two of the big cats, Marques and Aizita, in 1968 from the Prefect of Brasília. The same year, Her Majesty also received a sloth. Like their animal brethren before them, they were sent to live at the zoo.
Black Swans
https://giphy.com/gifs/what-star-natalie-dIQP7FxeZDb0Y
The only thing stranger than the movie Black Swan is receiving one as a gift. But here we are. In 1976, the Queen received two of them, along with an equal number of Toucans, red billed Toucans, Ariel toucans, and giant anteaters, courtesy of  President Artur da Costa e Silva of Brazil. The swans were sent to WWT Slimbridge, a wetland wildlife reserver, while the other birds and animals found a home at the ZSL London Zoo.
Kangaroos
In 1977, for the Queen's Silver Jubilee, she received six red kangaroos, two Brolga cranes and one fat-tailed dunnart from the Royal Melbourne Zoological Gardens in Australia.
The last animal on record that the Queen received is from 2016: a black gelding named Sir John that she received from the Royal Canadian Mounted Police to commemorate her 90th birthday. The horse is named for Sir John MacDonald, Canada's first Prime Minister.