Watching sports while high isn't for everyone. Some people love it—to them it adds something to the experience, allowing new insights about the level and types of plays. Others find it distracting, and prefer to enjoy their favorite team sober, or maybe with a beer or two. But watching sports teams mascots while high? That's something everyone can agree is great. Funny looking critters with big heads, wacky dinosaurs, spooky fish—it's almost like they were created to be enjoyed by stoners and not, you know, children. But what mascots are the best to think of after smoking weed? Glad you asked.
1) Rocky, from the Denver Nuggets: This poor guy once got so (literally) high that he passed out and was lowered to the ground in an unconscious state. Thankfully, he survived, and he continues to delight legally stoned fans at every Nuggets home game to this day.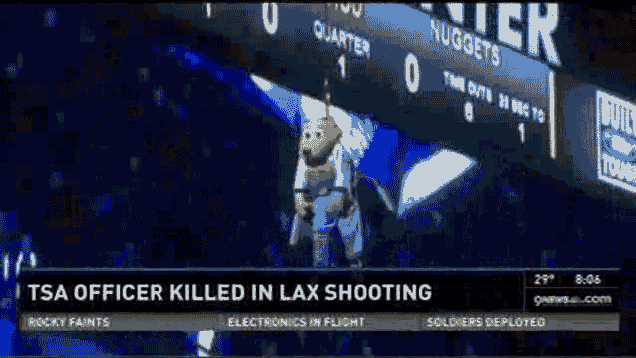 2) The Raptor, from the Toronto Raptors: Any mascot that swallows cheerleaders whole and repeatedly eats shit while rollerblading, and whose costume is occasionally an inflatable dinosaur suit, is okay with me.
3). WuShock, from Wichita State University: This anthropomorphic shock of wheat that looks like it emerged directly from hell has been terrifying innocent Kansans for generations. Despite its Trumpian hair and evil mouth, this is a good mascot that absolutely does not send me spiraling into a pit of endless anxiety and despair. Great work, Wichita.
https://www.instagram.com/p/BBEcWQ8MTDJ/?taken-by=goshockers
4). Banana Slug, from UC Santa Cruz: It's hard to think of a mascot better aligned with a stoner's mentality than a Banana Slug. It's also hard to think of a less intimidating representation of a sports team. Is UC Santa Cruz any good at athletics? Impossible to say. But they are fantastic at mascots.
https://www.instagram.com/p/BGXHvUxpfl7/?taken-by=ucsc
5). Mr. Met, from the New York Mets: The Mets are, historically speaking, a sad franchise. But their iconic mascot inspires nothing but joy. What's not to like about a mascot whose head is a giant, grinning baseball?
https://www.instagram.com/p/BG40sdNIWL3/?taken-by=mets
6) Blowfish, from the Lexington County Blowfish: Sea creatures are underrepresented as mascots. Thankfully, the Lexington County Blowfish, an amateur collegiate summer league team based out of South Carolina, employ a bizarre Blowfish as their team rep. Here he is trying to swing a bat, and here he is trying to steal a child. What a fish!
https://www.instagram.com/p/BDOT0glMEcb/?taken-by=goblowfish
https://www.instagram.com/p/3wzigNsEQP/?taken-by=goblowfish
7) Muddy the Mudcat, from the Carolina Mudcats: Muddy the Mudcat may have been born in a silt-filled river, but he feels most at home on the baseball field, popping wheelies on four-wheelers in front adoring crowds. Should you trust a fish than can walk on two legs and do extreme sports? No, definitely not. But for some reason I trust Muddy.
https://www.instagram.com/p/BFJl5LIByzn/?taken-by=carolinamudcats
https://www.instagram.com/p/BFCivqJByxw/?taken-by=carolinamudcats
8) Brutus the Buckeye, from Ohio State University: Anthropomorphic nuts are another rarity in the world of mascots, but that's not the only reason Brutus is a special mascot. Just take a look at his crooked grin and those gigantic dead eyes—even a Michigan fan couldn't hate a blank-faced idiot like that .
https://www.instagram.com/p/BEmyknQkQyf/?taken-by=theohiostatefootball
9) Raymond, from the Tampa Bay Rays: What is Raymond? I have no idea. He's covered in blue fur, with long tufts of grey hair shaggily dangling from his face and ears, with no resemblance to a ray or to an average Tampa resident. Whatever he is, his avuncular alien vibe makes him seem like an alright dude.
Now THAT is how you do #CincoDeMayo right. pic.twitter.com/pCCcapBABo

— Raymond (@RaysRaymond) May 5, 2016
10) Grizz, from the Memphis Grizzlies: Of all the bear-related teams in sports, the Memphis Grizzlies have the best mascot. He looks tough and cool and capable of dunking after doing several backflips. Clark the Cub needs to step up his game.
https://www.instagram.com/p/-hF1XnkR0X/?taken-by=grizzofficial
11) Mr. Redlegs, from the Cincinnati Reds: With his oversized Vaudevillian mustache and huge, hypnotic eyes, Mr. Redlegs looks like Mr. Mets' drunk great-grandfather. What does he have to do with Cincinnati or the Reds? No one we asked seems to know.
https://www.instagram.com/p/BHlM1eCA4Rm/?taken-by=megan_fenno
https://www.instagram.com/p/BIS54XQhdG0/?taken-by=reds
12) Phoenix Suns Gorilla, from the Phoenix Suns: This ape can do it all: He can carry rocks, spin a basketball on his finger, bang a drum, ride a motorcycle, dunk, drunk through a hoop that's on fire, and carry a birthday cake. No mascot does more, or looks cooler doing it.
https://www.instagram.com/p/-nKKNiOONq/?taken-by=sunsgorilla
13) Ragnar the Viking, from the Minnesota Vikings: Ragnar is the real deal, in that he's the only of these mascots that's an actual human. Sure, he dresses like a viking, rides a huge motorcycle across U.S. Bank Stadium's field, and often waves around an ancient battle ax, but he's not hiding behind a mask or dressed like an anthropomorphic nut. Sadly, a contract dispute may have ended Ragnar's reign in Minnesota.
https://www.instagram.com/p/elCX6_nl_K/
14) Otto the Orange, from Syracuse University: Nothing flashy about Otto: He's merely an orange with arms, legs, and a hat. If simplicity alone won championships, Otto would have dozens of rings.
https://www.instagram.com/p/1i0jFZm3Qk/?taken-by=syracuseu
15) Burnie, from the Miami Heat: Yes, Burnie's name is a little too on the nose for list dedicated to the best mascots for stoners, but he's too perfect not to include. He's not any sort of animal, and he's definitely not human; instead, he's a big-bellied fire-themed monster with a green basketball for a nose. For legal reasons, we can't say he's high all the time but he's high all the time.
https://www.instagram.com/p/BIORpx2AGWB/?taken-by=miamiheat&hl=en
16) Sparky the Dragon, from the New York Islanders: Obviously.
https://www.instagram.com/p/6yLRN0kZQD/
17) The Saint Louis University Billiken The Billiken is supposed to be "a mythical good-luck figure who represents things as they ought to be," according to the SLU website. Instead, it's a goddamn walking horror show, like something an angry Dr. Seuss would draw if he were ripped on acid. It's amazing the people in the pictures below aren't fleeing in terror. Think of this mascot only after smoking the most relaxing weed you've got.
https://twitter.com/SLU_Billikens/status/778393065098612736
https://twitter.com/SLU_Billikens/status/778381133809487872
Save