As Christmas rounds the corner, many of us will be scrambling to get our presents wrapped in time. And whether your style is to stick gifts in a plastic shopping bag or create a Pinterest wonderland of bows and homemade paper that would impress Santa, the way you wrap your gifts can reveal a lot about your personality.
LittleThings compiled a list of 10 wrapping styles that uncover more than just a lovely gift for the holidays. Here are 5 of the most common.
Perfectionist
If people can pick your gifts out of a lineup because they're always so beautiful and perfect, according to LittleThings:
"You're very ambitious, but even though you're career-oriented, you always make sure to find time for your friends and family. You're a born leader, and people know they can always count on you for helpful advice."
Messy 
If  your presents can be spotted in a lineup because they're incredibly messy, as if you were in a hurry and just threw some tape at the problem, you're probably passionate and family-oriented. Says LittleThings:
"People know that you're energetic and playful, and your friends can always count on you for a good time. Sure, you might have your head in the clouds sometimes, but it keeps you on your toes."
https://giphy.com/gifs/rX7xJWaDc0JwI
Au Natural
If you have a tendency to not wrap a gift at all, instead preferring to use whatever "gift wrapping" came with the present (plastic bag, grocery bag, department store bag), there's a good chance you are optimistic.
"You're laid-back, humble, and you can always find a silver lining in any situation. You don't really care about appearances and you know it's what's inside that counts."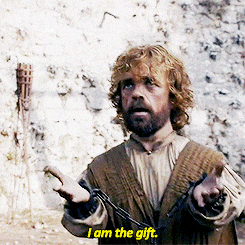 Crafty
If you love nothing more than making your own wrapping paper and other decorative accoutrement, you're obviously crafty. But also, according to LittleThings:
"You're a pretty busy person, but you actually thrive on being a little stressed out. No matter what you're working on, you always give it your all."
Gift Bag
If you would rather stick something in a gift bag instead of wrapping it, you're down to earth.
"You can relate to everyone and you become fast friends with each person you meet. Being the center of attention doesn't scare you; in fact, you like being the life of the party."