No, but really — how does a person have better sex or a better relationship? The Fresh Toast has enlisted Rachel Krantz, a sex writer and proud canna-enthusiast, to help readers out with some answers as its sex columnist. No question is off limits, and all questions will remain anonymous. Please send your sex and relationship inquiries to freshlove@thefreshtoast.com. Now, onto this week's topic: 9 sexy 2016 holiday gift ideas.

Q: Hey, so I need some advice about getting my girlfriend a gift for the holidays. She's hard to buy stuff for — but she loves sex, and I love having sex with her…so I was thinking maybe I could just get her a sexy gift? The thing is, I don't want it to be cheesy or cheap-seeming or to look like I didn't put any effort into it. What would you buy a woman?
A: Ah, I love this question! There are so many sexy 2016 holiday gift ideas for your partner for the holidays — or any time of the year — that aren't tacky or cheap, and that are actually quite romantic and fun. Though it's hard for me to pick just a few, here are my top picks for this 2016 holiday season.
https://www.instagram.com/p/BEZbS7jzGpI/
For the girl who has all the toys, this will be the one guaranteed to be unlike anything she's seen before. With dual motors and a whopping 64 different stimulation settings, this thing quite literally f*cks you. The dual motor rocks back and forth in a way I've never seen another toy do, giving you a great show as well. You'll both feel like she's actually having sex with someone else, without having to go through all the trouble of finding another dude for an MFM threesome.
2. The Fanciest Hotel Room You Can Afford, Price Varies
https://www.instagram.com/p/BJdM8_-gCh1/?taken-by=hotelsdotcomna
Recently, I wooed my man for the second year in a row with a fancy hotel booked on Hotels.com. You'd be surprised at what kind of last-minute deals you can find, even in your hometown, if you use their Deal of the Day. It's been proven that experiential gifts satisfy people more than actual things, so book her a stay in the fanciest hotel you can afford. Who cares if it's in your hometown? The point is to romance her with a bottle of wine, some bud, and a real big bathtub. She'll never forget it.
3. The Womanizer, $189
https://www.instagram.com/p/BJZK1P0hC57/
OK, back to sex toys. This is my favorite new toy to hit the market, and I'm not alone. While most toys that try to mimic oral sex suck (or rather, don't suck well enough) The Womanizer actually lives up to its regrettable name and makes just about every woman come. That little suction head grabs onto her clit and literally sucks with a vibrating pulse and intensity she or you can adjust. Even better, once it's latched on, it's quiet. This is another really fun one for you to watch. Trust.
4. Foria Pleasure & Relief Pack, $65.60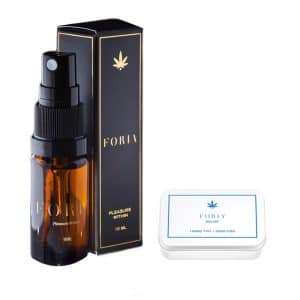 If you live in a state where it's legal, get her the much-hyped "weed tampon" AND weed lube. She'll be thankful the next time she has cramps, and you know she's going to want to see what weed lube does to her vagina when she's feeling better.
https://www.instagram.com/p/BFkSBdMlNFc/?taken-by=lovecrave&hl=en
I rock this necklace more than I use it, just because it's really cute and it makes me feel like a badass to wear a stealth vibe around my neck. If you guys are fans of spontaneous quickies, it's also a great way for her to signal she might be DTF every time she dons it.
6. Only Hearts Cami, $89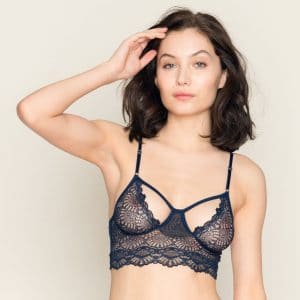 Give her some lingerie that's so comfortable she can wear it all day. I love Only Hearts' ethically-made bralettes. They are sexy and comfy, without any underwire or itchy fabric. One of the best gifts you can give her is something sexy that also demonstrates you don't need her to push up or confine her tatas to find them beautiful.
7. LELO Lily 2, $144.95
So I know I'm only suggesting pricier toys here, but I promise, I'm only telling you to consider the best of the best. This is my go-to toy for use during penetrative sex. It fits easily in your hand or hers', is quiet and small yet strong, and can be used in a variety of positions. Give the gift of multiple orgasms, every time.
8. A Stay At A Romantic Bud & Breakfast, Price Varies
https://www.instagram.com/p/BMSVkLjBi3I/?taken-by=budbreakfast
I wrote about my stay at a Bud & Breakfast called B and B 420, and it was truly one of the most unique and comfy experiences I've ever had.  Take your love here for a trip she'll never forget, and stay at a place that's either 420 friendly — or, if it's in a state where it's legal — provides you with complementary bud themselves. There's something pretty damn romantic about having a cozy, bud-filled snowed-in suite in Denver.
9. Intro to Orgasmic Meditation Workshop, $195
https://www.instagram.com/p/BL32SS-AEwT/?taken-by=orgasmic_meditation
Now, I definitely thought that some things about OM One Taste's Intro to Orgasmic Meditation workshop were weird. But I also can't deny that it kind of rocked my world and changed the way my partner and I approach foreplay and pleasure. If she's truly adventurous — and doesn't mind having her pants off in a room full of other women getting "stroked" — this will be a gift you can bet you'll both never forget.
Have a happy holiday season, and remember: the best sexy gift is one given without an implication of tit-for-tat. Give it for her pleasure without an expectation of "payback"—  or don't give it at all. But you knew that already, right? Have fun!