Normally, eating in hotel restaurants proves you are too lazy to find a nice spot to dine. When in actuality, if you know where to look, it can be the best decision you make while traveling. Who doesn't want to stumble upstairs to their room after eating and drinking? Here are five international destinations that prove the point.
Stockholm, Sweden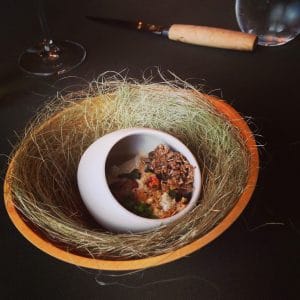 Matsalen in Stockholm's Grand Hotel is where to go if you want slick service and you covet a leisurely meal, as in four-hours. At this two-Michelin-starred restaurant, diners choose between five or eight courses. Matsalen overachieves in many areas, starting with the amuse bouche. Generally this is a small one-bite starter.

One night, it was a Swedish squid with lobster, cucumber, salmon roe, tapioca, yogurt and coriander. This restaurant has primo real estate on the waterfront. If you want to see all the action, book the chef's dining table.
Hong Kong
Opulence and dim sum don't typically go hand-in-hand, but they do at two-Michelin starred Tin Lung Heen, located on the 102nd Floor of the Ritz-Carlton Hong Kong. Dim sum lovers will find many of the traditional favorites, made with top quality ingredients and up-market variations: hargow (steamed shrimp dumplings) with black truffle, pork and lobster dumpling with golden leaf, and rice noodle rolls with barbecued Iberian pork.
Baersbronn, Germany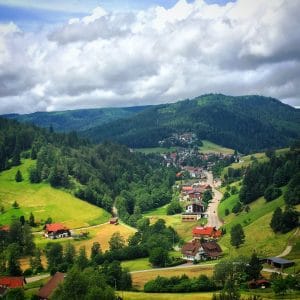 Food enthusiasts make the 1.5 hour drive from Stuttgart (one of Germany's manufacturing hubs; not really a top tourist destination, but hello, Porsche Museum) to Baersbronn, an off-the-beaten-path town in the Germany's Black Forest. Not only will you see lush green landscapes conjuring fairytale images of Little Red Riding Hood, but you'll find a cluster of Michelin-starred restaurants, including Restaurant Bareiss, which boasts three Michelin Stars in their petite 8-table establishment. Here, you'll get a sense of the history and terroir as Bareiss infuses traditional cooking techniques and ingredients from this region. Tip for you wine lovers: Dry Riesling is a must in this region.
If you stay at this hotel, you'll be rewarded with pools, spas, hiking trails and electric mountain bikes you can rent to explore…and a magnificent daily afternoon cake bar. You'll find generations of families from Germany and Switzerland who have been making the annual pilgrimage for decades.
Kanazawa, Japan
30 miles outside of Kanazawa is the spa town of Kaga where you'll find luxury ryokan Beniya Mukayu. This is where Zen tradition and modern design converge. Aside from the in-room onsen baths and other pampering, people stay here for the lavish multi-course kaiseki dinner. Kaiseki is a traditional dinner/art form with a focus on taste, texture, appearance and attention to seasonal ingredients. Dishes are beautifully arranged such as local crab prepared two ways, sea urchin, duck meatballs, nodogoro fish with grilled matsutake mushroom, and Cod soft roe with turnip served in a hot pot.
Alsace, France
Bordering Germany and Switzerland, the Alasce region changed hands between German and French rule over the centuries and the cuisine reflects a mix of those cultures. Bakery storefronts display soft pretzels next to croissants and galettes.
The culinary output of this hybridization can be experienced at Auberge de'ill in Hotel des Berges. Located along a river in a small village situated between Colmar and Straosburg, this 13 unit boutique hotel + the newest addition of an Airstream trailer (the owner bought it as supplemental lodging to host guests for his daughter's wedding a few summers ago; it was such a hit he decided to keep it on his grounds) has been owned by the same family for decades. Goose liver pate and pear, lobster with cabbage and pinot noir jus, pigeon with truffles are examples of dishes to sample at this three Michelin-starred restaurant. If you don't shy away from decadence, try the terrine of goose fois. 133 euros for 300 grams or a grand puba slice of 600 grams for 219 euro.
---
[gravityform id="13″ title="false" description="true"]
---
More Related Stories
[soliloquy id="30505″]