No offense to the Easter bunny, but maybe next time it can leave cash instead of candy? The best thing about Easter, besides all the sweet treats, is that at least there is a huge gap between it and Halloween, the next big candy holiday. If you're like most people, you'll be picking chocolate out of the crevices of your cupboards for months to come. Or, you can use it to make one of these dumpster recipes. Dumpsters can be delicious.

Easter Candy Pie
It ain't pretty, but CakeSpy's recipe for Easter Candy Pie is certainly a way to get rid of all your leftover Easter candy in one fell swoop.
Peeps S'mores Dip
You know how you put toasted marshmallows between two graham crackers and top with chocolate? This dip recipe is just like that, but with Peeps. It's a little sinister to watch their faces melt off, but in a "See, ma? I can cook!" sort of way.
Trail Mix 
Nuts, raisins, maybe some popcorn and pretzels and just about every piece of candy you have laying around, topped with melted white chocolate. It's called Trail Mix, so it's totally healthy. Sports! The Melrose Family has a Pinterest-y Bunny Tail Mix recipe, complete with cute packaging, which you totally won't need.

Cadbury Brownie Bites
Deliciously Sprinkled has a recipe that involves two 12-packs of Cadbury Mini Creme Eggs and a box of brownie mix. The end. Of course, there's also a delicious yolk-colored buttercream frosting recipe, too.
https://www.instagram.com/p/lqfzhJk_c5
Cadbury Creme Egg Rolls
This is certainly an avant garde way to utilize Cadbury Creme Eggs. Just like egg rolls, these sweet and savory treats by CakeSpy are deep-fried and served with sauce, chocolate sauce that is.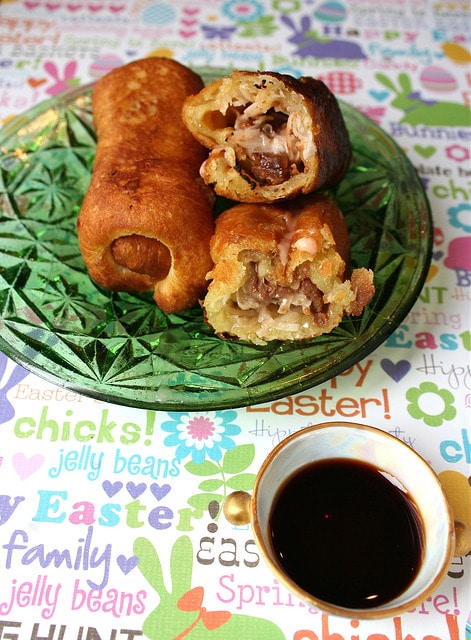 Chocolate Easter Candy Bark
Making candy bark is one of the simplest ways to utilize leftovers. And it usually looks super impressive, considering the little effort that goes into creating it. All you do is melt some chocolate over a double-boiler (or place a bowl over a slightly smaller sauce pan without letting the bottom hit the water), spread it onto a baking sheet and throw in some Easter candy and Peeps (always a winning ingredient). The Cooking Channel has the low-down.
Easter Egg Fudge
A crowd pleasing treat that combines butter, chocolate, food coloring and candy. Besides diabetes, what could go wrong? Wine & Glue's got a pretty epic recipe on their site. And here's another recipe that requires the same type of candy (Mini Eggs) that's a spin on a traditional Rocky Road recipe. Spoiler alert: this recipe actually uses real marshmallows in place of Peeps!
Fondue
At your wit's end with chocolate Easter bunnies? Melt those suckers down into a chocolate  death pool and then dunk super healthy things in it, like fruit.  If that's not enough of a recipe for you, We Know Stuff tells you how.
Add some Peeps to make it really interesting!
Festive Cocktails
Taking leftover Easter candy possibly a step too far, New York Daily News suggest slamming that sugar into a shaker and making a "festive" cocktail, which sounds a lot better than "experiment in a bottle." Recipes include jelly bean simple syrup for a Jelly Bean Sazerac, melted chocolate bunnies for a Chocolate Bunny Colada, and a melted Cadbury Creme Egg mixed with coconut milk for a Cadbury In Oaxaca. Also, crushed rock candy and a chocolate-dipped Peep for garnish.
https://www.instagram.com/p/BS3-B5NjyLt
---
[gravityform id="13″ title="false" description="true"]
---