It's no secret that hamburgers aren't the healthiest choice on the menu. But it's also true that they are often the tastiest choice. So get your defibrillator and Diet Coke ready, because these are some of the most unhealthy burgers available anywhere. (Note: best not to consume before operating heavy machinery or otherwise needing to be alert.)
1. The Meat Mountain
Arby's
This secret menu item available at select Arby's outlets contains every type of meat they offer stuffed into a bun with cheddar and swiss cheese. You know, for lube. This herculean sandwich is compiled of chicken tenders, ham, roast turkey, corned beef, steak, brisket, roast beef, and bacon. They should have called it Noah's Ark for all the animals that gave their life for this monstrosity. An almost guaranteed ride in an ambulance will only set you back $10.
https://www.instagram.com/p/ww8JzRuO3f/
2. The Quad Burger
Shake Shack
While most people are happy with a burger and a shake, you can show them who's really a fast food boss by adding four patties to any Shake Shack's burgers. Just tell them you want a Quad Burger. You're probably going to need a nap afterwards. May we recommend some light reading to lull you to sleep?
https://www.instagram.com/p/9TYhTsp0ns/
3. Red Ramen Burger
Red Robin
Not one to shy away from the absurd, the beloved burger chain has introduced a "limited time only" version of the NYC ramen burger that's credited with starting it all. The Red Robin version is a combination of meat, sodium, fried jalapenos, cabbage, and something called Teriyaki and Chiu Chow aioli. The chewy sauce-covered noodle-y concoction actually renders the beef patty useless. Red Robin should consider making this a meatless option.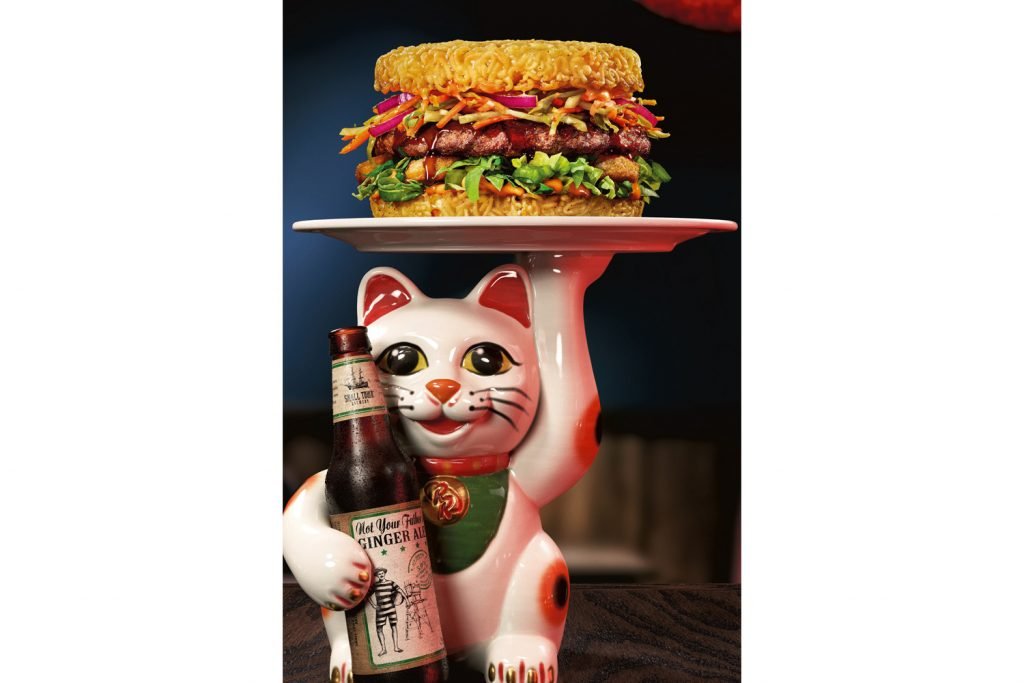 4. Mac & Cheese Attack
Rockit Burger Bar
This is kind of a big deal burger in Chicago, where it was invented in 2013. Outside of the deep-fried mac and cheese bun, the ingredients are pretty unspectacular: a quarter pound black Angus patty, lettuce, tomato, scallions, sriracha and ketchup. It should be noted that the mac and cheese is made with four types of cheese: cheddar, Gorgonzola, Parmesan and cheddar jack. But, hey, this burger is served with a side salad, so it's all okay.
https://www.instagram.com/p/BDeW–FynBd/
5. Cray-Z Burger
The Big E
One of the reasons people come to The Big E, otherwise known as New England's Great State Fair, is for the hyper popular Cray-Z Burger. Introduced in 2009 before the doughnut burger frenzy hit, the Cray-Z Burger isn't really all that crazy. It's just a bacon cheeseburger with a glazed doughnut bun. But as far as fair food goes, it's not deep-fried and/or served on a stick and/or topped with whipped cream, which makes it seem extra special and probably much healthier than it is.
https://www.instagram.com/p/3O4yKFPGNE/
6. Funnel Cake Burger
Florida State Fair
"Doughnut burgers? Nice try," said Florida State Fair organizers. While the Big E is an understated slice of Americana, this burger is an "in your face" take on traditional fair food and tips the nutritional scales at more than 1,400 calories. It's really just a bacon cheeseburger in between two glazed funnel cakes, but it looks insane, which is state fair protocol. Still, it would have been nice to see the Fried Ice Cream Cheeseburger make the cut this year, but then again, the Florida State Fair might already be responsible for a spike in heart attacks in Tampa every February. So, yeah.
http://www.instagram.com/p/zD3lFPJyCU/
7. Portabella Crispy Onion Pretzel Burger
Ruby Tuesday
This delicious heart-attack-waiting-to-happen clocks in at nearly 1,700 calories. Talk about a Whopper! How they came up with this concoction is as big a mystery as the misspelled name. Yes, there are portobello mushrooms, but they definitely take a backseat to the beef patty, fried onions, Swiss cheese and pretzel bun that encases this monster. Proceed with extreme caution.
https://www.instagram.com/p/eNndSWO4KP/
8. EB&D Loaded Up & Truckin' Burger
Smoke
What has basically become a Texas landmark, this teetering masterpiece comes courtesy of Smoke chef-owner Tim Byres, whose culinary trademark relies heavily on his wood grill and smoke pit. He's so brilliant at smoking he wrote a James Beard Award winning book about it called… Smoke. Almost everything on his menu is smoked and cured, including this burger, served with a farm egg fritter, thick smoked bacon and smoked sharp cheddar on a homemade roll. A perfect last meal.
http://www.instagram.com/p/BHCvSFxA_3K/
Posted By: Julien Perry