Before you head out to meet your family this turkey day, read up on these five essential tips so you can have a successful thanksgiving celebration with cannabis.
Cannabis lends itself quite nicely to Thanksgiving celebrations. From mouthwatering food to reconnecting with loved ones, there are all sorts of reasons why a little weed can go a long way to enhance this holiday.
In fact, in a recent Ayr Wellness survey of U.S. cannabis consumers, 65% of respondents said they will choose cannabis over alcohol for "Danksgiving," and 34% plan to serve THC-infused food.
So if you are someone planning to add a little cannabis to the more traditional seasonings of nutmeg and clove that flavor this holiday, you aren't alone. But just because you are not alone does not mean you should throw caution and common sense to the wind; there are plenty of ways your holiday can go off the rails.
Don't Show Up Looking or Smelling Stoned
This rule should always be followed. In fact, if you're a seasoned cannabis user then you should know better by now. If you need to have some herbal therapy before embarking on a day with the extended family, make sure you brush your teeth, use mouthwash, cologne, eye drops – all the above if necessary. 
Showing up smelling like bong water or with bright red eyes is only going to worry your grandparents. If you plan to take the elevated route with your family, do so incognito as much as possible. Consider bringing low-dosage edibles or a non-offensive smelling vape if you think you will require some assistance throughout the day. Reconsider bringing along dank smelling nugs.
Consider Microdosing to Reduce Family Stress
If you are thinking about how you will cope with the added stress that family holidays bring, consider sprinkling small doses of weed into your holiday plans. Microdosing, as we have reported, can have many benefits. One great benefit is helping you feel relaxed and calm.
RELATED: 5 Fall Foods That Go Great With Marijuana
Make sure you have the proper dosage down before Thanksgiving so you don't overdo it on the actual holiday. Microdosing is a great way to incorporate the benefits of weed without being noticeably high, or too out of it to enjoy the day.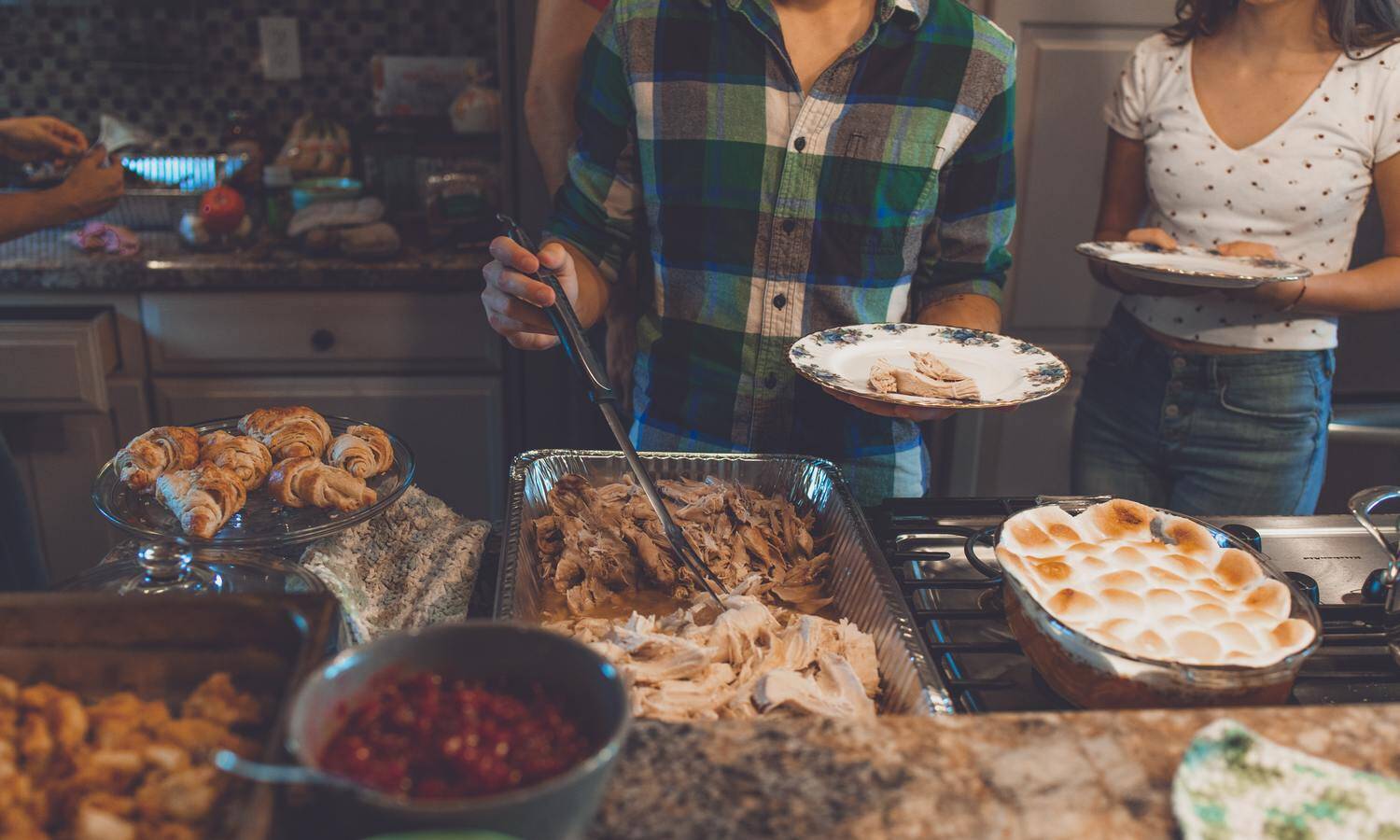 Post-Meal Weed Walk and Talk (With the Right Audience)
Cannabis doesn't always need to be something hiding in the shadows. So you may want to use weed as a chance to bring you and some of your family even closer. 
RELATED: 3 Key Tools To Help Manage Your High During The Holidays
Now, that doesn't mean lighting up a joint at the dinner table and passing it to your uncle. But a pre-planned walk in a nearby park with your cousins, or somewhere you all used to play as kids might be a great way to reconnect and reminisce. Just make sure you aren't breaking any laws in the process.
Save Weed for Post-Family Movies With Friends
Lots of people plan to celebrate Thanksgiving with weed. But that doesn't mean that everyone (or even a large minority) of people want to get high around their families. In fact, according to the Ayr Wellness cannabis survey, 54% of respondents said they will consume cannabis with friends on Thanksgiving. So maybe save the weed for later in the day.
RELATED: How To Deal With Weed Induced Panic And Paranoia During The Chaotic Holiday Season
You can get high and share heaps of leftover desserts with your friends or head to one of the many blockbuster movies that come out on the holiday. Either way, just know you can always wait until later on to infuse your Thanksgiving with weed.
Don't Get Too High, Seriously
Just like you shouldn't show up looking or smelling high, also make sure you don't use Thanksgiving as an excuse to get baked out of your mind – at least not around your family. Overeating is accepted on Thanksgiving, getting uncontrollably stoned is not.
RELATED: So, You Got Too High Before Thanksgiving Dinner — Here's What You Can Do
Try to consume a conservative amount, leaving room for error. Thanksgiving should be a day for enjoying food and giving thanks, not struggling to stay awake and fight off paranoia.