Pretend It's Summer With This Vietnamese Sugar Cane Juice With Canna-Milk
It's the perfect elixir for gloomy days.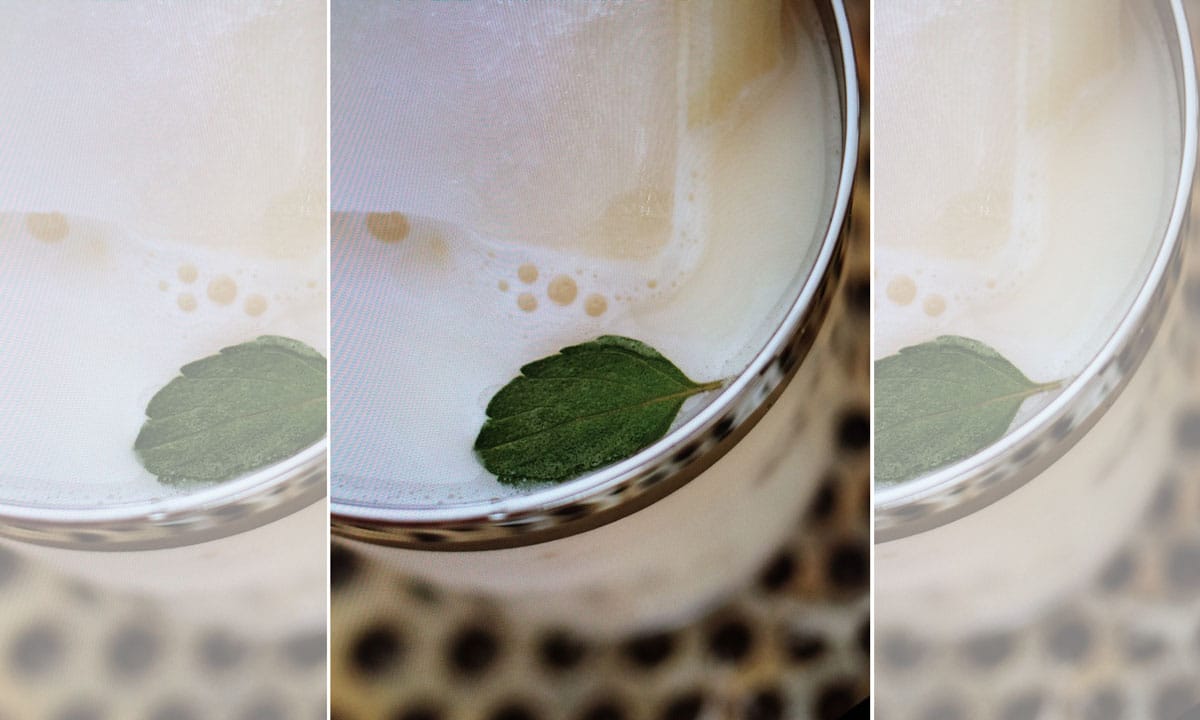 I'm a huge fan of hot weather beverages. Right now it's anything but hot out, but this Vietnamese sugar cane juice mocktail made with canna-milk will transport you!

You see, this time of year can be warm and sunny or it can be thanklessly cold and rainy — or snowy, as it could become in an instant. It's still winter, no matter what the thermometer says. And with winter comes the icy wind and frosty demeanor of the kind of chill that just goes through you.
That's where Vietnamese style, freshly crushed sugar cane juice comes in. This scintillating liquid — pressed in a machine that resembles a sausage grinder — extracts every precious sugary globule from the stalk. Like all the really tasty things that come from climates that exceed humorous for the majority of the year, sugar cane juice is quite refreshing and it staves off the heat and humidity with alacrity. Taking this mocktail to a higher place (so to speak) is my challenge and my craft.
As the Cocktail Whisperer, I've been charged with the great responsibility of creating tasty hand-held treats that have wellness in mind, as much as drinking a glass of iced sugar cane juice could be. So to take my iced sugar cane juice to a 'higher' level, I used condensed milk for the infusion. The condensed milk takes to decarbed cannabis beautifully and you can use it in a plethora of concoctions from the obvious caramel, by cooking it very low and slow until it caramelizes, or more to the topic of this article, as the aide-de-camp to a Vietnamese iced sugar cane juice. Whichever recipe that you use is your own personal endeavor. I like condensed milk in my Vietnamese iced coffee as well. Adding decarbed cannabis makes this sweet nectar into a hand-held, buzzy sweet treat!
In my fourth book, Cannabis Cocktails, Mocktails & Tonics, I played around with infusions using both alcohol and non-alcoholic mixtures. I found that when decarbing the cannabis, magical things happen. There are devices available on the market- the Ardent comes to mind, that decarb your cannabis to expand the bio-availability of the individual strains. Coupled with the Magical Butter Machine, I've been able to unleash 100% (according to the manufacturer of the Ardent) of the THC, making my mocktails and cocktails a thing of rare beauty and full of potency. Whatever method you choose to utilize to decarb or infuse is up to you. I'm just going to say that you can use a toaster oven with a turkey roasting bag filled with the amount of cannabis you wish to decarb and you can also use a double boiler on a hot plate instead of buying an expensive Magical Butter Machine.
For my process, I like to use the very best equipment at my disposal and I'd like to say that I use the very best medically procured cannabis available.
Since this is a mocktail, you could portion yourself appropriately, make one or two, then see how you feel after a few hours. You could certainly have another, but this drink is so delicious that you'll likely find that two is all you need, especially if you decarb your cannabis correctly. This is everything.
Juice Nước
infused with your desired amount of THC
For an 8 ounce can of condensed milk, take 3-7 grams (I like mine STRONG) of decarbed cannabis and add it to a hemp teabag or a section of cheesecloth, tied well to prevent leakage.
Add the condensed milk to a small sauce pan or Erlenmeyer flask
Add the hemp tea bag or cheesecloth pouch to the condensed milk
Prepare a double boiler
Heat the bottom filled with water to 165 degrees
Place the Erlenmeyer flask into the simmering water
Allow to infuse for at least two hours, do not boil, your condensed milk will become caramel!
Let cool and add 10-15ml of the condensed milk at a time to your iced Vietnamese Sugar Cane Juice
Sip, medicate and wait at least an hour before enjoying another- they creep up quickly!
To discover where to obtain your special ingredient for this recipe, check out our Directory.
---
---