Joshua Tarbuck is a medical marijuana patient, but he never planned to be. He grew up in Seattle participating in sports and enjoying life like so many other teenagers. He played hockey and was 1st team all state in baseball.
His world changed dramatically in 2011, when he was in a severe car accident. He wasn't  wearing a seatbelt and the crash broke his neck in several places. Joshua remembers waking up in the hospital as medical staff prepared him for one of several emergency and follow-up surgeries. He was in the hospital nearly a month. Surgeons installed and had to later re-install surgical steel plates into his neck to secure and fuse three of his vertebrae.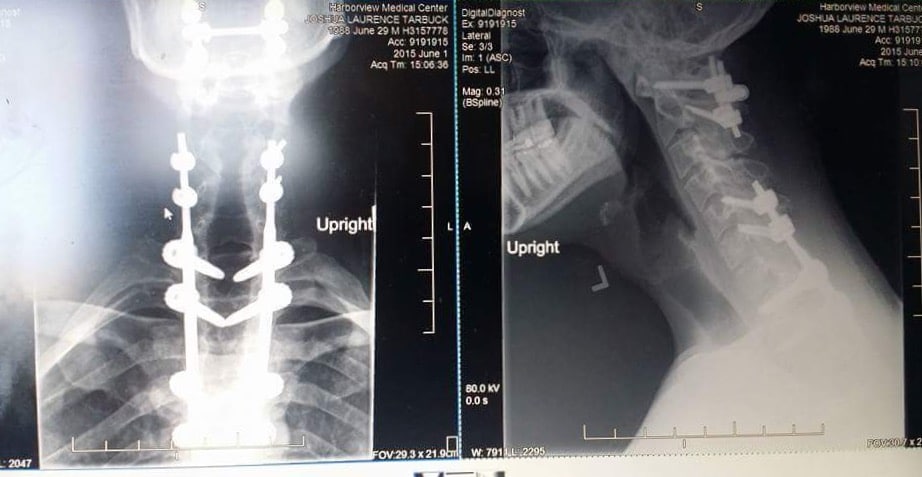 It was a trying situation and he had to deal with pain like he had never known before. He was prescribed morphine, Oxycodone, Methadone and other drugs to deal with the chronic pain he was in. "It made me feel gross."
Joshua met someone who suggested he try a "dab," a high-temperature vaporization of cannabis concentrate. The first time, he didn't have a good reaction. He felt like it knocked the wind out of him. His lungs were not prepared for the intensity of the experience. Over a period of time, his ability to use concentrate improved. He realized this was an option his healthcare team would not have provided. It changed his life.
Joshua feels like it enlightened him and helped him develop a new outlook at the lowest part of his life. It was a welcome change and gave him hope. Daily dabs helped him deal with the pain. "I had more energy. It subsided the pain so I could tolerate it. It cleared my mind." He had not expected such a welcome change. "I felt more negative thinking when I was on pain pills than when I used cannabis."
Convincing his healthcare team would be another matter. "My doctors didn't believe anything I said" regarding cannabis. He is not the only patient to encounter resistance. Many people who use marijuana as medicine have a hard time getting support from their doctors. Cannabis as a therapy was simply not part of the curricula in med school. Undeterred, Joshua began working out, medicating with cannabis concentrates before and after. It helps him reduce his pain and reduce inflammation while maintaining his strength.
"Cannabis has changed my life and who I am today," Joshua stated without hesitation. He is actively educating himself on existing cannabis science research so that he can continue to advocate, not just for himself, but for the tens of thousands of people who may also be able to live healthier, happier lives thanks to this natural remedy.