In mid-October New York City hosted one of the biggest food festivals in the country: The New York City Wine and Food Festival. This year's NYCWFF presented over 100 events and drew more than 50,000 "foodies" (or simply people with the munchies), with ticket prices ranging from $10 to $400.
After viewing the festival calendar, there was only one event that called out: the decadent "Chicken Coupe:" a fried chicken and champagne tasting hosted by Whoopi Goldberg and Chef Andrew Carmellini.
I simply could not resist the idea of a rooftop "sesh" replete with chicken and celebrity, so I made a call, scored two comp tix (priced at $195.00 each), found a friend who imbibes and made my way into a savory wonderland of rotisserie, deep fry, BBQ and bubbly at the chic and brand new William Vale Hotel in Williamsburg Brooklyn.
We were high, and this is what we saw:
Whoopi Loves Chicken
It was clear from the beginning that Whoopi was on a mission to taste each and every one of the two-dozen vendors. A camera crew followed her every move as she sampled and commented throughout, always taking the high road with her assessments, never dissing any of the chefs with her witty quips.
Knowing Whoopi is weed friendly (she is co-founder of Whoopi and Maya) I could only imagine that she must have enjoyed inhaling the vapors, er… aromas, of this classic cuisine, as well as tasting the savory and unique flavors, as much as I did. The cypher wasn't complete until Whoopi doubled back for a second visit to the scrumptious (stoner heaven) Underwest Donuts. Underwest specializes in cake donuts, deep fried donuts, glazed donuts and donuts dunked in sugar. Yes please!
The Other Celebs Also Really Like Chicken
As I expected, the Chicken Coupe brought together live entertainment, great chefs and culinary personalities all ready to educate, dazzle and feed a famished flock of fowl fanatics. Of course Hollywood legend Whoopi Goldberg was the queen hen in the hen house, but a legion of chicken loving celebs emerged as well.
"American Horror Story" voodoo queen and star Angela Bassett, who told those within earshot that she travels with a lunch of skinless chicken and steamed broccoli when on set, was a surprise guest, as was Tom Leandros, executive producer of the groundbreaking transgender-centric reality TV show "Strut." Composer and tabla player Deep Singh was spotted taking hits of honey-infused Korean wings, and the perennial NYC band "The Sidewinders," playing poolside, kept the crowd high on the blues and funk.
Colonel Sanders Is Still The Man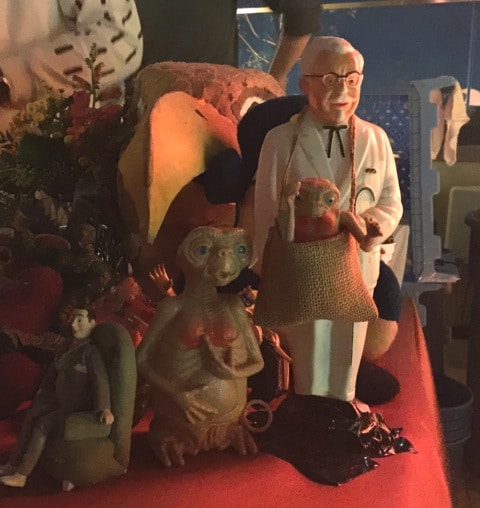 Everyone gathered and paid homage to a porcelain figurine of the late Colonel, rubbing his head and tugging on his beard like it was the Rosetta Stone, while trying to absorb some of his aura and legend. Though he had a rocky life (at age five his father died, by age 17 he lost four jobs, at age 20 his wife left him and took their baby, he became a small time cook, and at age 65 decided to commit suicide, but while writing his will he had an epiphany, went door to door selling his fried chicken, and by age 88 he was a billionaire) he was still the Buddha of the event.
Chicken Tastes Better When It's Smoked, Or You Are Smoking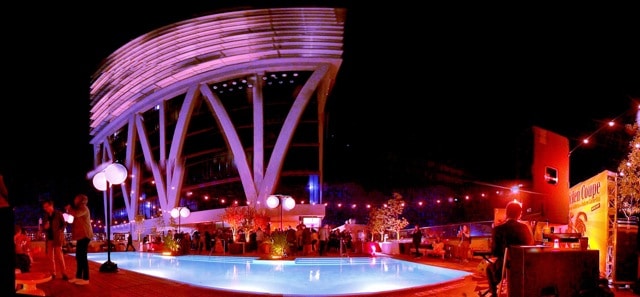 After devouring plate after plate of America's favorite comfort food, I decided to shift my perspective and escaped with my vape to a chaise lounge in the shadows. A few pulls later, the view of the Manhattan skyline from the Vale rooftop glistened with a new vibrancy and it didn't matter if it was mesquite, cherry, or the ever popular sativa that was used to smoke, my final take away come clearly into view….
The William Vale Hotel Is A Happy Place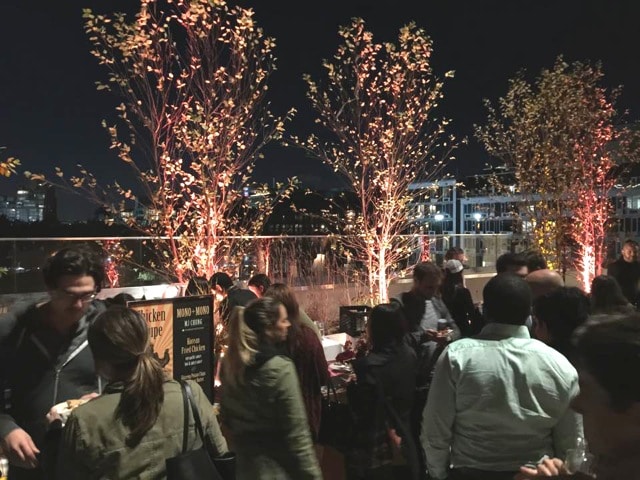 The rooftop at this hotel is an expansive and distinguished open air space tailor made for high times. Breathing deeply in and out under the night sky, I felt the enviable inspiration that New York often shows of itself. The staff from doorman, to bartenders, to cocktail waitresses all had sweet grins and congenial smiles, as though they were high on the good life as well.