No, but really — how does a person have have better sex or a better relationship? The Fresh Toast has enlisted Rachel Krantz, a sex writer and proud canna-enthusiast, to help readers out with some answers as its sex columnist. No question is off limits, and all questions will remain anonymous. Please send your sex and relationship inquiries to freshlove@thefreshtoast.com. Now, onto this week's topic: gift ideas for 4/20. 

Q: I know this is a little late and 4/20 is coming up so fast, but I want to get my special lady a little something special for it. Any recommendations? It would also be cool if you know of any cool events happening for 420 (we're in LA).
A: Hey there to a fellow LA cannabis enthusiast who loves excuses to give romantic gifts! I have plenty of suggestions for your girlfriend that I know I would love to be on the receiving end of. Here are my suggestions for some 420 gift ideas — hey, it's as good a holiday as any to use as an excuse to buy presents!
1. A Cannabis Pairing Dinner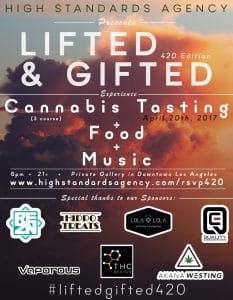 Celebrate 420 in style by taking your boo to a fancy and legal cannabis pairing dinner. If you're based in LA, say hi to me at High Standards' Lifted & Gifted Cannabis tasting and dinner party. The 3-course cannabis tasting will be paired with the 3-course meal (I'm told vegan options will be available, fyi), as you might pair wine and food. Having been to a party like this before, I can tell you it's a lot of fun to be in a room where everyone is stoned instead of drunk, and you're almost certain to appreciate the fine dining and company. Also in LA, the Dandelion Collective and Cannabis Feminist are also hosting a 420 Eve party the night before, where you can countdown to the holiest of stoner holidays as if it were New Year's Eve.
Either way, if you're lucky enough to live in a state where it's legal, chances are you can Google some sort of fun party event happening in your area in celebration of 4/20. Experiences make the best gifts, every time. Which brings me to…
2. A Romantic Stay At A Bud & Breakfast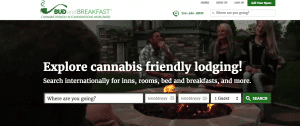 Take your girlfriend to a Bud & Breakfast for a romantic evening slightly out of town. Where it's legal, some locations even provide cannabis samples for guests, so you won't even need to worry about taking some bud with. Often cheaper than Air B&B, but just as nice and twice the hospitality, you'll definitely want to check out their listings whenever you book travel. I went to Portland last week and stayed at this one — and not only was it beautiful and clean, but I was welcomed by two pre-rolled spliffs. Now that's how you celebrate 420.
3. A Sexy Subscription Service
https://twitter.com/whatsinyourbox_/status/847930269684432898
Give a sexy gift that keeps on giving with What's In Your Box, a monthly subscription service aimed at giving women something new and sexy to look forward to each month. With a retail value of $50-75 a box, it's only $15 a month for a 3-month subscription, or $17.50 for a one-time box, which include goodies like vibrators, body-safe lube, condoms, obscene balloons, and lots more surprises. Surprise her with one, get lit, and check out my guide to having sex stoned.
4. Some Luxury Cannabis
All of your festival essentials in one box. pic.twitter.com/k4C9xFoiKH

— CANNDESCENT (@CANNDESCENT) April 17, 2017
If you really want to celebrate in style, why not get her some top-shelf bud designed specifically around her preferences? The cultivator CANNDESCENT has several different strains with different THC/CBD ratios — and clear goals in mind. There are strains like "Create," which is ideal for brainstorming and making art, and "Connect," which is designed to be ideal for sexy-times and socializing — and several other specific goal/feelings-based strains. I like this approach because it's simple and allows you to better tailor your strain to your ideal cannabis experience.
5. Mind-Blowing Orgasms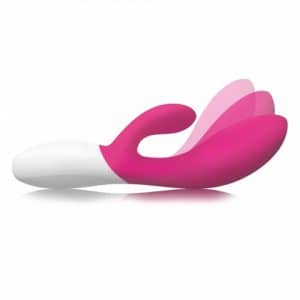 Anyone who reads this column knows I love the LELO LILY 2 and NEA 2 most for their ability to be used so easily during penetrative sex — and their reliability for solo play. I feel for 420, however, I have to also give some love to the INA Wave, which mimics that come-hither motion to get at both your G-spot and your clit at once, giving you an intensely heightened vibrator experience. This 420, give yourselves both a show by lighting up and playing with this as she comes and comes.
6. Cannabis Lube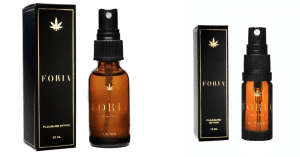 Lube is essential to ideal sexy times for most people no matter what, but when you're parched from 420, especially so. Why not combine pleasures with Foria's cannabis lube? They are running a 420 sale, so if you order now, you can get what is normally a $114 bottle for $76. I haven't tried it yet (sad, I know), but my friends have, and I know I'd love to be on the receiving end of that gift, which is why I'm recommending it.
7.  A Stylish New Piece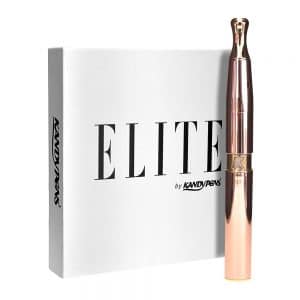 If your lady is in the market for a new bubbler, the Jane West X Grave Bubbler is truly one of the prettiest ones out there. If you're looking to make sure she protects those lungs and she likes concentrates, I'd suggest the Elite KandyPen for a portable and stylish pen that works like woah. If she's strictly into flowers but wants to try vaping, I like The DAVINCI IQ Vaporizer best out of the many I've tested. And trust me, that says something.
Happy 420!