On the hottest summer days, strolling home with takeout and sucking down the brightly colored stuff at breakneck speed is one of my go-to moves. Spicy food cools you off overall, but Thai iced tea tea takes the burn off your mouth.
You can likely find the real loose leaf tea on Amazon, but many places use instant powder. I tried both ways and the instant tastes like cotton candy, in a good way, so we're going to go with it. One drawback is the food dye that gives the tea it's reddish color, but it's not a drawback to your instagram feed.
I added tapioca pearls out of the sheer glee I experienced upon noticing they were even for sale in my local shop! This little twist is what makes it uber-trendy, since bubble tea is as much of a favorite in big cities as Thai food itself. They make it an extra special treat to beat the humidity that's going to settle in soon.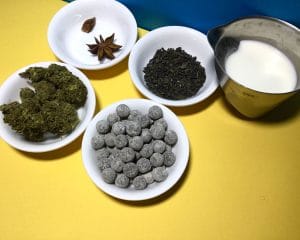 Thai Iced Tea
Jazzed-up Instant Version Danielle Guercio, 2017
Makes 2, 4mg THC per serving
1 packet instant Thai tea
1 cup water
¼ tsp cannabis glycerin tincture
¼ cup tapioca pearls
¼ cup condensed milk
¼ cup cream
Ice
Boil a small saucepan of water. Cook the tapioca pearls for 2 minutes, then remove from heat and allow to stand for 1 more minute. Strain and rinse with cool water. Put aside.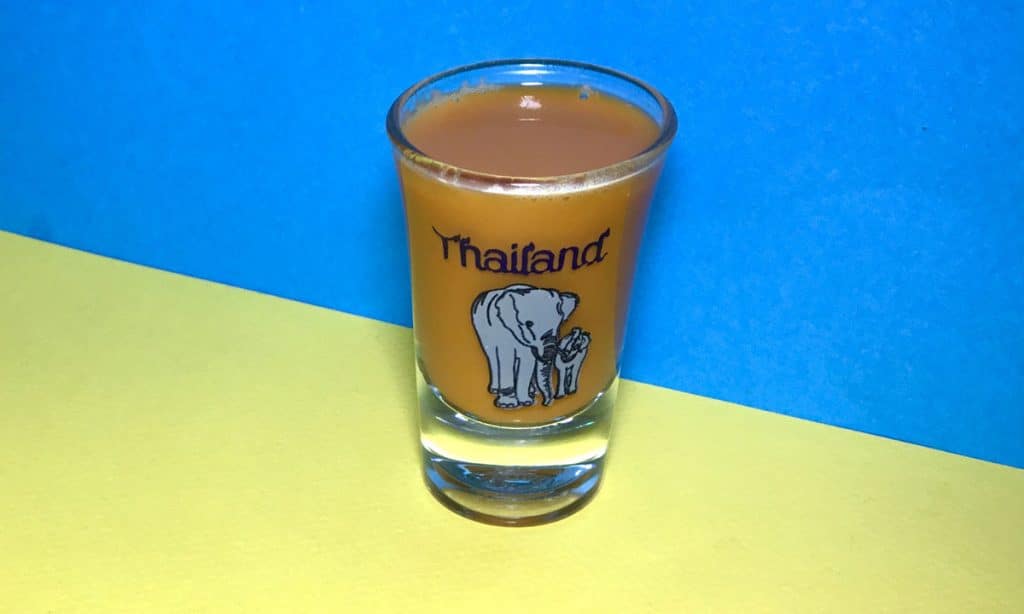 Add water to a jar or shaker and pour in the instant powder. Stir until well mixed, then add the tincture and 1 ice cube, close and shake. Spoon the tapioca pearls in the bottom of two tall glasses and add some ice. Put half of the tea mixture in each glass.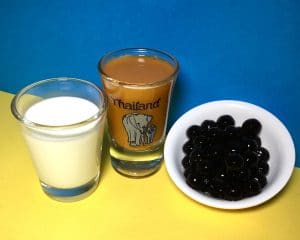 Now shake up the condensed milk and cream with one ice cube until it's completely dissolved and frothy. Pour the milk over both glasses. Serve with a straw and drink immediately.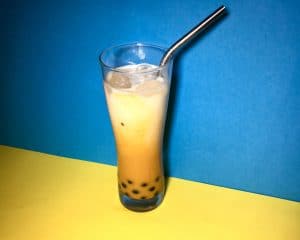 *Cannabis Infused Glycerin Tincture
In an oven safe container double sealed with foil, decarboxylate 3.5 grams finely ground cannabis at 225 degrees Fahrenheit. Put cannabis in a mason jar or vacuum sealed bag, pour over 2 oz vegetable glycerin and seal tightly.
Place in a water bath at just under boiling for 1 hour. Strain and keep contents in a sterilized container. Stores indefinitely in freezer.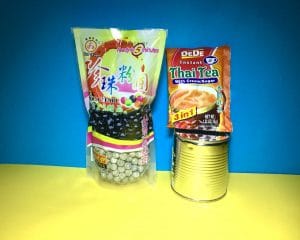 Enjoy in the late afternoon when you feel like you need a treat to keep going, and perhaps need a hit of THC to refocus, or maybe it's just a day-off indulgence. You can enjoy this with food or on its own and it will always be there for you, since the packets generally come in bulk, a blessing and a curse.
Photos: Danielle Guercio