The worst thing about grocery shopping is waiting in the long checkout line … and it's no different when it comes to buying marijuana at your friendly, neighborhood retailer. All you want to do is pick up your legal marijuana and go home, but the guy in front of you is taking forever.
Well, if you're looking to shave time off your next visit to the marijuana store, try going on Mondays or on a cold, rainy day. And if your patience is running a bit thin, you may want to skip shopping for your weed on Fridays or plan on spending more time in the store after 5 p.m.
Graph via HeadsetThese findings and many other consumer trends were revealed in an in-depth market research released recently by Headset, a Seattle-based business intelligence and analytics service for the cannabis industry. The report, shared exclusively with The Fresh Toast, found that summer weather means stronger cannabis sales and weekends are the busiest time to shop.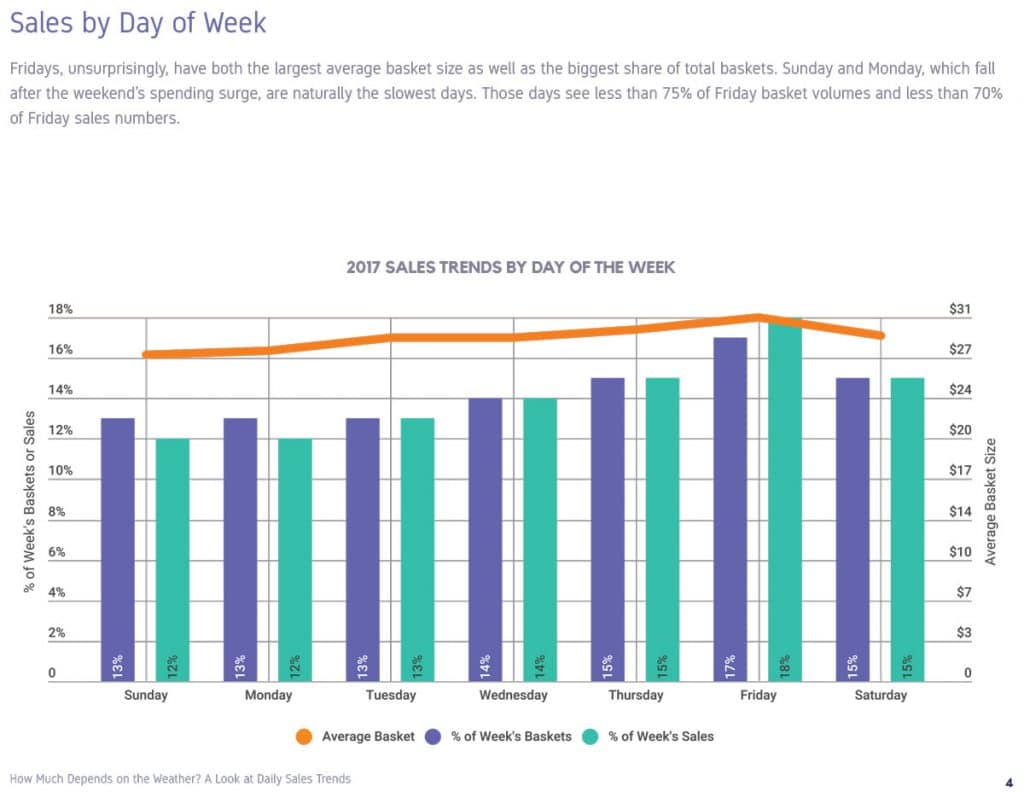 The comprehensive, 16-page study of cannabis retail trends in the state of Washington examined not just what consumers were buying, but also why and when shoppers made their purchasing decisions.
While some of the report's findings might appear obvious and confirm some stereotypical behavior, there were some surprising nuggets unveiled in the data, which came directly from retail outlets' point-of-sale systems.
"Much like any consumer good, cannabis is impacted by timing, weather and seasonality. By leveraging these type of insights, people operating in the industry can better capitalize on consumer shopping habit, drive more sales and optimize operations." said Cy Scott, CEO and co-founder of Headset, Inc.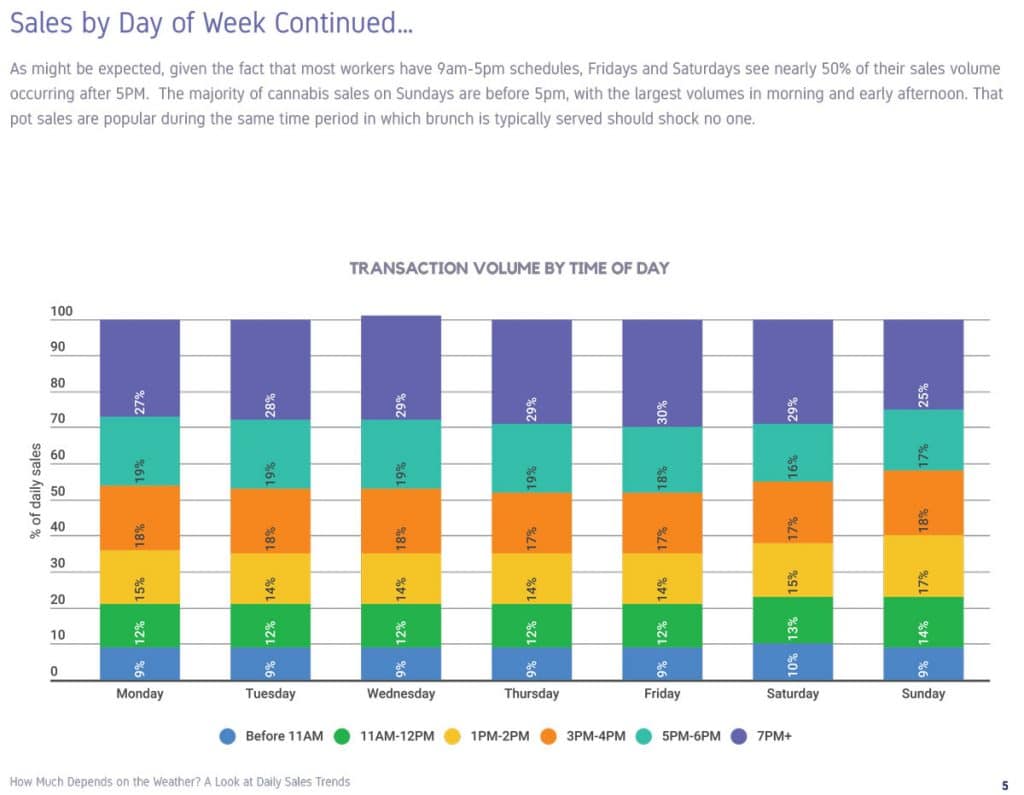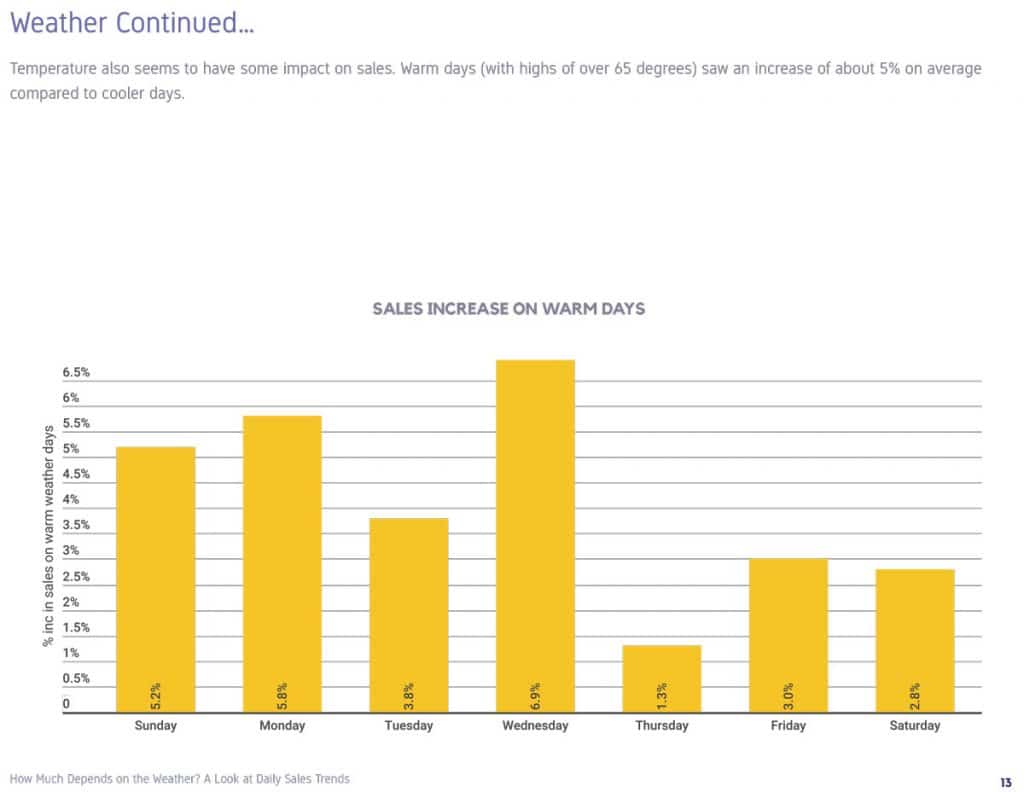 The research revealed:
Rain, rain go away: Rainy days are the slowest days, with Fridays seeming to be extra discouraging to consumers, with a 10 percent decrease in sales compared to the average Friday.
Let the sunshine in: Warm days (with highs of over 65 degrees) saw an increase of about 5 percent on average compared to cooler days.
TGIF: Unsurprisingly, Friday is the most popular day of the week for retail sales in Washington. Thursday and Saturday are tied for second-best day of the week.
The week starts slowly: Sunday and Monday, which fall after the weekend's spending surge, are naturally the slowest days. Sunday and Monday see less than 75 percent of Friday basket volumes and less than 70 percent of Friday sales numbers.
It's a night-time thing: On most days, almost 50 percent of cannabis sales occur after 5 p.m. Less than 10 percent of purchases are made before 11 a.m.
Beverages and edibles popular on the weekends: The bulk of beverage and edible sales occur on  the weekend (Friday-Sunday) at 52.1 percent and 51.1 percent.
Keep your skin healthy: On warmer days, consumers buy more topicals. This increase is due mostly to an increase in sun-protective lotions and salves. The report notes that since the topical category is one of the smallest, even a small increase in sales activity will appear as a significant spike.
The study gives retailers a more precise view of its customers' spending habits — and specific preferences:
While discussions of the weather are usually written off as meaningless small talk, our data shows that, when it comes to the cannabis industry, weather matters. Indeed, our data shows that a variety of external conditions affect the cannabis buying experience, from the most convenient time to stock up for the weekend to the amount of rain customers are forced to fight through to get their cannabis.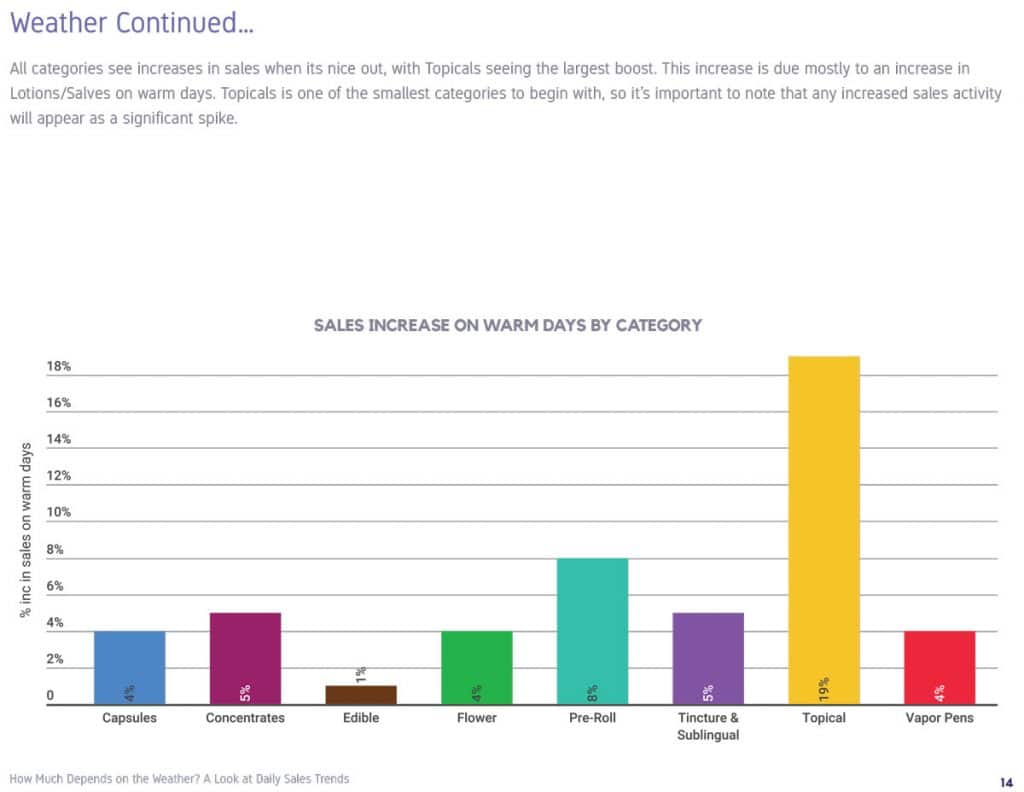 Comparing Cannabis With Alcohol Retail
How does cannabis retail data compare to alcohol? It depends if you're into wine, beer or spirits:
Wine: National data shows that wine sales hit an all-time high in the winter. Sales dip significantly in the spring and early summer, but start trending upward again at  the end of summer and early fall.
Beer: Demand peaks during the late summer. Beer sales hit a low of 13 percent of all beverage sales in December and peaks at 19 percent in August.
Spirits: There is less seasonal variation in sales of hard alcohol. January is the busiest month for the sales of spirits nationally.
To read more of the Headset report, go here.