In a family filled with tradition and protocols and proper etiquette, it's refreshing to see The Queen step out in a neon colored outfit. But when you think about it, why does she chose those colors? Does she think they look good? Is she trying to defy her age? What gives?
Much like the Queen's Day-Glo outfits, the answer is obvious. It's so she stands out from a crowd, literally. Her Majesty has outfits in many shades of green, purple, blue and pink. And they all help members of the public spot her when she gets swallowed up by a crowd.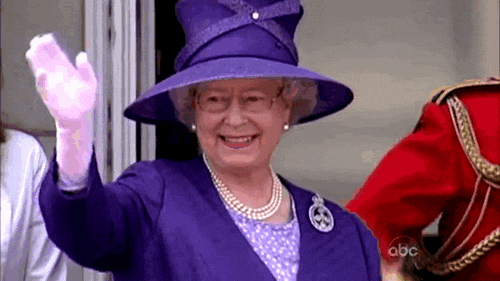 The Queen's daughter-in-law Sophie (aka Countess of Wessex), discussed this in the documentary The Queen at 90: 
"She needs to stand out for people to be able to say 'I saw the Queen'. Don't forget that when she turns up somewhere, the crowds are two, three, four, 10, 15 deep, and someone wants to be able to say they saw a bit of the queen's hat as she went past."
"The Queen has always been aware that she needs to stand out from the crowd, and it is for this reason that millinery has always played an important role in her wardrobe," Caroline de Guitaut, the curator at the Royal Collection Trust, told the New York Times.
So the next time you see Queen Elizabeth wearing one of her signature colors, remember: you should consider yourself lucky you even got a glimpse of her in the first place.