Meghan Markle and Prince Harry recently announced their engagement, but Ms. Markle has already bucked several royal protocols that many Brits welcome as a breath of fresh unfussy air. Here are seven traditions she's not apologizing for breaking.
Carrying A Handbag
During Markle and Harry's first official royal appearance on December 1, Markle was seen carrying a tote (a $667 handbag that sold out in 11 minutes) while shaking hands with the crowd. But royal code prefers a small clutch, which is more practical when it comes to "meet and greet" situations.
Kate Middleton is rarely seen without her clutch. Etiquette experts suspect it's so she can avoid awkward handshakes, while easily tucking it under her arm if she prefers to engage.
Engagement To Prince Harry
Markle defied royal code just by being herself: an American, bi-racial, divorced, Catholic-educated commoner.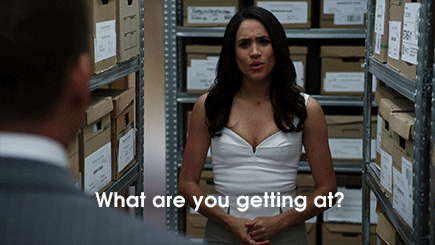 Engagement Photo Shoot
Victoria Arbiter, a royal commentator for CNN, told INSIDER that Markle may have broken royal protocol by not wearing nude stockings during her engagement photo shoot on November 27. The horror!
You never see a royal without their nude stockings. Meghan, from what I can see from the engagement photographs, it doesn't look like she was wearing tights or stockings. I would say that's really the only hard, steadfast rule in terms of what the Queen requires.
Wedding Date
Markle will be saying "I do" to Prince Harry on Saturday, May 19. And while there's no official rule, most other royal weddings have taken place during the week. Prince William and Kate Middleton: Friday, April 29, 2011. Princess Diana and Prince Charles: Wednesday, July 29, 1981. Queen Elizabeth II and Prince Philip: Thursday, November 20, 1947.
Wedding Cake
Traditionally, a multi-tiered fruitcake is served at British royal weddings. But not Markle and Harry. The couple is bucking tradition with a banana cake. A source close to the couple tells The Telegraph: "This will be the first royal wedding cake made from bananas."  Prince Harry is said to love "anything with banana."
PDA
While not a rule breaker, showing public displays of affection is rarely seen in the royal family. When was the last time you saw William and Kate give each other a smooch, hold hands or locking arms? Harry and Meghan are often photographed attached to one another in some way.
https://giphy.com/gifs/engagement-prince-harry-meghan-markle-3osBLuLrownMKD6eZ2
Christmas
Harry's grandmother, Queen Elizabeth, is breaking tradition this year by allowing Markle to join the royal family for Christmas. It's untraditional in the sense that Markle hasn't officially married into the royal family.
Markle will attend Christmas morning service with Harry and his family at St. Mary Magadalene Church. For comparison, Kate Middleton was not invited to spend Christmas with Prince William's family following the couple's 2010 engagement.