Facebook loves an opportunity to tackle a subject that's popular, be that by buying a competing app or by creating a space of their own. Now, they've decided to create a gaming hub where users can find all sorts of gaming content, including videos, and streams. The hub is called fb.gg, and it allows you to stream videos of your own gameplay, or to follow and view at the content of other streamers.
The gaming hub has different categories, recommending users you should follow and the sites' most popular streams, including those of Fortnite, Free Fire, and League of Legends, which are some of the most popular video games around. Once you follow a streamer, they'll appear on the sidebar of your display and you'll get a notification every time they upload up content.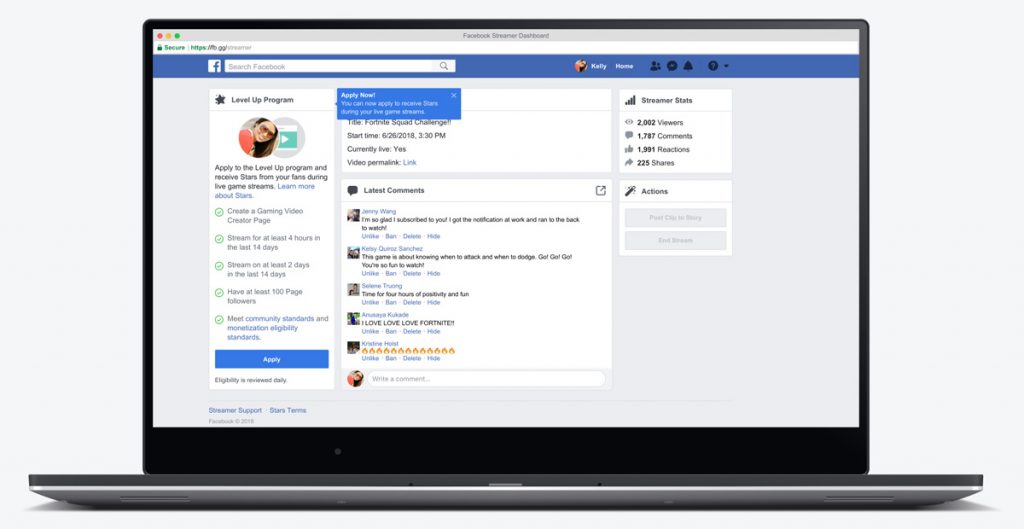 The hub is very similar to Twitch, featuring a level up system called Facebook Stars where streamers' work is rewarded with in-game tipping. After undergoing a verification process, which includes having over 100 followers and uploading at least four hours of streaming within the last 14 days, video creators can make money from the platform.
Mashable reports that fb.gg has already signed with prominent streamers such as MelonieMac, Darkness429 (really?), MissesMae, and others, and it's unknown whether it'll have an effect on other streaming sites such as Twitch and Mixer.
The creation of this space could be what Facebook's been needing to recapture some of the interest they've lost of teens. According to the latest statistics, only 51 percent of teens between the ages of 13 and 17 use Facebook, preferring to spend their time on YouTube, Instagram, Twitter, and Snapchat.