It's hard to define the love we have for our pets. But Purina did their best to put a percentage behind those feelings, specifically pertaining to dogs, with their 2018 Pets and People Survey.
Nearly all of the more than 1,000 dog owners surveyed (95 percent) said they considered their dog as a member of the family.
Other key findings: 62 percent said their dog helps them de-stress after a long day at work, and 55 percent believe their dog provides emotional comfort after receiving bad news.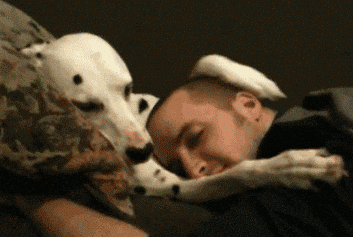 The survey also found dogs have been the wingman for 15 percent of men who want to pick up chicks, while half of women surveyed said they preferred time with their dog over time with their partner…or any other family member, for that matter.
Among Millennials age 18 to 34 years old, more than half (56 percent) said they have purchased birthday cakes for their dogs, and 77 percent said they feed their dogs before they feed themselves.
https://giphy.com/gifs/butterball-SKyGFL5E9YiSQ
Who's a good boy?