How do you send the right message when trying to meet someone online? Texting can be tricky, but here are a few solid tips to at least get you to a first date.
The dating site Plenty of Fish just released its 2018 report revealing results of a study in which 2,000 U.S. singles ages 18+ were surveyed regarding their turn-ons and -offs when it comes to dating app chats. One of the more surprising statistics is that the majority of men and women gauge chemistry through conversation.
A whopping 74 percent of men and women said good conversation is the best indicator of great chemistry on a date — beating out physical attraction. And 60 percent of daters believe it's possible to start falling in love from the initial conversation.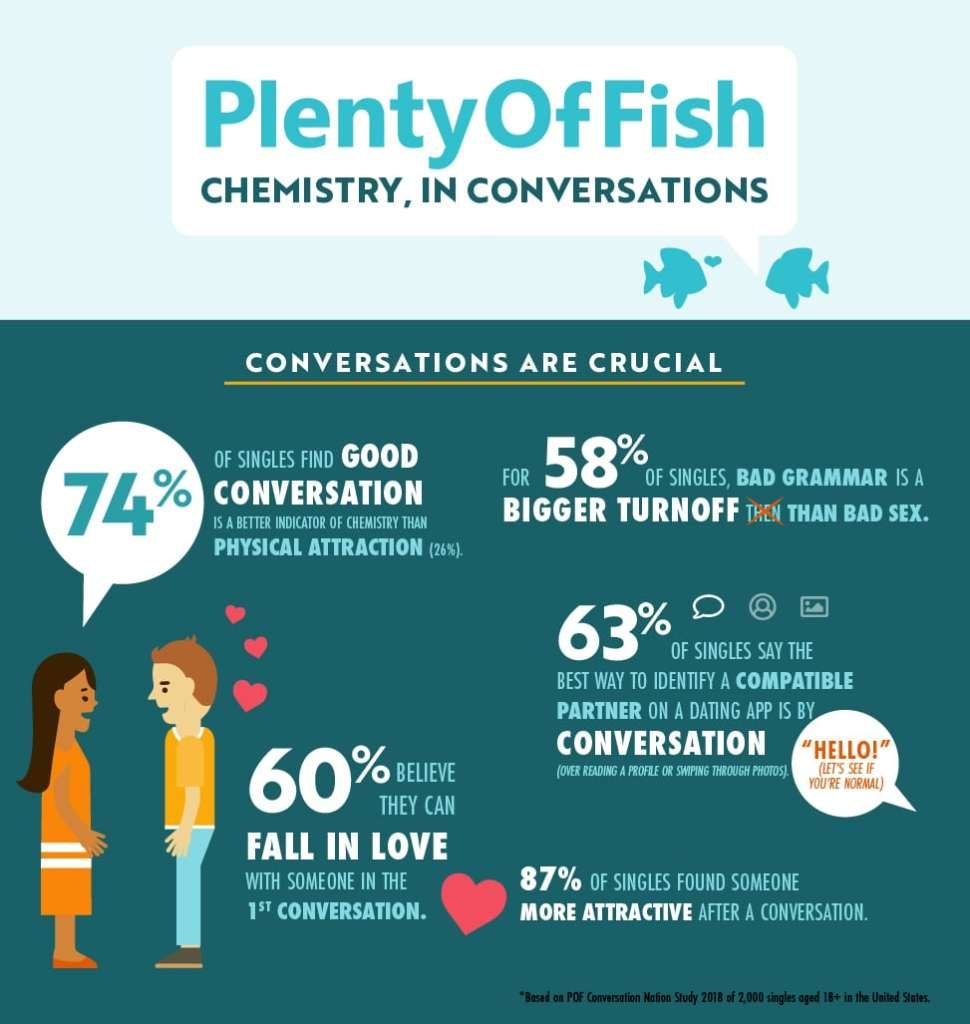 According to the report, bad grammar is more of a turnoff than bad sex: 58 percent of respondents said they couldn't live with subpar grammar.
The messages most likely to get a text back on a dating app?
A message that refers to a shared interest or experience (60 percent)
A compliment on photos or appearance (18 percent)
A joke or funny story (15 percent)
An emoji or GIF (8 percent)
Fifty-nine percent of singles also prefer to talk to someone on the phone before meeting for a first date (preferably a dinner date, according to 78 percent of respondents).
Perhaps one of the best reveals of the study is a total "arms crossed emoji" to the notion that waiting three days to reply to someone. Seventy-five percent of singles say that it's more annoying to be waiting for a reply than to get a reply too soon. And 89 percent of singles said they'd respond to a message on a dating app within 12 hours if interested, with 23 percent of those singles saying they'd respond right away.
And finally, when it comes to emojis, there are three you definitely need to skip if you want to land a date: the eggplant, peach and fire symbols all get the "thumbs down" emoji. But the winky face emoji is so hot right now!