From Planet Hulk to Battlestar Galactica, Greg Pak has produced entertaining work for years now. His run on Action Comics (particularly the non-crossover arcs) were some of the best and original Superman books in recent years.
That said, I didn't totally love the first issue of Pak's newest series Kingsway West.
All the parts and pieces are there. The artwork's great and the writing is good. The story just felt rushed and a little lackluster.
It starts brilliantly with exposition about an alternate history world where Chinese and Mexican Empire's control the west coast of the United States. They've been at war for 13 years prior, fighting for control of a magical substance called Red Gold. Now with the war over, our Chinese protagonist, Kingsway Law, seeks to leave the atrocities of his past behind him.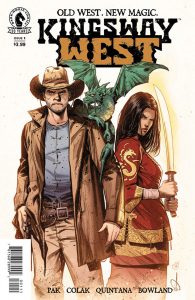 Kingsway is a likeable, albeit standard western hero. A man of few words and quick hands. He guns down some bounty hunters that are after him, but gets injured and rescued by a Mexican woman named Sonia. All good stuff at this point. Star-crossed lovers, cowboys, magic, dragons. This book's got it all.  Anticipation over watching these two on the run from their respective governments is exciting.
But that doesn't happen. Nope, the next scene is a five-year flash forward. Sonia and Kingsway are married, but she goes missing and Kingsway makes a new friend named Ah Toy and kills some more soldiers. The second half of the book moves quickly and sets the stage for the rest of the miniseries.
It's not bad in any sense, exactly. And again, all the pieces are there. It just feels like the sequel to a book that never existed. But it is the debut issue so maybe I'm being harsh and overly critical. I'm just a fan of the slow burn and of world building–and am anxious for a bigger, better world to be built.
Save
Save