Just like their human counterparts, dogs can get down in the dumps for a variety of reasons. But detecting depression in a pet isn't always easy. Does a longer than usual nap or increased appetite mean your animal friend needs professional help? What about other changes in behavior? There are subtle signs your dog is depressed.
INSIDER talked with dog behaviorist Nick Jones, MA, about what causes depression in dogs and how you can spot it. Changes in routine spark many depressed episodes, whether that be time spent in a kennel, a new home, or the death of a caregiver. According to Jones, other changes in a dog's routine can also lead to a state of feeling unsettled. "These might include a change in the owners' working routine or new and quite different rules being put in place," he says.
Change in appetite
If your dog is eating less or more, this could be a sign of increased stress levels.
"Dogs can be like people – some will eat less when under stress and some will eat more. Some dogs are so food driven that you may not see a change in its appetite," Jones explained.
RELATED: These Soothing Products Will Help Dogs Battle Anxiety
Licking
Much like humans will fidget with objects when they're stressed out, dogs may lick themselves a ton. Jones says excessive licking can be a sign of anxiety or stress, as dogs will often use licking as a soothing technique. If you're certain your dog is licking its paws for some other reason than it has something stuck in its paw, you might want to consult a vet.
Lethargy
If your dog is no longer psyched about going for walks, play dates or chasing after a toy, it may be depressed. Says Jones, "A dog that is reluctant to leave the home could indicate that all is not well either on a physical or emotional level. One would normally expect a dog to be less enthusiastic when in a depressed state."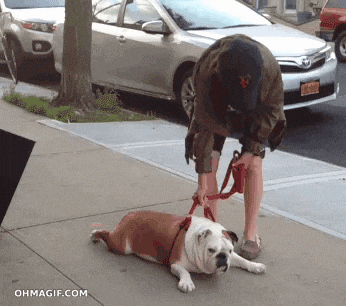 RELATED: Ask A Vet: How Old Is My Pet In Dog Or Cat Years?
Change in sleep patterns
"If the dog is in a stressed state and displaying signs of anxiety such as whining or howling in the owner's absence say, then the dog will often not sleep during that period," said Jones.
On the flip side, if a dog is getting too much sleep, it could also mean that your pooch is sad. Just like humans, sometimes when a dog isn't feeling life, they just want to pull the covers over their head and sleep their days away. "I have seen some dogs that are mourning for the loss of a loved one be quite subdued and sleep more than would be expected," Jones said.
https://giphy.com/gifs/C03PlLU6nMJLW
Change in behavior
If you notice your dog is acting strange, perhaps behaving oddly or picking up bad habits all of the sudden, it may be a sign of depression.
RELATED: Vets Cannot Recommend Medical Cannabis For Pets, But Love It Anyway
"It is possible that a dog may develop new and unwanted behavior routines such as pacing, circling, or obsessive behaviors such as shadow or light chasing," Jones told INSIDER. A sad dog may also disregard previously learned (preferred) behavioral patters.
Jones says whatever the unusual behavior your dog is expressing, the best thing you can do is comfort them, make sure their needs are met, and create a schedule. "Maintaining a leadership-based style with the dog regardless of recent changes can help a great deal in my experience, as a routine provides emotional security."