We openly refer to ourselves brands. We place dog and deer Snapchat filters on presidential candidates. We are a country overrun with a clown epidemic. One or two are even running for president.
When director Mike Judge released Idiocracy 10 years ago, very few people saw it in theaters. You suspect that's, in part, because it seemed too far-fetched: Set 500 years in the future, the movie posits America as a country defeated by stupidity. Citizens speak in slow drawls, and wear tacky, Carl's Jr.-branded outfits. Our infrastructure is subject to massive decay: trash mountains piled so high citizens worry of the next trash avalanche and leaning skyscrapers supported with giant bungee cords. The top-grossing movie in theaters is a film called Ass, which yes, is a man's farting buttocks on screen for 80 minutes. The punchline: Ass won eight Oscars that year, including Best Screenplay.
We come to this world by way of a government experiment gone wrong. In 2006, the "most average man alive" and a female prostitute frozen in cryogenic pods are left forgotten, only to wake up in this distant surreal world. It bears some similarity to the world they knew, but is completely twisted. When Joel, our "average" protagonist, wonders if they could stop at a Starbucks, another character retorts, "I really don't think we have time for a hand job, Joel." That's right: Starbucks and nearly every company has become a sex corporation, including FedExxx and T.J. O'Handjobs, formerly known as T.G.I. Fridays. Asking for an "extra foamy" latte holds a far different meaning 500 years later. (Or maybe less far into the future: "Café Fellatio" could be coming soon!)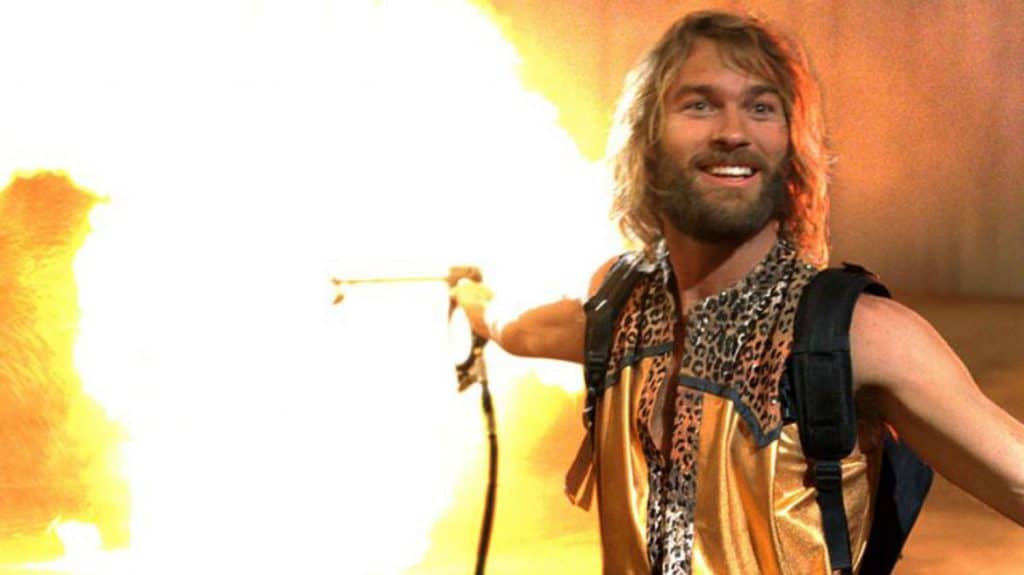 It would be generous to say Idiocracy had a tepid release. It grossed below $450,000 worldwide. Accusations abounded that 20th Century Fox had "buried" the film, releasing it only to seven cities and expanding only to 130 theaters worldwide. Catching the many, many incisive digs fired at almost every major American corporation, you don't question the suspicion.
But the movie did find its audience. Last night the film celebrated its 10 year anniversary and was shown in more than 40 theaters across the country, some venues playing Idiocracy in extra theaters and multiple showings. The movie was bookended with a Q&A livestream with writer/director Mike Judge and actors Maya Rudolph and Terry Crews. Birth.Movies.Death's Devin Faraci, who moderated the Q&A, joked that more people saw the film Tuesday night than during its premiere. Judge responded modestly, saying he wasn't wrong.
As our world turns more absurd and anti-intelligent, especially this election cycle where presidential debates have devolved into memes, "yo mamma" jokes, and openly questioning the penis size of one of the candidates, many have openly questioned whether Idiocracy was a satirical film or a prescient documentary. Including co-writer Etan Cohen.
I never expected #idiocracy to become a documentary.

— Etan Cohen (@etanjc) February 24, 2016
Watching the movie last night, it doesn't lack any of its initial bite from your first viewing. But while the humor remains tight as ever, some of the jokes aren't that funny anymore; they're just too accurate.
For example: Mobs yelling at the president to fix the country's problems now, and when everything isn't solved within a week, they riot and loot and curse Joel, the man trying to help them. A president who ran a campaign on "Hope" might relate all too eerily to that. By the way, Idiocracy's president is a former wrestling champion whose full name is Dwayne Elizondo Mountain Dew Herbert Camacho. If you didn't know, Donald Trump is in the World Wrestling Entertainment Hall of Fame. You want to laugh, but really, that comparison hits too close to reality.
During this election, Judge and Crews excited Idiocracy fans when they announced they were producing mocking Camacho presidential ads. The fit was there. But Judge admitted their ideas were too political, and it was hard to mine comedy out of the current climate (20th Century Fox also pulled the plug). When the Q&A shifted to fan questions, many revolved around how to fix things now or how do we stop from becoming an actual Idiocracy. "I love how they think we have the answers," Rudolph responded, laughing.
Even the smart people don't have the answers, it seems. Might as well distract ourselves and flip on Idiocracy. Get a kick out of what so many believe we've become and laugh at ourselves. That's a healthy habit. At least we'll surrender to stupidity with a smile on our faces instead of the frown so many of us have now.