It's super easy to eat more than you should during Thanksgiving. Here are some drinks that can provide some relief.
Concluding a Thanksgiving meal without feeling like you'll have to roll away from the table is an anomaly of sorts. There's no American meal that's more proud of the fact that it leads to overeating than this one. It's a habit that's very likely to continue, even if you want to stay healthy or avoid feeling like crap afterwards.
Aside from the dinner part of Thanksgiving, this holiday is also filled with tons of eating and drinking throughout the day. By the time you sit down to eat, you're probably already well on your way to being full.
Here are a few drinks, alcoholic and non-alcoholic, that you can drink after having dinner (or even throughout your day) that will have your belly feeling grateful.
Digestifs
These herbal drinks — such amaros, fortified wines, and brandies — are super popular in Europe, allowing people to eat several meals and not feel like crap afterwards. These post-dinner drinks tend to contain herbs that have a bitter taste and that target bloating, gas, inflammation and can even help manage acid reflux.
RELATED: How To Have The Marijuana Conversation This Thanksgiving
"With holiday meals, we all typically walk away from the table having eaten too much and feeling this bloated effect. The carminative herbs in a lot of digestifs will help reduce some of that bloating and calm the nervous system around the stomach and help reduce some of those yucky symptoms we have," herbalist Heidi Lyndaker told Huffington Post.
Gin, vodka or tequila
If you're planning to do some day drinking during Thanksgiving, your best options are gin, vodka or tequila. You'll of course want to pace yourself if you want to make it through dinner, but these drinks have been through a distillation process over fermentation. They will irritate your gut less than other drinks, which irritate your stomach lining, causing more bloating, gas and an overall feeling of discomfort in your gut.
Green Tea
Sometimes you have to pull out the big guns and let go of the alcohol, which is where tea and infused waters come in. Green tea is known for boosting your metabolism and acting like a prebiotic, meaning that it encourages the growth of good bacteria in your gut.
RELATED: Food Coma: 3 Things That Happen To Your Body When You Eat Too Much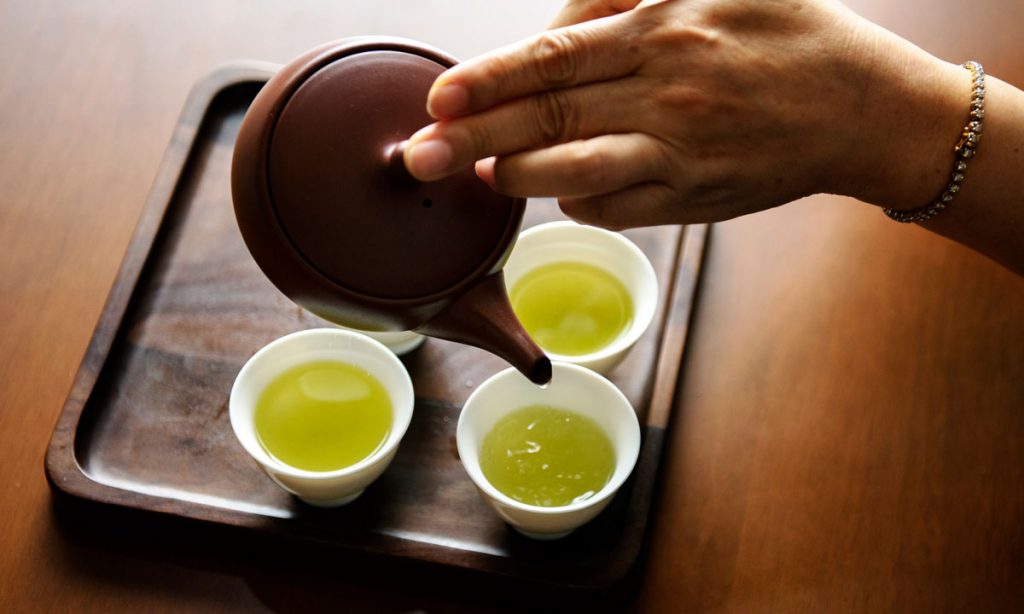 Water with cucumber
Water infused with different fruits is pleasant and, in the case of cucumber, it can help you get some bloating relief with it's high potassium content.