Friday afternoon, a mysterious white foam rapidly oozed out of an airport hanger onto a Santa Clara, California street, eventually covering a full city block with 3 and a half feet of dense bubbles. While others looked on with wonder or confusion, cyclist Blake Harrington recognized an opportunity.

After learning that the foam was a fire suppressant that could lead only to mild skin irritation, Harrington pedaled directly into the bubbly mass until he was completely submerged. Video from local TV station KTVU shows only the occasional burst of bubbles floating upward to indicate Harrington's location in the mass.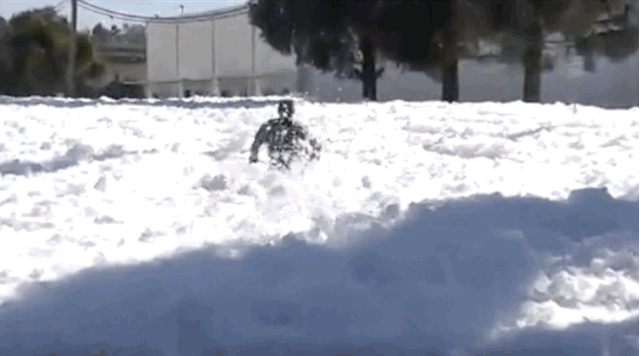 "Yeah, someone had to do it," he told KTVU. "We were on the other side and the officers over there were like 'you should ride through.' And I was like, 'OK you guys don't mind?' So we decided to do it."
Despite biking blindly through the mess, which included submerged cars and street curbs,  SF Gate reports Harrington escaped relatively unscathed, managing to hit only one sign.