Spring is still no more than a cruel joke in this part of the country. The air after taking on a scent of something more than just mud and wet gravel, freezes solid each night. This freeze and thaw cycle is supposed to harden-off the flowers, leaving only the strong to survive. I'm not sure that seventy degrees one week and four the next is going to endear any flowers into blooming. With that said, my palate is seeking the newest flavors from the season- as few as there are given the ice and the oil stained snow which still speckles the landscape.


I'm happy to announce that everything is not doom and gloom. There are flavors that are available, right now that will entice and mystify your yearning for something new and delicious. The first is Bourbon Whiskey. There is a renaissance going on in the Bourbon world. Instead of large and similar, small and exciting are the metaphors going forward into spring. The Bourbon world is a very unforgiving place- trends come and go. But what if I told you that combining a very small craft producer Bourbon Whiskey with Bourbon Whiskey from tiny, individual batches, coupled with really fine, artisan mineral water, like the one from Topo Chico in Mexico, infused with an awesome dose of high powered cannabis makes for something new and refreshing? "But how do I do this?" you ask. "Isn't the usual method just dumping a bunch of weed in a bottle of liquor and forgetting about it for a few months going to work?"
Doubtful. In fact, what you will have after this moldy glop leaves a foul, chlorophyll stained liquid in your cocktail glass is nothing more than lewd tasting refuse. My recipe and subsequent cocktail is refreshing, scintillating and quite memorable for its simplicity.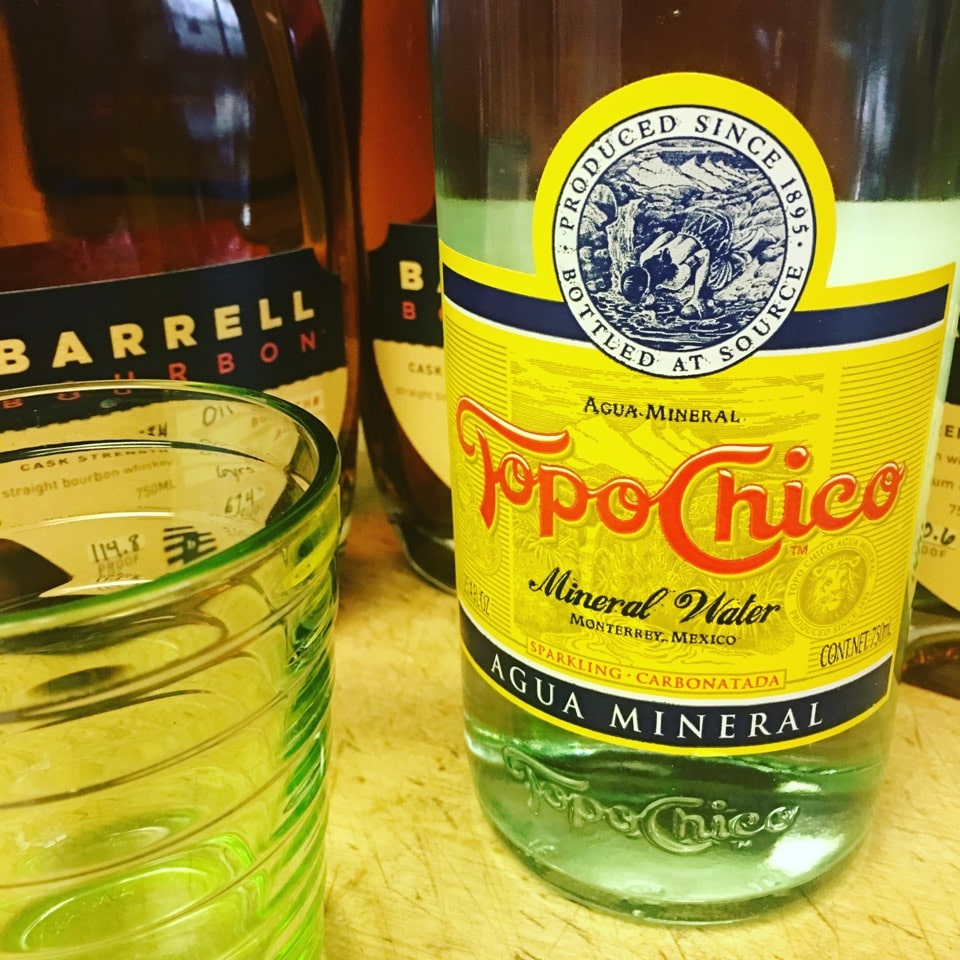 Steve's Harried Excuse
Infused Vichy
½ oz. decarbed cannabis (I used the Ardent Decarb Machine)
2 25 oz. bottles Topo Chico Sparkling Mineral Water
½ teaspoon powdered lecithin (brain food!)
Prep:
Decarb your cannabis to activate the THC-240 degrees, covered well- constant heat for 45 minutes, turn heat off and rest another 15 minutes, cool well before uncovering foil. Or use an Ardent Decarb Machine —  set and forget!
Add the decarbed cannabis and one bottle of the soda water to a double boiler (heatproof), simmer for 1-2 hours — no more than 160 degrees — adding fresh soda water as necessary. Remove cannabis and re-fill to volume with fresh soda water and bourbon of your choice (I used Barrell from a small batch of fewer than 5000 bottles). Add the bourbon to a glass. Add 1-2 oz. of the THC infused soda water of your choice. Finish with a couple drops of infused bitters of your choice. Add a couple Cannabis Infused Cherries (see below) to the mix.

Infused Bitters
1-250 ml bottle of cocktail bitters
3-5 grams (decarbed) cannabis
Prep:
Add the decarbed cannabis to the cocktail bitters. Set into simmering water in a double boiler. Let simmer no more than 160 degrees for 1-3 hours. Refill the bitters as necessary for a complete fill. Use in cocktails.
Infused Cocktail Cherries (Luxardo Style)
1 bottle Luxardo or similar cherries, pitted (1-2 pounds at least)
1 oz. decarbed cannabis set into a hemp or cheesecloth bag
750 ml. bourbon whiskey
1 cup dark simple syrup
Prep:
Combine all the ingredients in a Mason jar (sterilized). Let sit in a cool, dark place for 1 month, turning and shaking daily.
---
[gravityform id="13″ title="false" description="true"]