By empowering teenagers with honest information and reality-based tools, the Drug Policy Alliance is changing the conversation of drug education in America.
Every health teacher in America has a similar goal regarding drug education—convince young students that taking drugs isn't in their best interests. The majority of drug education programs of the past focused on an abstinence-based model like D.A.R.E., using scare tactics and zero tolerance policies to stay away from harmful substances. But instead of spreading fear and anxiety in students, what if you empowered them through education and information? What if you taught them best practices to reduce danger should they find themselves in social situations where drug use occurs?
Those are the questions the Drug Policy Alliance asked when designing its new "The Safety First: Real Drug Education for Teens" curriculum.  The program focuses on establishing honest conversations with students and teaches them how to reduce harm when it comes to drugs.
Safety First program manager Sasha Simon says abstinence-only education failed to equip older Americans with the tools to recognize and combat the dangers of powerful substances, as we've seen through the country's opioid epidemic. According to the Drug Policy Alliance, accidental drug overdoses are the leading cause of death for Americans under the age of 50.
RELATED: How Can Parents Tell If Their Teenager Is Using Marijuana?
"We now have this entire generation of adults who really don't know how to navigate the landscape and the risk of drug use because they have also received abstinence-based education back in the 80s, 90s, and 2000s. We really all have done ourselves a disservice," Simon told The Fresh Toast. "The curriculum was an idea to have a sustainable but also a systematic way to share a reality-based and honest drug education."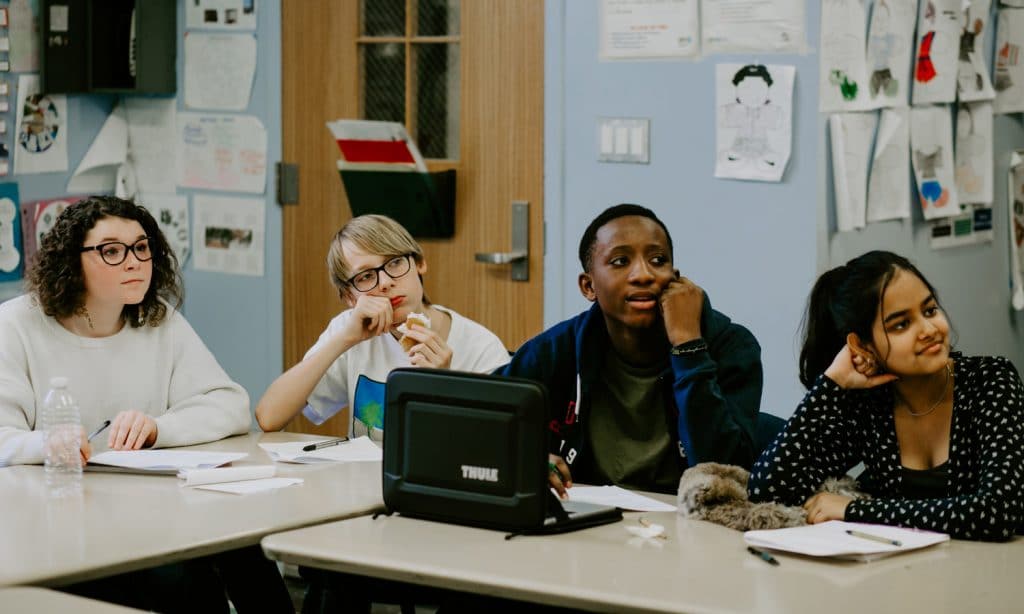 To achieve that goal, the DPA took advantage of tools already within the system. For example, 9th and 10th graders around the country already have health education classes, which focuses on sex, drugs, and wellness. They first tested the Safety First program at Bard Early College High School in Manhattan in Spring 2018, before it expanded to five San Francisco schools.
"I think the biggest thing we've noticed is that 'Just Say No' doesn't work," Drew Miller, the health teacher at Bard, told The Fresh Toast. "We know that kids aren't just going to say no, whether it's drugs or sexual intercourse or anything like. And there's research to back that up."
Adolescents today, Miller explained, need honest education because of the lack of reliable information they receive elsewhere. Kids are often more aware of new drugs and their effects than their parents are. In addition, posts on social media from influencers or celebrities often glorify drug use without the context necessary to understand the consequences. What are the signs your friend is suffering an accidental overdose? What are quick solutions you can use until medical professional arrive?
RELATED: Youths Smoke Less Weed, Adults Smoke More Following Marijuana Legalization
Simon says students are already asking these questions, as notable celebrities like rapper Mac Miller, Angels pitcher Tyler Skaggs, and musician Lil Peep have all died from accidental overdoses in recent years.
"When we've asked students what else would have you liked to learn in the curriculum after they've had it, they wanted even more explicit instruction on how overdoses happen, what is fentanyl," Simon said. "They wanted to get very specific."
Crucially, the Drug Policy Alliance doesn't want to the Safety First program to be students' only source of drug education. They want adolescents to dive deeper into the conversations that begin in the classroom, so that when they encounter them in the real world, they know how to overcome them. To accomplish that goal, they focus on teaching kids how to discern credible sources from misinformation. In other words, the kids should understand how to spot fake news after graduating from the program.
Nowhere was this more important than with cannabis. It's the only drug that spans two lessons in the curriculum, in part because cannabis is being used for both medicinal and recreational purposes. While studies have shown that marijuana legalization discourages teenage use in states like Washington and cities like Denver, it's important they understand a drug used for medical application also holds consequences in their adolescent development. Whether it's a substance they consume down the road when their bodies can handle it, in a way similar to alcohol, is ultimately up for the teenagers to decide.
RELATED:  Teen Vaping Leads To Subsequent Marijuana Use
"That's one of those subjects where we don't take a position," Simon said. "We're pretty apolitical. We think it's important for teams to be able to decide for themselves."
Educators and interested parties can download the Safety First curriculum at no cost at drugpolicy.org/safetyfirst.