In the interpening courses, students learn how to interpret terpenes — the compounds in the marijuana plant responsible for aroma that also impact flavor — through the scent and sight of the flower structure.
When it comes to your senses, the nose knows. Sensory evaluation, the scientific discipline that analyzes and measures human senses in response to an external source, is the educational crux for trained professionals in the wine, beer and coffee industries, largely based on smell.
Sommeliers, cicerones and cuppers, respectively, are all primed, studied and certified when it comes to interpreting the rich berry notes and velvety texture of a Syrah, the creamy yet crisp mouthfeel of a Bohemian lager or the mountain of aromas in a Sumatra blend, mostly through the sense of smell and taste.
But when it comes to cannabis — be it from black market stigma or the lack of professional indoctrination — the sensory evaluation has been at a crossroads. Until now. Say hello to interpening.
At the intersection of this juncture, directing traffic and even disseminating licenses, is Max Montrose, one of the world's first "cannabis sommeliers." Or rather, a title he actually prefers, the creator of interpening and founder of Denver's Trichome Institute.
Fed up with dim budtenders issuing psychoactive gummy bears to remedy-hungry medical patients, Montrose took his infatuation with botany, passion for cannabis and yearning for scientific solution to create "interpening," his cannabis sensory evaluation system. Since founding Trichome on these principles, Montrose's leading cannabis school is enrolling students from across the globe into its courses for interpening, as well as in its certification program for responsible vending and training on cannabis products and sales.
In the interpening courses, students learn how to interpret terpenes — the compounds in the marijuana plant responsible for aroma that also impact flavor — through the scent and sight of the flower structure.
Using this methodology and an understanding of terpenes correlation with psychoactive cannabinoids, the "interpener" can determine the quality and thus the effect of the cannabis in question.
"For example, if I asked you to smell a jar of essential oil from lavender, do you know what would happen to you?" Montrose poses the question over the phone. "You would relax…because you just ingested through your nostrils, via smell and into your brain, the terpene linalool, which has a pharmacology as a sedative. That is very clear science. That terpene is found on cannabis and many others that also add to sedating factors."
With interpening, Montrose says consumers can pick out specific types of smells in particular parts of the nose that will identify the psychotropic effects, much like the science of wine uses the sense for acids on the tip of the tongue and that of tannins on the sides of the tongue.
So what's in a name? For Montrose and his four-level certification course based around terpening, semantics were paramount.
"What we are doing is interpreting terpenes, analyzing them to figure out how they're going to make you feel, so I chose the term 'interprening,'" Montrose says, noting he wanted a meaningful label for the technique and Trichome's accreditation.
Anybody can be a budtender but very few people can pass an interpening certification.
One of Trichome's first certified interpeners to don the pin — yes, there is a pin to match its certified consumable brethren — has been making national news with his budding cannabis experience and tour company.
"We teach people to be more mindful," explains Philip Wolfe, cannabis industry veteran and founder of Cultivating Spirits in Silverthorne, Colorado. "We teach them to get more in tune with their bodies with these experiences, slow down in life and really identify how different things you consume effect your body, from moods to health benefits."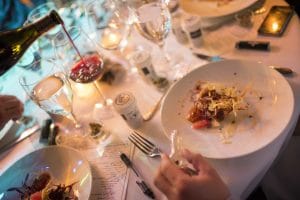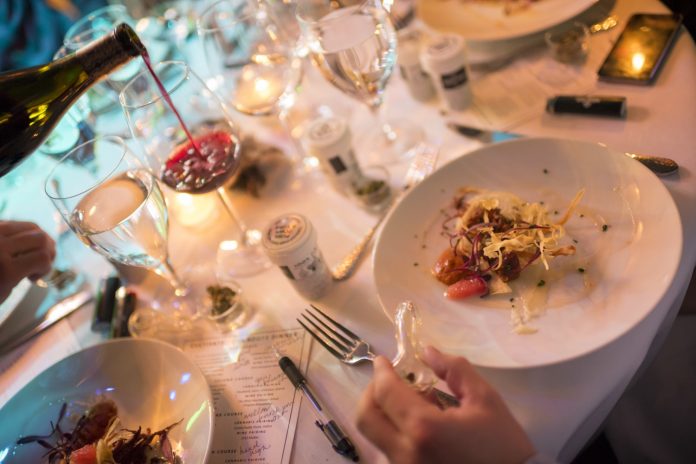 Fill your glass and pass that dutch at these wine-dinner-inspired events, where Wolfe and his team of educated cannabis and wine sommeliers build a dinner experience around the separate, but equal, marriages of cannabis and food and wine and food.
After interpening the featured strains from local dispensaries, Wolfe and his team hand those terpene flavor profiles over to the resident chef to create a likeminded menu. As a finale step, the wine sommelier will put the finishing touches on the bill of fare with wine pairings.
Through the introspective pairings, terpene evaluations and approachable cannabis education, Wolfe and his team aim to elevate weed through the interactive dining experience, with food as the lead. "We find that it's better to have the food as the centerpiece," Wolfe says. "I like to incorporate cannabis into these events as it's a part — another layer — of the dining experience."
With every dinner experience, the food is always the focal point. If you don't have good food, it's never going to be a good dinner experience.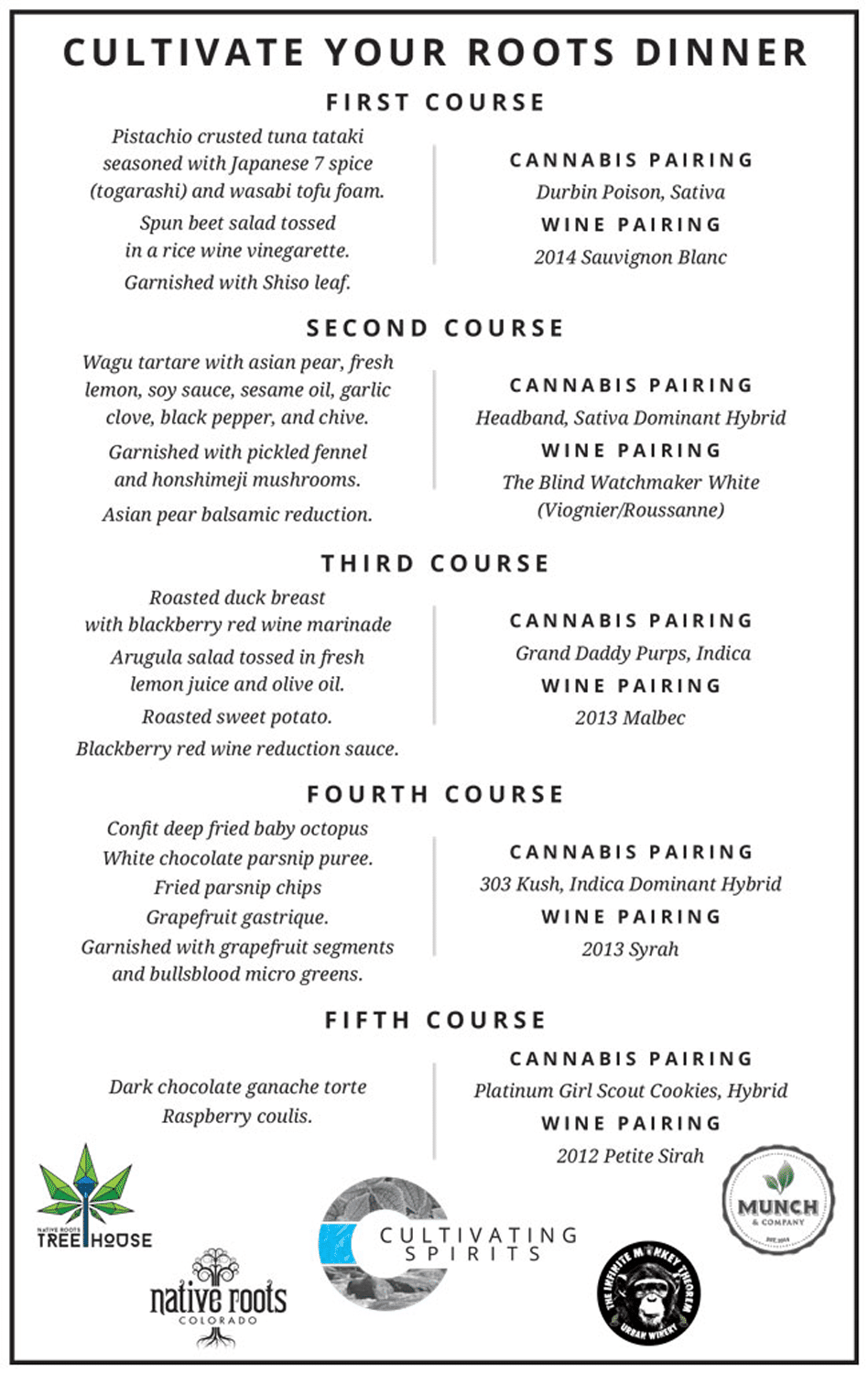 Previous culinary encounters of the cannabis kind have included plates like a pistachio-crusted tuna tataki paired with Durbin Poison and Sauvignon Blanc. Blackberry red wine marinated roast duck breast has relished next to Grand Daddy Purps and Malbec. Drool-worthy desserts like decadent dark chocolate ganache torte have been devoured with 303 Kush in the pipe and Petite Sirah in the glass. Wolfe says he recommends guests smoke one hit to one gram per course, dependent on each diner's tolerance. "We spend a lot of time teaching people how to properly consume cannabis to enjoy their experience to the fullest." Wolfe says.
Cultivating Spirits' three-course pairing dinners come complete with chauffeured limousine travel from home to the dining destination and range in price from $125 to $250 per person.
For Jackson Holder at Seattle's Dockside Cannabis, the retail buyer and resident terpene aficionado first rooted himself in wine sales before switching over to bud. That base of agricultural knowledge and sensory analysis led him to blogging about wine and cannabis pairings for the dual-location store, as well as introducing a terpene "smelling station" for customers to peruse while shopping. The station hosts bottled offerings of familiar cannabis aromas, like hops, lavender, cardamom and more.
"All of these peripheral effects and different experiences that we associate with cannabis use really come down to the profile of oils that the plant is producing," Holder says. "Each strain will produce over 100 terpenes, but each will only produce five to 10 of them in substantial terpenes. That's why strains can smell dramatically different from one another. To say cannabis can smell an infinite number of ways almost seems like an understatement."
When it comes to wine, Holder is keen on comparing the chemical profiles of the fermented fruit and cannabis. He explains how, in tasting, wine drinkers are initially evaluating the phenolic and flavor profile, not the amount of ethanol alcohol in the serving. Likewise, he says cannabis consumers are also seeking out the aromatic, flavor and resulting mood profiles, not the amount of THC in the serving.
"Imagine you're driving along a highway at 60 miles per hour: Your ability to go faster than that is determined by your engine and your engine is represented by THC," Holder explains. "But all the other facets of your experience — whether if you have good upholstery, heated seats, what song is on the radio — that all comes down to terpenes."
"Primarily with wine, what you're interested in is exploring the subtleties that exist along this one sensory spectrum and, with cannabis, it's the exact same kind of search on the sensory end, but with all this psychoactive stuff on the backend that's tied to the sensory experience."