Famous food curmudgeon Anthony Bourdain has a new lady friend. After splitting from second wife Ottavia last September, he's now hooking up with 41-year old Asia Argento. Never heard of her? She's kind of a big deal in Italy. Here are nine facts to know about the stunning Italian bad-ass. And no, of course nobody spent hours taking a deep dive into her social media accounts to obtain this list. That would be embarrassing. (clears browsing history).
1. The two met while filming an episode of Parts Unknown together last year in the most romantic city in the world – Rome. (Oddly enough, Bourdain's ex-wife Ottavia was born about 300 miles away in Sardinia, Italy). On the CNN blog, Bourdain writes:
The episode would not have been possible — or be anything like it is without the truly magnificent Asia Argento. She's spent a lifetime in films — mostly in front of the cameras, but also — and quite notably — behind, directing most recently the remarkable and beautiful "Incompresa (Misunderstood)."

But most importantly, she was herself. Always honest, completely unsparing.
2. She's an actress, best known for her role as Yelena in the xXx movie franchise starring Vin Diesel.
3. She's the daughter of legendary horror filmmaker Dario Argento. He's the guy on the right.
https://www.instagram.com/p/BAZcDkRow1b
4. She posed with The Walking Dead's Norman Reedus for Purple Fashion magazine in 2003.
https://www.instagram.com/p/BQyT21PlHFF
5. She's a mother to Ana and Nicola.
https://www.instagram.com/p/BK-qjZHAneO/
6. She's been acting since she was 9-years old.
https://www.instagram.com/p/BHKjE6xDJXu
7. She's active on Twitter.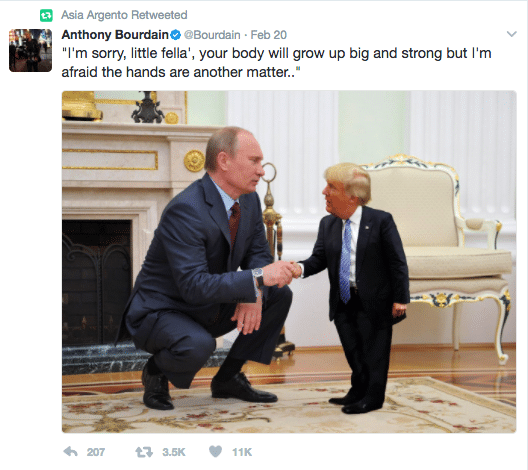 8. She's a talented photographer. Here's a pic she took of Marilyn Manson.
https://www.instagram.com/p/9qQ0MKow67
9. Her and Bourdain's body language suggest they're in love.
https://www.instagram.com/p/BNdwQ_PjMlZ/