Nudes and sexts have been adopted into our culture and there's no going back. Arguments about the dangers of the Cloud and how nudes are degrading for those who are sharing them are silly and outdated. According to a survey conducted with over 800 people, 88% of them had sexted at some point in their lives.
While the cloud is a real threat that most people don't understand, our discussions regarding nudes and sexts should focus more on how this data is shared and in finding ways of preventing the unintended spread of them. Shaming people will get us nowhere.
The risks that come with sharing delicate information online are undeniable, especially when it comes to people who are underage, but there are ways in which the risk factor can be reduced. Here are a few tips that can help:
Prioritize consent
RELATED: 4 Essential Tips For Sharing Nudes
Before you engage in any kind of online sexual exchange, make sure that you want to do it and that the person you're talking to is also excited to be participating. It sounds like an obvious thing to mention, but you can never be to careful when it comes to sexual harassment. Also, no matter how common sexting and the exchange of nudes are, you should never feel pressured into participating.
Be responsible
When sexting and sending nudes make sure to use a safe Wi-Fi network. It's not a good idea to send risqué stuff, no matter what it is, in a Starbucks. These messages can be easily intercepted by hackers or anyone with some knowledge of technology. Make sure to use an app that contains end to end encryption, like WhatsApp, which protects your information  – texts and photos – and makes it impossible to access, even by those who work in the company.
Delete the evidence
RELATED: The 'Slutbot' Was Created To Teach People How To Sext
Once you send the photo, delete it or store it in an app that's protected by a password and prevents the photos from being easily accessed. While someone else could have access to your photo from another device, no one will be able to see it from your phone.
If you don't want to delete the images, make sure that your phone is not connected to the Cloud, that way you'll prevent the images from popping up on family devices.
Be safe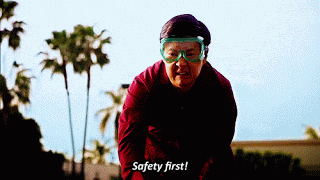 If you want your nudes to be completely full proof, avoid including identifying details like your face, a beauty mark, or a tattoo. Aim for the neck down and make sure the background is also hard to identify, without including picture frames or remarkable objects.
While this is information is much more advanced, metadata is something you should also account for. The majority of digital images have a GPS tag and the date and time in which the photo was taken. In order to get rid of this, you can disable your smartphone camera from keeping that information or you can use an app like ViewExif which removes the metadata from photos.